Shopping Cart
Your Cart is Empty
There was an error with PayPal
Click here to try again
Thank you for your business!
You should be receiving an order confirmation from Paypal shortly.
Exit Shopping Cart
Features, Reviews and a Blog by John Sciacca
| | |
| --- | --- |
| Posted on October 10, 2013 at 6:05 PM | |
I get a lot of things in the mail – mainly packages with electronics to review – but nothing gets me more excited than seeing a small box with the "Stone Brewing Co." return address. I mean, free frickin' beer! It is literally the height of civilized awesome!
So, when I saw a package by the front door, I gingerly carried it to the kitchen, pulled out my "has a taste for blood" Leatherman and carefully cut open the packaging and removed the glorious 22-ounce bomber from its padded confines. I had read about Stone's latest collaboration, Suede, and I was thrilled that a bottle had traveled nearly 3000 miles to pay me a visit.
I immediately carried it to the fridge to cool it down, and then did a happy dance for the joys that were awaiting me. Thus is my life. After respectfully letting the beer rest from its travels for a full 24 hours, I popped it open and took it for a spin...

10 Barrel / Bluejacket / Stone Brewing Co – Suede Imperial Porter
Hops: Magnum and Sterling
9.6% ABV, 50 IBU
22-ounce bottle
Drank on October 8, 2013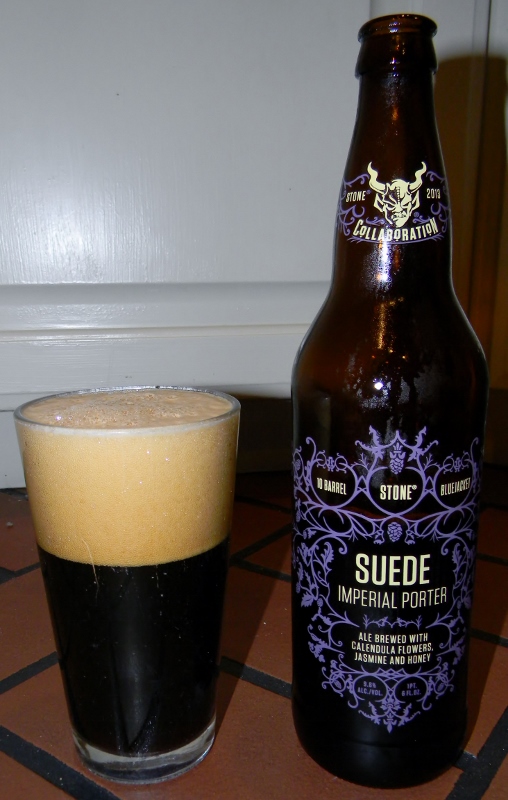 Description: "Due to our participation in at least a half a dozen collaborations each year, one might perceive Stone as the craft beer equivalent of a bee flitting indiscriminately from one brewery to the next, all the while drawing precious nectar – the expertise and creativity of those institutions' brewmasters. Another buzzy operation that gets the same rap is Bluejacket, a new, Washington, DC-based operation headed by industry veteran and constant collaborator Megan O'Leary Parisi. But make no mistake, Stone and Bluejacket are intensely selective about the contemporaries we invite into our brewhouses. We look for the same high level of passion and daringness to flip a beer style on its head that we employ on a daily basis. So, when Parisi and Stone brewmaster Mitch Steele decided to collaborate, it was essential that they tap a special individual to complete their triad of fermentation domination, and they found just that in Tonya Cornett, the brewmaster at Bend, Oregon's 10 Barrel Brewing Company. Together, they decided on a sturdy yet velvety base of imperial porter and developed a plan to celebrate the bounty of the environs in which it was produced by harvesting avocado honey, jasmine and calendula flowers (some from our very own Stone Farms) and infusing them into the beer to create something complex and uniquely Southern Californian. Consider it craft cross-pollination at its finest."
"Suede evokes thoughts of richness, color and, most of all, a soft, seductive texture – everything we wanted for this beer." – Tonya Corness // Brewmaster, 10 Barrel Brewing Company
"There's always something to learn from someone and vice versa. You can talk about brewing all the time, but it's not until brewers put their heads together that they really learn how the other thinks." Megan O'Leary Parisi // Brewmaster, Bluejacket
"I normally don't think of brewing imperial porters outside of the winter season, but the addition of local honey and jasmine will make this beer an all-season wonder." Mitch Steele // Brewmaster, Stone Brewing Co.  
A slightly over-aggressive pour produced a massive amount of rich, light-brown colored head in an almost 60/40 beer/head ratio. I blame this entirely on the pourer – me – and not on the beer being overly carbonated. On the plus side, this produced a beautiful cascade action in the glass that was quite enchanting to behold. The beer is a dark, dark brown color with reddish highlights, but not the squid-ink, blackhole-into-eternal-nothingness dark of some porters. The head is thick, frothy and creamy, reminding me a bit of the dense sea foam churned up sometimes by the choppy tide. But darker and thicker. Smell isn't overpowering, but has nice notes of roasted malts and coffee bits and whiffs of chocolate. I'm not getting much spice or fruit or other distinguishing smells. First sip, and the beer lands thickly on the tongue. You can feel a rich, luxuriant creaminess in the texture of the beer, as it just coats, soothes and relieves your palate. There is the sense of sweetness in the mouth, and then a nice swallow with rich, lingering flavors. When I think of "suede" I think of the texture and the smoothness of say a tan jacket or pair of shoes that you would never, EVER wear out in the rain. Thus Suede is a suitable name for this smooth, creamy ale. It is definitely smooth. Smooth like Lando Calrissian. It glides down the throat, and likely wouldn't sell you out to the Empire either. I'm reading the tasting notes provided by Brewmaster, Mitch Steele, and even with the power of his suggestion, I'm not getting "jasmine and honey hit(ting) the palate first." I am getting some sweetness of hops near the end of the first glass, but it just tastes like a light porter with easy creamy-coffee-with-sugar notes and a hint of chocolate dust and a bit of sweetness that I guess could be from honey. Second pour… I'm getting some more hops in the second glass, The beer is opening up nicely and, dammit, I might just taste me some jasmine and honey yet! Compared to other Imperial Porters, the Suede is definitely on the leaner side. A lot of the other imperials that I've sampled have been sweeter, more powerful and definitely bigger in flavor. With darker, dark chocolate, and more roasted, burnt coffee. But, like suede, this is smooth and easy. Just like you would run your hand over the back of your girlfriend's suede jacket, marveling at the texture and smoothness and secret details of her back hiding beneath the fabric, this beer tantalizes the palate without overwhelming or dominating it. This is the kind of beer that pulls up to your house in a luxury sedan, hands you a rose and opens the door for you. It isn't driving a fancy sports car and telling you to cram in with a duffle bag for an overnight quickie. You can definitely feel the high ABV as you near the end of the second glass. If you drink an Imperial Porter for a massive burnt coffee/bittersweet dark chocolate mouth bomb, then Suede is probably not for you. But if you want something with smooth refined taste that will call you the next day, Suede will wrap your mouth in a soft blanket of delicious.
Categories: October 2013, Beer/Liquor/Wine, Reviews
/