Shopping Cart
Your Cart is Empty
There was an error with PayPal
Click here to try again
Thank you for your business!
You should be receiving an order confirmation from Paypal shortly.
Exit Shopping Cart
Features, Reviews and a Blog by John Sciacca
| | |
| --- | --- |
| Posted on October 13, 2013 at 6:15 PM | |
"Oh, gravity is working against me
And gravity wants to bring me down.
 Oh twice as much ain't twice as good
And can't sustain like one half could.
It's wanting more
That's gonna send me to my knees.
Oh gravity, stay the hell away from me
And gravity has taken better men than me (now how can that be?)
Just keep me where the light is…"
--John Mayer, "Gravity"
As you know, I am not a big fan of going out to the movies. Almost always, I find the experience wanting for a variety of reasons. But there are certain event movies that demand a viewing on the big screen, prying me like a pearl from the cushy, alcohol-filled oyster shell of my personal home theater. Last year that event movie was The Hobbit. This year, it was Gravity.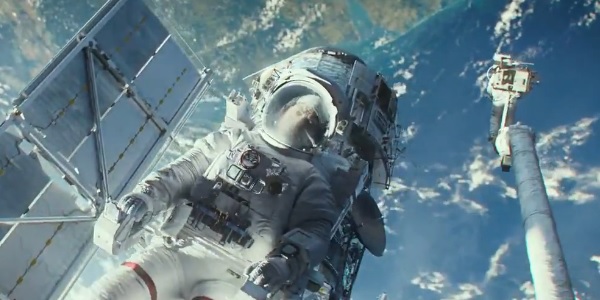 Now, I admit that I wasn't swept up into the hype from Gravity prior to its coming out. What made Gravity a must-see film for me was three things. 
Number one was this quote from James Cameron: ""I was stunned, absolutely floored. I think it's the best space photography ever done, I think it's the best space film ever done, and it's the movie I've been hungry to see for an awful long time." That's *the* James Cameron. The James "Terminator" "Aliens" "Avatar" "The Abyss" Cameron who knows a thing about space movies. And if JC says this is the best, well, dammit, this is a must-see movie.
Second was the fact that all early reviews were gushing over the visuals and how this is a movie that demanded to be seen in 3D on the largest screen possible. George Clooney said that Gravity is an argument for 3D, and he is not one to grandstand a technology for technology's sake. He went on to say, "I don't understand why some movies are in 3D. This one makes sense. There's got to be a reason why you have to do things a certain way.  There has to be a reason for it, and there's a reason for the 3D in this film." Much like Avatar was always planned and intended to be a 3D production, Gravity seems like it was meant for 3D all along, and not some "let's do it in post" conversion money grab. When done correctly, 3D can be immersive and another layer to the viewing and storytelling experience, and Gravity had that going for it.
Third, early Rotten Tomatoes scores were ranking this at 98%, meaning that it was actually probably a really good movie to boot. Very rarely do duds make it to the high 90-percentile approval area, so that is usually a pretty good indicator of quality. Or some kind of Jim Jones mass-hysteria that the movie-going public has fallen under.

So, after doing a bit of recon to find the best screen in my area to view the movie, I headed out today, spent my $8.75 and saw Gravity in 3D. Here are my (mostly) spoiler-free thoughts on the film.
The visuals are stunning. In fact, the opening shots of the movie are like the best NASA space footage of earth you've ever seen. Even the Warner Brothers logo that pops up right at the beginning of the film is cool in its stark, black-and-white-ness. The opening long tracking shots as they rotate and spin around while reparing the Hubble telescope, swirling through the zero-G, free-floatingness of space, are so full of depth and dimension and immersion that they are almost nausea inducing. (I felt a wee-bit queasy for a moment but it passed pretty quickly.) But at the same time they are so beautiful you don't want to look away.
Please click here to continue reading my Gravity review at Theo's Roundtable...

Categories: October 2013, Movies, Reviews
/