Shopping Cart
Your Cart is Empty
There was an error with PayPal
Click here to try again
Thank you for your business!
You should be receiving an order confirmation from Paypal shortly.
Exit Shopping Cart
Features, Reviews and a Blog by John Sciacca
| | |
| --- | --- |
| Posted on October 25, 2013 at 9:10 AM | |
"Good people drink good beer." - Hunter S. Thompson
A wonderful little package arrived on my porch the other day. Carefully wrapped inside was a new release from the good folks at Flying Dog Brewery, with the note starting, "To those who spread the gospel of craft beer..."
As one of the true believers in the many wonders of craft beer, I drank Flying Dog's latest offering, and share my findings with you here. Please to enjoy!

Flying Dog Brewery – Secret Stash Harvest Ale
Hop Varieties: Local Cascade, Centennial, Chinook
5.5% ABV, 40 IBU
Drank on October 21, 2013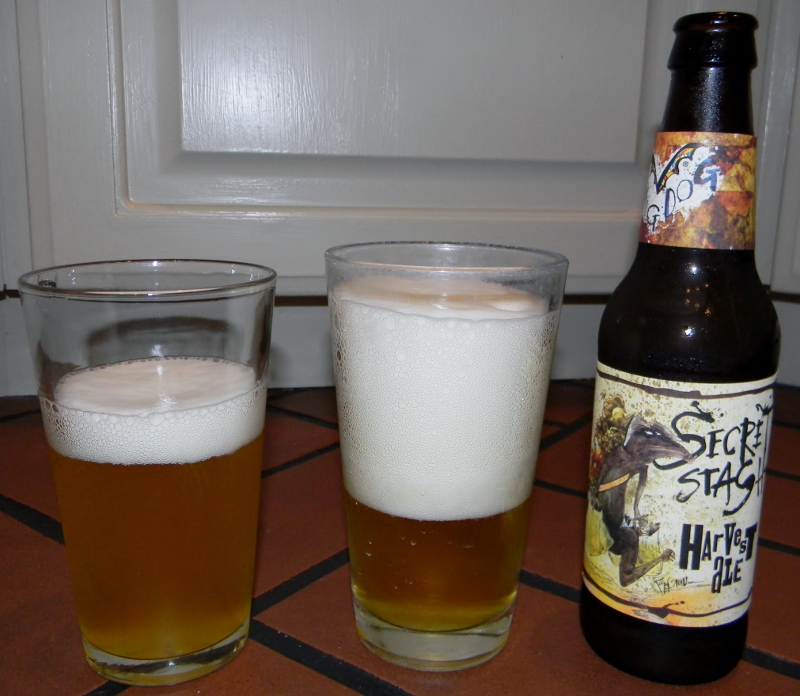 Description: "Whether it's a diet-breaking bag of cookies, dinner rolls in an 80 year old's purse, or money in the mattress, or Willy Nelson's back pocket, everyone has a secret stash. For us, it's the locally-sourced ingredients we use in our Secret Stash Harvest Ale. A celebration of Maryland's agricultural roots, each year's batch will be a little different. And we've found the perfect person to share our stash with."
One of the most impressive things about getting a new Flying Dog brew is the label artwork, and I doubt any brewery has the artistic heritage that Flying Dog does. Where other bottles have minimalist designs or simple logos, Flying Dog pulls out the stops with each release featuring new, original artwork from Ralph Steadman gracing each bottle. It reminds me of certain "Artist Series" wine releases from some vineyards, or how Chateau Mouton Rothschild hires renowned and celebrated artists such as Chagall, Picasso, Warhol, and Dali to create labels celebrating each new release. (Click to see a collection of Rothschild's labels here.) Steadman's works are always bold, playful and a little insane, kind of like the golden ale contained within.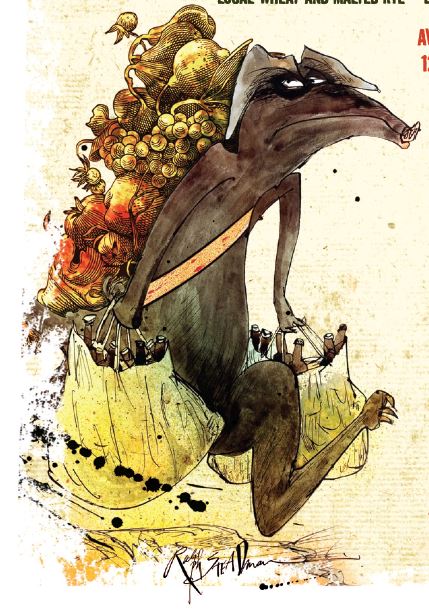 Equally impressive is the prose used to describe each new libation. Fortunately, Flying Dog brews are more than just marketing fluff and hype and happen to consistently deliver a terrific experience. After letting this beer rest several days in the fridge, I popped the lid and poured. I'm not sure what happened on the first pour, but it produced an explosion of head that literally filled the glass in a 80/20, head-to-beer ratio that was not going to be drinkable. At first I was concerned that I had an overzealous, hyper-yeast strain situation going on, but a more careful pour into a new glass produced the right amount of creamy white, fluffy cloud head. The head had great retention and hangs around for minutes in the glass, floating weightless above the body which is a fairly light, banana yellow color with a bit of cloud. Nose is rich with tropical fruit smells like pineapple and papaya and a nice backbone of wheat. First sip and the beer has a nice lightness to it, with the tropical fruit flavors definitely present but not overpowering or sweet. The first, hyper-head pour was a bit flat, so take some care in pouring to not kill your beer. Fortunately there is a decent bit of carbonation in the second glass, enough to give you a nice zing on the tongue and let you know that the beer is in your mouth and it is here to play.  There are solid wheat notes as well, nicely balancing the tropical flavors, and then a crisp, clean finish. They describe the beer as an American-style wheat ale, and it is definitely that, with the wheat notes making themselves present on the finish. The beer is light and easy drinking, but with enough flavor to keep it interesting and engaging throughout the glass. The flavors most remind me of a summer ale, something that you would drink on a long, hot day without wanting to get bogged down. Whatever you plan on harvesting, having some Secret Stash on hand should make the day go more more smoothly.

Categories: October 2013, Beer/Liquor/Wine, Reviews
/