Shopping Cart
Your Cart is Empty
There was an error with PayPal
Click here to try again
Thank you for your business!
You should be receiving an order confirmation from Paypal shortly.
Exit Shopping Cart
Features, Reviews and a Blog by John Sciacca
| | |
| --- | --- |
| Posted on October 30, 2013 at 2:10 PM | |
While not specifically mentioned by name, White People do love them some Trader Joe's. (Which is kind of just lumped under Whole Foods and Grocery Co-Ops as stuff white people like.)
White People also like Microbreweries. To whit:
"White people don't like stuff that's easy to acquire.  Beer is no exception.They generally try to avoid beers like Budweiser, Labatt's, Molson, Coors, and Heineken because if it's mass produced it is bad.  No exceptions.
So when they need a beer, they turn to microbrews who seem to be located almost exclusively in New England, Ontario, Quebec and Colorado.  Being able to walk into a bar and order a beer that no one has heard of makes white people feel good about their alcohol drinking palate.
A friend of mine once met a white guy who brought a notebook with him to every bar.  He would then keep a record of all the beers he drank and his experience with them.  He called it his 'beer journal.'" (Blatantly cribbed - but with credit - from the Stuff White People Like website)

So, hello. I am John. I am a White People. And I do indeed happen to like Trader Joe's AND Microbreweries. And when these two intersections collide, they slam into each other producing a perfect cacophony of mangled and jumbled limbs and body parts that results in a wonderful selection of delicious ales to try! My cart runneth over!
And if you have never purchased beer from a Trader Joe's, let me tell you about a wonderful policy they have. They will sell you ANY beer in the store as a single! And the upcharge for this service? ZERO! Simply divide the 6-pack price by six and you have the singleton price! It's like the beer buyer's Nirvana. So, please to enjoy my first mixed-up singleton review from Trader Joe's. More to come....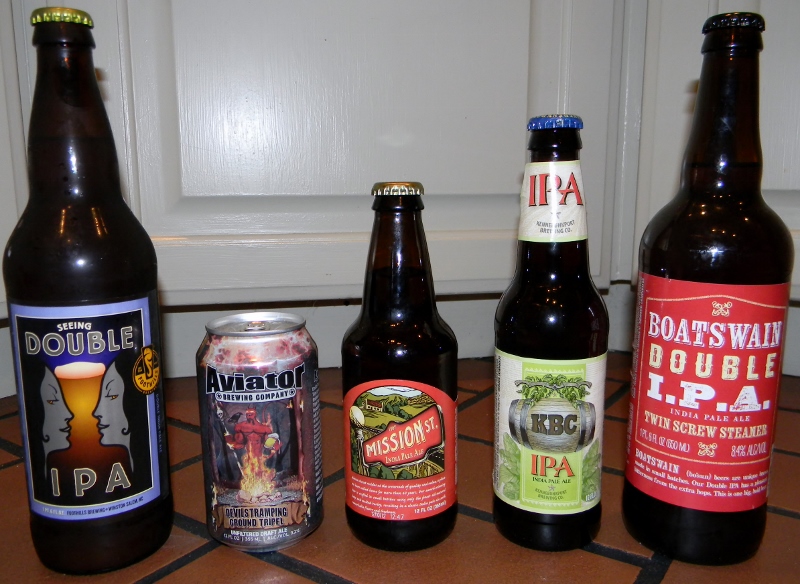 Foothills Brewing – Seeing Double IPA
Hop Variety: Unlisted
9.5% ABV, 126 IBU
$6.99 22-ounce bomber
Drank on March 10, 2013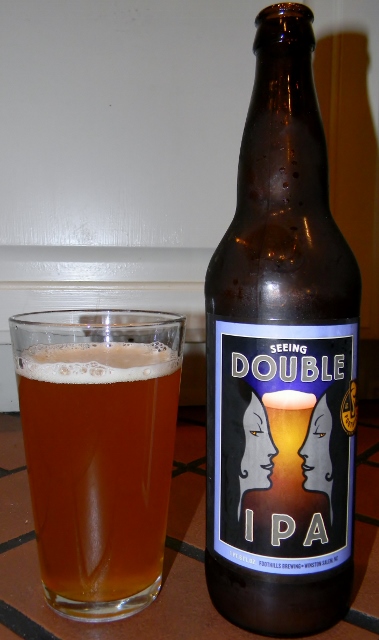 Description: "Foothills' first high-gravity beer. The high level of bitterness is well balanced with just enough malt character to craft a highly drinkable double IPA. Expect a full body and a hint of citrus from the varieties of hops added to this brew."
You just know that if I see a new Double IPA sitting on a shelf, I am by-God gonna try it! I'm drawn to them like metal to Magneto. I can't resist their sweet, hop-filled siren-song, as I drive my boat full-speed-ahead into the rocky, delicious shores. Pours a rich, golden yellow with just a bit of head that quickly disappears completely leaving only the thinnest ring of bubbles ringing the glass. The beer has a hazy cloud to it with a lot of visible bubbles. There is a nice nose rich with hops and sweet honey. First sip and there's immediate nice engagement on the tongue, strong with fresh hops. There is some sweetness followed by a nice lingering bitter. It has a really strong, bright flavor, with lots of hops and a nice balance of citrus. There is a nice sweet bit of sweetness, but it isn't honey-sweet or even orange-sweet. It is just a juicy kind of hop sweetness. The finish is lengthy and bitter and rich. This is a really nice double IPA with good balance and rich flavor. It's not a huge as some of the biggest doubles, but the flavor is good, the alcohol notes are kept in check, there is a great sweetness and the finish is lengthy and filled with hoppy bitterness. (Second pour.) Again, really nice big, first taste that just explodes in the mouth and fills it with hop-filled juicy bitter. I think what I really like about the beer is that it has a really involving flavor arc; nice, immediate involvement, a sweet mid-note, and a long bitter hop-filled finish. There are no holes in the flavor and that makes this beer a winner. Well played, Foothills! You've got a winner on your hands here.

Boatswain – Double IPA Twin Screw Steamer
Hop Variety: Unlisted
8.4% ABV, 75 IBU
$2.29 22-ounce bomber
Drank on March 11, 2013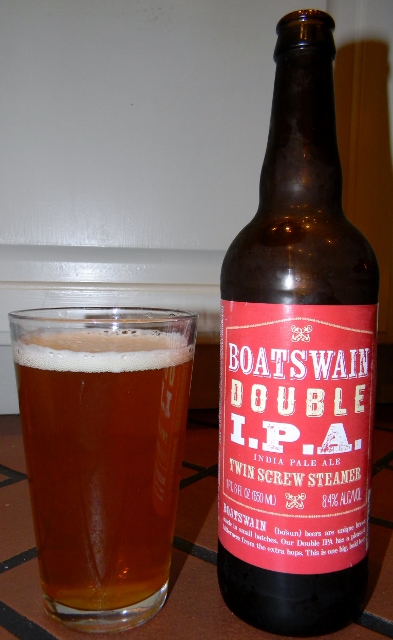 Description: "Boatswain beers are unique brews made in small batches. Our Double IPA has a pleasant bitterness from the extra hops. This is one big, bold beer."
If there is anything John loves better than one new Double it is two new Double IPAs! And for the price they sell this one for, this could be an epic deal for a double IPA bomber, running about a third of the price (or less!) of your typical big-boy double. If this is good, this would be an epic double find! Pours a golden yellow color with a thing bit of head that quickly reduces to an off-white/slightly tan colored from atop the glass and ringing the edges. Body is very clear, but not the hyper clear of say a Hopslam or Stone Enjoy By. Inside the body is visible a steady stream of rising bubbles. Smell is kind of lemony, and maybe a little grassy and with some malt undernotes. By the nose alone, it smells more like a Hefeweizen. Time for the first taste… Kind of a little sour when it first hits my mouth. Like you can tell there is a lot of flavor going on just by it hitting your tongue, almost like you chucked a sour head candy into your mouth. Swallowing it reveals a sweetness instead of sour, with bit malt and a little alcohol and some bitterness at the tail end. At the very end of the swallow you get that alcohol sweetness; it isn't overpowering, but having had a lot of great double IPAs lately that keep that flavor so well in check and in balance, it is definitely noticeable here. Also, at the very finish, there is just a hint of wheat and – as the beer has opened up in the glass – a final finishing metallic flavor. (Second pour.) A slightly more aggressive pour produced a finger of head and was fairly solid before reducing to the same froth as before. The flavors on the second glass are more filled with honey-wheat. I'm not getting any of the big, fresh, hop-filled notes that you want in a double. Its got lots of flavor, just not the one you want most. Sadly, the best thing about this beer is the price. It's not that it's bad, it's just that there are so many other good doubles out there, this can't make the rec list.
Aviator Brewing - Devils Tramping Ground Tripel
Hop varieties: Saaz and Hallertau
9.2% ABV, 31 IBU
$2.25 12-ounce can
Drank on March 12, 2013
Description: "Devil's Tramping Ground Tripel pours golden and finishes a bit sweet. Devils Tripel has a light taste from the addition of sugar. We add just the right amount of hops to balance out the sweetness. The Devil's Tramping Ground is a North Carolina folklore legend. Legend says that this is the very place the devil himself can rise from the depths of fiery hell, and come to earth."
Not gonna lie, there is just something off-putting about a beer in a can. I know, I know...it is all the  rage and keeps out light and protects freshness, but, gall dernnit, I'm agin' it! And you pesky kids stay off my lawn! Also, there is just something so I'm-getting-off-my-shift-at-the-mine-and-comin'-home-to-pour-me-a-beer feeling about popping open a can and that can opening sound. (Shudder...) Pours a beautiful banana skin yellow, straw gold with just a bit of head that quickly disappeared into just a swirling, frothy topping. Must say that the beer poured beautifully from the can. No glugging, just a smooth, clean pour.  You'll not win me over that easily, can! Body is cloudy and hazy.  Big, sweet, bubblegummy, banana, clove spice notes. Really a rich, fragrant sweet-spice nose promising all the good stuff you love in a Tripel. First sip...yeah. Nice. Feel the beer on the roof of my mouth and back of my tongue, some nice carbonation and then a really lengthy, lingering sweet, spice filled finish. This taste just hangs around. Like its saying, "Hey, put on some Miles Davis and let's just hang out for a while and chill, jazz cats and jazz kittens." Not overly sweet, but the sweet flavors are there. If you like a big juicy-fruit sweet bomb, this isn't it. It's like it gives you a nice glimpse of the brown sugar and molasses, but doesn't bash you with it. Also, this beer is rocking over 9% ABV but it is as smooth as a baby's bottom. No edge or alcohol sweetness here. I do enjoythe beer at its freshest, coldest, earliest point as it tastes more crisp and edgy. All in all a really solid Triple and a win for can-kind everywhere.
Mission Street – IPA
Hop Variety: Unlisted
6.1% ABV, IBU Unlisted
$1.25 12-ounce bottle
Drank on March 16, 2013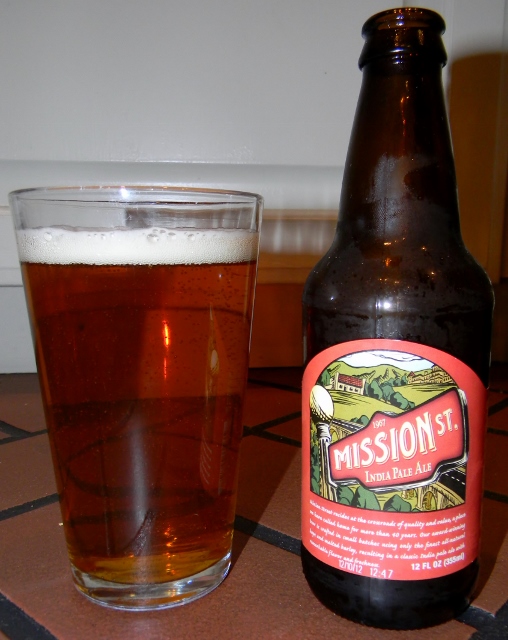 Description: "Mission Street resides at the crossroads of quality and value, a place we have called home for more than 40 years. Our award winning beer is crafted in small batches using only the finest all-natural hops and malted barley, resulting in a classic India pale ale with remarkable flavor and freshness. 12/10/12"
Pours a beautifully clear dark golden into the glass with a finger of off-white head that stays as a frothy crema on the top of the glass. It's incredibly clear with lots of visible carbonation constantly emanating from the bottom of the glass. Smell is really nice, with a lot of hop and pine and citrus backbone. First sip, and it feels like it's going to be sweet landing on the tongue, but at the swallow it really isn't too sweet. Or piney. There is bitterness, but it definitely isn't tasting like the smell was leading me to believe. Even smelling it again, I'm getting really nice orange juice and hop and pine aroma. There's a lot of good carbonation on the tongue and cheek, and then a flash of flavor as you swallow then a finish that isn't so much bitter but more like soapy or plastic-ey. As it opens a bit, the finish becomes a little less unnatural/chemical and more grapefruit rind. Unfortunately, the sweetness has also disappeared, making this beer much more one-dimensional and less enjoyable. In the world of all of the IPAs that I have drank, this is one of them…
Kennebunkport Brewing Co - IPA
Hop Variety: Cascade & Willamette
6.2% ABV, IBU Unlisted
$1.00 12-ounce bottle
Drank on April 17, 2013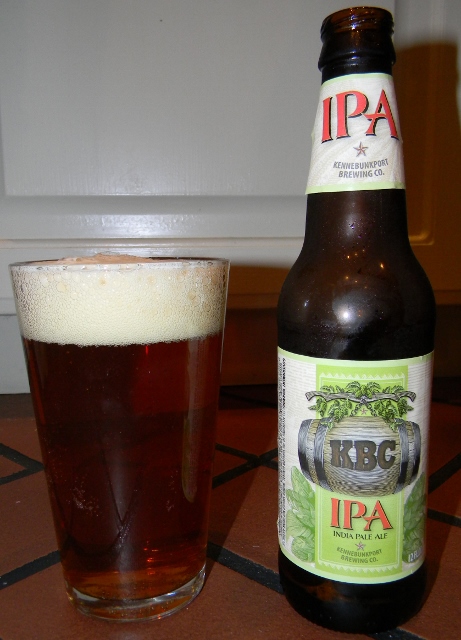 Description: "This is a meticulously crafted IPA made in small batches with fresh, pure water from Maine's Sebago Lake and Cascade & Willamette hops—the only other ingredients are Two-Row Pale Ale malted barley, crystal malt, chocolate malt, and yeast. The brewmaster hand selects all the ingredients for each batch, ensuring not only consistency, but the highest standards of quality, too. If you're an IPA lover, this beer's complex floral aromas and dry, crisp taste are sure to please."
An accidentally overly aggressive pour – look, it was a long day at work and I've been IPA deprived recently – produced a big two-and-a-half fingers of off-khaki head that was thick and chunky and stayed around for a while at the top of the glass. Beer is a really nice, rich deep golden, burnt copper color, mostly clear, but too dark a shade to see through. Lots of visible micro bubbles dancing about. Notes are definitely richer in malt than in hops, and I'm not getting really any of the tell-tale hop aromas at all. No citrus, no pine, no flowers. Just some bready malt. First sip, and a little carbonation on the tip of the tongue, and a decent mouthfeel, with a swallow that is again big with bready malt notes and curious missing anything that says IPA. Forget about screaming "IPA!" I would settle for a gentle, hot, mustard-breathed whisper of IPA. Subsequent swallows are starting to tame the malty notes and bring out a bit of floral hops, It still just kind of lands with a dull, unimpressive *thud* for me. Again, it's one of those beers that's not bad as a beer per se, but it is bad as an IPA. And when you're in the mood for an IPA, this one is gonna  leave you wanting. Where is my pine? Why is my bitter? Where is my flash of hoppy sweetness? Near the end of the glass, the malt is back, making it finish like a marzen or a maibock, both styles I like, but neither of which appeals to the IPA lover in me. There is also just the *slightest* hint of soapiness in the finish, and just a little hint of burnt coffee, perhaps this beer's attempt at a bitter finish. Without a doubt I have one favorite thing about this beer, and that is that it only cost me $1.
Categories: October 2013, Beer/Liquor/Wine, Reviews
/