Shopping Cart
Your Cart is Empty
There was an error with PayPal
Click here to try again
Thank you for your business!
You should be receiving an order confirmation from Paypal shortly.
Exit Shopping Cart
Features, Reviews and a Blog by John Sciacca
| | |
| --- | --- |
| Posted on November 12, 2013 at 4:40 PM | |
I have a backlog of beers that I've drank. Beers that I've photographed. Beers I've reviewed. And beer reviews I've yet to post. I think there are like 30 of them. In an effort to clear the backlog, here are three beers I drank but neglected to post up. Why? Who can say. Let's stop trying to figure this all out and just move on to the beers, shall we?
Great Divide Brewing Co - Fresh Hop Pale Ale
Hop variety: Unlisted
ABV 6.1%, 55 IBU
$7.99 22-ounce bomber
Drank on December 13, 2012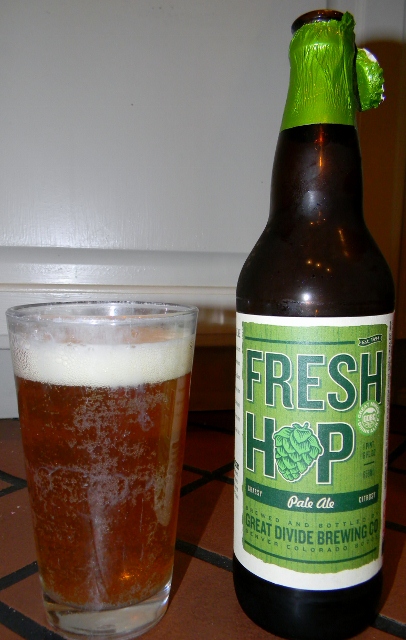 Description: "Fresh Hop Pale Ale is brewed with fresh, whole cone hops from the Pacific Northwest. We ship these 'wet' hops to Denver overnight and brew shortly after harvest, imparting an intensely grassy hop aroma and citrus hop flavor in a medium-bodied ale. Bottled on Oct 05 2012"
You know those times where you're at a party and you really kind of *hope* that a super fresh bunch of hops walks up, and then totally straight punches you in the face with an overwhelming one-two of piney, citrusy goodness, and then leaves, walking off with your girlfriend on its arm and telling a fascinating story that you can't help but respect and admire it even whilst you lie there helpless and bleeding? Like when you want a Hoptimum or a Stone Ruination 10th Anniversary or a Maharaja? That's the mood I'm in right now. And I'm hoping that Fresh Hop is going to be able to deliver. Pours a deep golden copper color with a finger-and-a-half of off color, not-quite-khaki head that slowly reduces down to a nice even layer on top of the glass. Body is clear with some visible bubble activity. Beer leaves a thick coating of foam on the sides of the glass. I'm getting some piney, resinous notes and also some sweetness. It smells *promising* not like it's going to be world class but like it's going to hit the spot. First sip…it really catches the roof of my mouth and then a nice landing on the tongue, a good splash of hop notes, and then a finish that pretty quickly fizzles and vanishes. The carbonation level is good, and it feels crisp and fresh, it's just the beer gets out of Dodge so quickly at the ending that you really are left literally wanting more. It's like, the flavors are there, you can sense them swimming around right below the surface, but they never break free and really burst forth. Let go of your leaden weights! Be free, delicious hop taste! BE FREE! This beer's a tease; it hints at really giving you a mouthful of pleasure but then just kind of lays off, rolls over and goes to sleep. (Second pour.) Another beautiful pour with a thick, nearly whipped cream density of head. I have re-centered my grading and expectations of this beer, realizing that it is a Pale Ale and not a true IPA. I can't hate a horse because it's not a zebra; I have to love it for the horse that it is, despite the fact that's it's just a stupid horse and not a beautiful, hoppy and delicious zebra. And as a Pale Ale, I think it has a really nice flavor. I've become a Double IPA snob, and anything less is often thin and disappointing. Stepping outside of that and just drinking this beer as a beer, I can enjoy it for what it is. In the second glass, I'm getting strong tastes of the grassy notes, like fresh mown, summer grass. Instead of that great IPA bitterness, it is a clean, fresh grassy, crisp taste. I still wish it had a bigger flavor finish, but I could see this being an enjoyable summer brew.
Foothills Brewing – Oktoberfest
Hop Variety: Unlisted
6.3% ABV, 29 IBU
$2.00 22-ounce bomber
Drank on March 24, 2013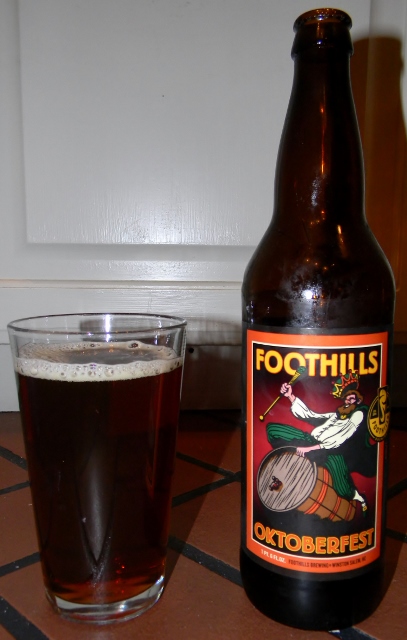 Description: "A German-style amber lager. Dark amber to light brown in color. Sweet caramel and toffee aroma. Caramel and Toffee sweetness up front with notes of toasted bread and hints of roasted cashews and almonds."
This beer along with the Red Rocket below were stacked up in cases at the front of the Piggly Wiggly when I purchased my case of Stone Enjoy By IPA, so I guess you could say they were an impulse purchase. I always enjoy a good German Marzen or Bock style ale, so I thought I'd take the Oktoberfest for a spin and $2 for a 22-ouncer is fair by me. Pours a deep, mahogany-copper color with just a bit of head that vanished as quickly as it appeared leaving just a bit of micro-bubble hazing on top of the glass. The body is very clear, letting you read through it if you had enough light on the other side to penetrate the dark, color. Smell is sweat and yeasty and malty with a nice bready aroma. There's some notes of toffee and some burnt, roasted malt aromas as well. Nice. First sip, and as it first hit my tongue I thought it was going to be *really* sweet, but as it moved to the back of my mouth I could sense that this was just some toasty malt notes that were actually quite pleasant. There is a sweetness, but it isn't over the top. A nice breadiness to it as well. The finish is smooth and pretty crisp, ending quickly with a nice bit of malt. After a little time in the glass, the toasted, roasty notes are all little more prevalent, given it almost a porter-lite finish. I am definitely enjoying this beer; it's easy drinking and full of flavor. (Second pour.) A little firmer pour produces a tad more head that again disappears as quickly as it rises. Not much new on the second glass, but again prevalent bready, malty notes with a hint of caramel. This is a beer with a really nice flavor that has the body to stand up to a nice sausage or kielbasa meal. Solid.
Bear Republic – Red Rocket Ale
Hop Variety: Unlisted
6.8% ABV, 67 IBU
$2.00 22-ounce bomber
March 25, 2013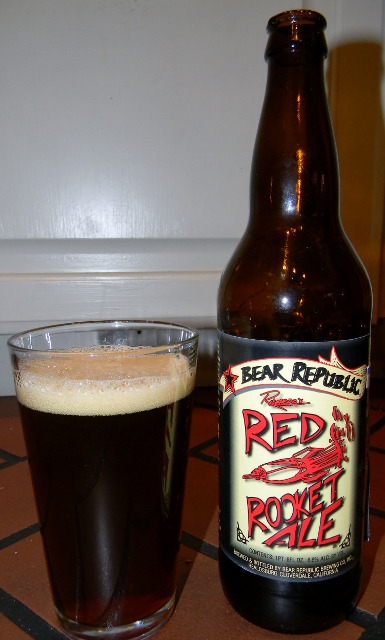 Description: "Red Rocket Ale is a bastardized Scottish style red ale packed with distinctive flavors and an aggressive hop character rivaled by none. This unfiltered, bottle-conditioned, amber colored ale, breaks all style molds."
I like a beer that isn't afraid to use "bastardized" in its description, so style points right off the bat. But for a beer with "Red" as the first part of its name, I was expecting this to pour with a real reddish hue, but it is really more dark mahogany, copper with just a *hint* of red. In fact, the hint might not even be there, it might just be overt suggestion making me think I'm seeing it. Produced a bit of slightly-tan tinged head and reduced to chunky bubbles edging the glass. Body looks pretty clear, though too dark to really see through. Nose is big with sweet, caramel malts and nice bready-yeasty smells. First sip, pretty smooth, with a nice mid-note malt-filled sweetness and then a crisp bready finish. The tastes are good, and it really reminds me of a Marzen or Bock, but all of the notes are a little subdued and laid back, keeping it from really being a great ale. The finish has a nice pop, but it isn't strong enough and the flavor doesn't hang around too long either.  (Second pour...) A little more head that makes a nice froth on top of the glass. First sip has a nice creaminess to it, adding to the mouth feel. Again, nice sweet malt and hop notes, and then a burnt/roasted caramel finish. After opening a big, the toasty, roasted coffee notes are a little more prevalent, making for a more complex and enjoyable finish. Red Rocket is a good beer with some interesting flavors. Would it like it to be a little more full of flavor? Sure. But that only speaks to how good the flavors there are, actually are.
Categories: November 2013, Beer/Liquor/Wine, Reviews
/