Shopping Cart
Your Cart is Empty
There was an error with PayPal
Click here to try again
Thank you for your business!
You should be receiving an order confirmation from Paypal shortly.
Exit Shopping Cart
Features, Reviews and a Blog by John Sciacca
| | |
| --- | --- |
| Posted on November 15, 2013 at 1:50 PM | |
It's not every day that I come home to find packages on my porch. It's even less likely that I come home to find packages of beer on my porch. And the rarest event of them all is when I discover not one but TWO packages of beer on my porch! It's like a solar AND lunar exclipse occuring simultaneously!

When I opened the boxes and saw that both beers were Bastard ales, I knew it was more than just serendipity, it was a sign; clearly I was meant to review these beers together. So, a Bastard drinking we shall go...

Stone Brewing Co – Double Bastard
Hops: Classified
11.2% ABV, IBU Classified
22-ounce bomber
Drank on November 10, 2013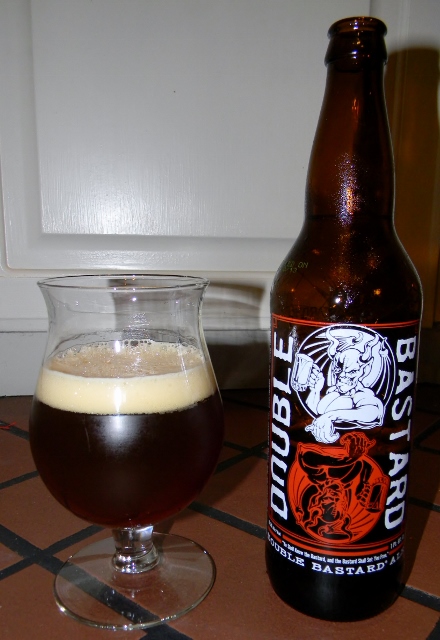 Press Release: "WARNING: A Bastard has been set free and it's out to make a mockery of you. As the curator of two overly aggressive, unapologetic beers, it's necessary,…nay, our *obligation*…to warn humankind that today, Double Bastard Ale and a barrel-aged version of the beer, Southern Charred, are making a migration across the U.S. on a mission to annihilate palates nationwide. Double Bastard Ale was first released November 1998 to honor the one-year anniversary of Arrogant Bastard Ale. The beer debuted as the amped-up evil uncle of its already aggressive predecessor. The bottle warns, "Double Bastard Ale is not to be wasted on the tentative or weak. Only the Worthy are invited, and then only at your own risk." It goes on, "This is one lacerative muther of an ale." Since 1998, double Bastard Ale has been released once-a-year to Worthy individuals seeking its company."

Bottle Description: "This is one lacerative muther of an ale. It is unequivocally certain that your feeble palate is grossly inadequate and thus undeserving of this liquid glory...and those around you would have little desire to listen to your resultant whimpering. Instead, you slackjawed gaping gobemouche, slink away to that pedestrian product that lures agog the great unwashed with the shiny happy imagery of its silly broadcast propaganda. You know, the one that offers no challenge, yet works very, very hard to imbue the foolhardy with the absurd notion that they are exercising 'independent' thought, or attempts to convey the perception it is in some way 'authentic' or 'original.' It's that one that makes you feel safe and delectates you into basking in the warm, fuzzy, and befuddled glow of your own nescience. Why so many allow themselves to be led by the nose lacks plausible explanation. Perhaps you have been so lulled by the siren song of ignorance that you don't even notice your white-knuckle grip on it. You feel bold and unique, but alas are nothing but sheep, willingly being herded to and fro. If you think you are being piqued in this text, it is nothing when compared to the insults we are all asked to swallow streaming forth from our televisions and computers. Truth be told, you are being coddled into believing you are special or unique by ethically challenged 'pay no attention to the man behind the curtain' marketers who layer (upon layer) imagined attributes specifically engineered to lead you by the nose. Should you decide to abdicate your ability to make decisions for yourself, then you are perhaps deserving of the pabulum they serve. Double Bastard Ale calls out the garrulous caitiffs who perpetrate the aforementioned atrocities and demands retribution for their outrageously conniving, intentionally misleading, blatantly masturbatory and fallacious ad campaigns. We demand the unmitigated, transparent truth. We demand forthright honesty. We want justice! Call 'em out and line 'em up against the wall... NOW."


I'm not gonna lie...I *really* wanted Stone Brewing Co to send me their new, ultra-limited release of Southern Charred to try, and when I saw the box on my porch, in my heart-of-hearts, that's what I really thought I was going to find. But, alas! It was the Double Bastard. After a millisecond of disappointment, I realized that I was still holding a delicious bottle of beer, so I popped it into the fridge and waited for the beer to calm from its travels and chill... Pours a rich medium, brownish color tinged with red into the glass that produces two fingers of creamy khaki color head that rests defiantly atop the beer for several moments before subsiding like molten lava back into the cauldron which is the heavy brew below. Holding the beer up to the light, it glows a fiery, ruby red, like peering into the soul of a dragon's eye. The nose is sweet with alcohol, and hops and alcohol and some malty caramel as well. I keep looking at it and smelling it and I can tell the beer is starting to mock me, to doubt whether I am man enough to tackle the bastardly-ness of the Double. Oh, beer, I assure you, I AM man enough. You will be drank tonight! First sip and the beer slides the length of your tongue, like the beer is laying down a thick layer of asphalt to drive all over you. There is a flash of sweetness and then some hop spice and then a lengthy roasty, malt-filled bitter. There are also big orange citrus juice notes. It actually isn't nearly as sweet or unforgiving as I thought it might be, but that's the brilliance of Stone Brewing, bringing incredible balance to even the biggest of beers. Holding the beer in the mouth for a bit reveals a creaminess to the texture and gives the beer another layer to its nuance. From what I can recall of the regular Arrogant Bastard, it has a bit more flavor to it, and I think the Double has some of these flavors blasted into submission on the crucible of the 11.2% ABV. About half-way through the first glass and I'm starting to feel the warming, feel-good-glow of the Double's effects. It's like a gentle Novocain is settling over my body. With each sip, the beer leaves a syrupy-thick track of coating on the sides of the glass that slowly roils down back into the beer. Stare into it. Become one and embrace your inner bastard. The bitter seems to be opening up a bit too, a nice almost leathery-tobacco flavor on the finish, and some of the alcohol's booziness has abated as well At the end of the first glass, I feel like I want to share this Pink Floyd song lyric with you. So, I'm going to.


"When I was a child I had a fever
My hands felt just like
Two balloons
Now I've got that feeling once again
I can't explain
You would not understand
This is not how I am
I... Have become comfortably numb."

 
(Second pour.) I went ahead and put on some Pink Floyd on my audio system. And I'm watching the 49ers on TV. And I'm typing on my computer. And I'm drinking this beer. So I think my brain is going to explode. Second pour produces another thick finger of tan head and the flavor has developed a subtle woodiness to it. And I say that in the best way possible. The beer seems smoothened, less aggressive, less Bastard-ey, but more flavorful and more enjoyable. For all its bluster, the Double Bastard is like any other bastard and it just wants to be loved and accepted for what it is. Like a wine that has been decanted and allowed to breathe for a bit, the second pour of the Double produces an older, richer, wiser beer that has made its way in the world and isn't out trying to prove anything. Last sip, and the Double was enjoyable till the end. In fact, I think it was even better in the second glass. The carbonation was a little more subdued and the flavors meshed together into a better melting pot of love. Double Bastard is a big beer. It's going to be too big for some. But if you crave a big taste, maybe you're just bastardly enough to give it a try.


Bamford Brewing Co. – That Old Bastard Wee Heavy (fermented with oak chips)
Hop variety: East Kent Goldings
8% ABV, 32 IBU
Drank on November 14, 2013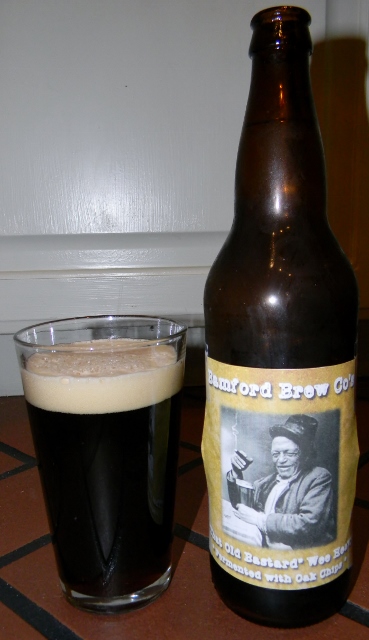 Description: "Modeled after the Traquair House Scotch Ale, That Old Bastard aims to be its bastard son with English ale malt profile, East Kent Golding hops and soaked in toasted oak chips to create THAT old smoky vintage flavor."
I love a beer with a woody, oaky flavor, so this brew from my friend, Trey, seemed destined for deliciousness right out of the gate. Also, I'm told that I am in the possession of the last bottle of this in existence, so, of course, I must immediately pour it into my gullet! Pours a dark cola brown that produces two fingers of light-tannish head that slowly reduces to a think frothy topping. The beer really coats the sides of the glass with tan froth; all down the sides of the glass are thick rings of tan lacing. Looking at the beer in the light there is a lot of cloud, almost the look of dark, unfiltered, organic apple juice. Nose has some nice caramel malt, and some roasted coffee and a bit of medium-dark chocolate with a good hint of new oak. New oak like a fresh barrel you might smell at a winery. First taste and the beer lands mid-tongue with a nice, creamy mouthfeel and then a flash of sweetness and some vanilla-oak on the finish. The carbonation is on the lean side, and I think it would have a bit more of a flavor swell with some extra carbonation to bring up the end. The beer has a nice flavor, but the finish is over a bit too quick for my preference. I'd also love a bit of bitter chocolate, or a stronger alcohol note to bring out the flavor. It's so smooth, it's like the Old Bastard is laying down pick-up lines that are just sailing right over my head. I do like the subtlety of the oak as it goes well with the beer's creamy texture. End of the first glass, and I think I'm gonna pour the next round a bit more delicately to hopefully preserve a bit more action in the beer. (Second pour.) The vanilla-oak creaminess is a bit more pronounced in the second glass, and the finish is also a bit longer with a nice hint of sweetness as well. The oak chip flavors definitely did their part, and if subtlety and smoothness is what you want from your brew, this delivers.

Categories: November 2013, Beer/Liquor/Wine, Reviews
/