Shopping Cart
Your Cart is Empty
There was an error with PayPal
Click here to try again
Thank you for your business!
You should be receiving an order confirmation from Paypal shortly.
Exit Shopping Cart
Features, Reviews and a Blog by John Sciacca
| | |
| --- | --- |
| Posted on November 21, 2013 at 1:30 PM | |
Like a cozy, hand-knit snowflake-design sweater, nothing heralds the coming of fall/winter like the arrival of the latest batch of pumpkin inspired things. And no true beer lover* can let fall pass them by without trying a few of the season's latest pumpkin beer offerings, and this year I snatched up a trio of pumpkin infused brews to get into the pumpkin season and nutmeg seasoned and cinnamon season and, umm, other similarly spiced seasons.
While I'm by no means a pumpkin beer authority – as I would consider myself an IPA authority, thank you very much – I've found that while they all taste fairly similar, they are all pretty strikingly different in their execution. Some a bold and in your face, holding you down one the ground while screaming, "PUMPKIN! IT'S PUMPKIN!!!" into your ear with hot, clove-spiced breath. Others are more, "Dude, little bit a spice to give you some flavor. It's all chill, bro." And some grab a big jar of Acme Artificial Pumpkin Spice and just dump that mother into the batch.
So, uh, yeah. Pumpkin beer…
(* After polling several other beer lovers, it turns out that many of them do indeed let the season pass by without enjoying pumpkin beers, and that pumpkin beers might just be a brewing industry gimmick to get you to buy the latest seasonal.)
Weyerbacher - Imperial Pumpkin Ale
Hop variety: Unlisted
8% ABV, IBU Unlisted
$9.98 4-pack 12-ounce bottles
Drank on November 3, 2013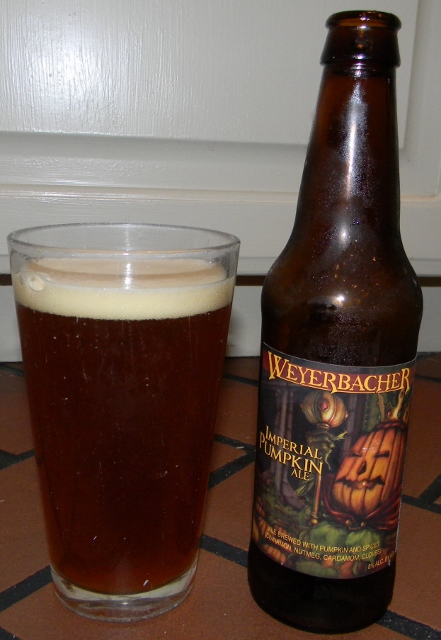 Description: "Like a pyramid for a pharaoh, we set out to make a bold monument for The King of the Pumpkins! This 8.0% ABV pumpkin ale is the mother of all pumpkin ales. It is heartier, spicier, and more 'caramelly' and 'pumpkiny' than its faint brethren! We have added lots of pumpkin along with cinnamon, nutmeg and a touch of cardamom and clove giving this beer a spicy, full-bodied flavor. This truly is an Imperial Pumpkin Ale. Perfect finisher on a cool autumn night, or match it up with a slice of pumpkin pie and fresh whipped cream. It is available August through November."
The Weyerbacher definitely has the coolest label, with a scepter wielding pumpkin wearing a cape and overseeing his minions in the field. The pumpkin's expression is part "I can't believe you carved my face!" grimace and "All kneel before King Imperial Pumpkin!" authoritarian bluster. Either way, it pours a deep, rich copper color with a nice thick finger-and-a-half of dense khaki head that sticks around on top of the beer for virtually the entire fall season. Beer leaves big, creamy lacing rings around the edge of the glass at each drinking way point. I could measure the waxing and waning of the moves with the subtle ebb and flow of that head. Smell is strong with sweet pumpkin pie spice fixings, including cinnamon and nutmeg and spicy clove. I like a little sweetness to my pumpkin beers, and the nose on this promises that it will have a nice flavor. Beer lands on the tip and then mid-tongue with a nice dash of spice and has a good creamy mouth feel. There is a big wave of flavor in the middle, punctuated by everything that I smelled, and then a finish that has a good bit of sweetness and a nice linger. As mentioned, I'm not really a connoisseur of pumpkin beers, but I'm enjoying the flavors of this, and it seems to offer everything that I expect a pumpkin beer to be. It has some good spice, with the right balance of cinnamon and nutmeg, it has a little zing of sweetness that brings out the flavors, and it has a good finish. If you're a fan of the pumpkin beer genre, I recommend picking up a 4-pack of the Weyerbacher.
Dogfish Head - Punkin Ale
Hop variety: Unlisted
7.0% ABV, 28 IBU
$7.99 4 pack 12-ounce bottles
Drank on November 8, 2013
Description: "A full-bodied brown ale with smooth hints of pumpkin and brown sugar. We brew our Punkin Ale with pumpkin meat, brown sugar and spices. As the season cools, this is the perfect beer to warm up with. Punkin Ale is named after the seriously off-centered southern Delaware extravaganza Punkin Chunkin (check out some of these Discovery Channel videos of Punkin Chunkin, you gotta see it to believe it!). In fact, Punkin Ale made its debut as it claimed first prize in the 1994 Punkin Chunkin Recipe Contest. Yes, that was a full 6 months before we even opened our doors for business! Punkin Chunkin has grown in size and scale, with pumpkins now being hurled more than 4,000 feet through the air! If you come down to see if for yourself, drop by and visit us. Since its debut, we've brewed Punkin Ale each and every fall. It is released right around Sept. 1 each year. When you find it, grab some extra because it's usually gone by Thanksgiving."
As label creativity goes, I give the Dogfish Head a barely-trying C-. It clearly spells out what the beer is and I *guess* it is in fallish colors but that's about it. Pours a golden color with a decent finger-plus of thick, creamy light khaki head that is frothy and sticks around for a good bit. Leaves a good amount of lacing on the sides of the glass. Beer's body is nearly read-through clear, with lots of bubble activity going on. Even sitting a couple of feet away, I'm getting that "pumpkin pie cooling in the windowsill" scent of spice aromas. Smelling directly into the glass the nose is rich with pumpkin and cinnamon and nutmeg scents. First sip, and it like spherically hits my mouth. It is simultaneously on my tongue, cheeks and roof of my mouth at once, giving a really nice mouthfeel. There is a flash of sweetness, and then tastes of pumpkin and spice, and then a pretty crisp finish. Not as sweet or strong as the Weyerbacher Imperial, but maybe more refined and balanced. On the finish, there is a bit of malt, and maybe some brown sugar sweetness as well, but clearly the standout flavor is pumpkin, or punkin if you will. I think between the two beers, the Weyerbacher is more intense and flavor-packed, and the Dogfish is more something you could drink for a longer period. After the bottle of the Weyerbacher, I was ready to be done with pumpkin beers for the evening, but after finishing my Punkin ale, I wouldn't mind pouring another bottle full.
Shipyard Brewing Co – Pugley's Signature Series Smashed Pumpkin
Hop varieties: Willamette and Hallertau
9.0% ABV, IBU Unlisted
$9.99 1 pint, 6 ounces
Drank on November 11, 2013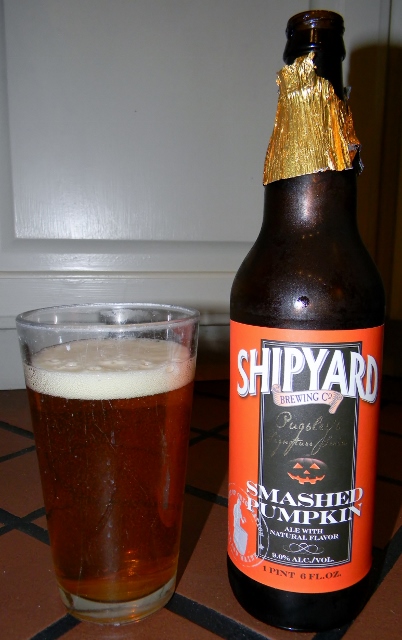 Description: "Smashed Pumpkin is a big-bodied beer with a light coppery orange color and pleasing aroma of pumpkin and nutmeg. The OG and final Alc./Vol. provide the structure and body. Pale Ale, Wheat and Light Munich Malts combine with the natural tannin in pumpkin and the delicate spiciness of Willamette and Hallertau Hops to balance the sweetness of the fruit. To fully enjoy all the flavors, this ale is best drunk at 55 degrees Fahrenheit. Smashed Pumpkin pairs well with sharp cheeses, nuts, lamb, hearty stews and desserts like flan or pumpkin pie. Chefs find this an excellent beer to cook with in dishes such as braised short ribs."
This label looks classy and fancy, with nice foil wrapping and some subdued silver scrips and a backlit jack-o-lantern. In fact, it was enough to get me to notice it while wandering the aisles of World Market, so well-played, marketing department! Pours a lighter golden color than I was expecting, with a lot of yellow to the tint. Produces two fingers of white, frothy head that lasts for a decent amount of time. The froth leaves thick lacing trails on the sides of the glass, and adds a creaminess to the texture in the mouth. The body is startlingly clear, like a hyper-clarified IPA clear. It is see-through, which is usually not something I see in my non-IPA travails. Just a ton of visible carbonation in the glass. Like an explosion of micro-bubbles blasting to the surface of the glass. The glass is so clear, it's like watching a beautiful reverse rainfall, as the droplets just pour up to the top of the glass. Nose is definitely pumpkin pie, in fact, totally reminiscent of the pumpkin pie filling my mom would use to bake a pie. It's like I can smell the fresh, pre-baked crust and sweetness of the filling and the nutmeg and cinnamon spice. If there were a scratch-and-sniff for pumpkin pie smell, this beer would be it. First sip, and I feel it on the back of my tongue, and then there is a BIG, piercing amount of sharp, sugary, boozy sweetness that is just overwhelming to the palate. There is almost something artificial tasting to it, like slightly plastic-ey on the aftertaste. Despite the amount of bubbles visible in the glass, the beer is surprisingly uncarbonated, and has a creamy texture in the mouth. The big deal-killer here is the finish which is cloyingly sweet and has that persisting artificial flavor. espite the amount of bubbles visible in the glass, the beer is surprisingly uncarbonated, and has a creamy texture in the mouth. The big deal-killer here is the finish which is cloyingly sweet and has that persisting artificial flavor. I'm really trying to pinpoint the flavor, but I can't. It's almost medicinal or camphor or something. It's just…off. It's almost like drinking coke syrup straight, without any carbonation. That sweet syrupy-ness, but with a spice that makes it almost cola tasting. Like a flat, but still syrupy sweet cola. Wow. End of glass one, and I am not looking forward to the second pour. But, I'm a boss, so I'm gonna cowboy up and pour. Now the smell that I thought as pumpkin pie filling just makes me thinking of flat cola. Sigh… The second pour is basically identical to the first. Same creaminess and lack of carbonation and big, boozy, syrupy sweet flavors with an odd, off-putting finish. I think this is my least favorite pumpkin beer to date and one that I can't recommend in any case.
Categories: November 2013, Beer/Liquor/Wine, Reviews
/