Shopping Cart
Your Cart is Empty
There was an error with PayPal
Click here to try again
Thank you for your business!
You should be receiving an order confirmation from Paypal shortly.
Exit Shopping Cart
Features, Reviews and a Blog by John Sciacca
| | |
| --- | --- |
| Posted on May 19, 2010 at 5:24 PM | |
In most things, I have a pretty strong opinion, and those opinions are often only slightly more flexible than the rock face of Half Dome. And if we talk long enough, at some point, you're likely to experience a stream of consciousness so honest (OK, so brutally honest) that it might feel refreshing – like a backhanded pimp slap. This is probably why I have a small – but fairly loyal – band of friends, and that my dropout rate of making new friends would likely shame the SEAL teams.
I've already mentioned that I'm kind of weird about where I eat. Well, I'm even weirder about where I watch movies.
You see, I love watching movies. I waited and saved and plotted and finally got a home theater of my own that is so awesome, I still can't believe it's mine. When I'm not watching my 60-inch Plasma, it's because I'm watching my 115-inch widescreen! My SuperCube Trinity subwoofer plays so low and so loud, that I'm secretly hoping that one day I'll stumble across the Brown note. So, when it comes to watching a new movie, I don't want to sully the experience by viewing it in a crappy environment. This unequivocally makes me a theater snob, and it's a title I wear with no shame whatsoever.
Now, it's not that I don't like to get together with friends. I do! And if you want to hang out and watch some TV (assuming it's a show I'm not interested in) or an old movie (that hasn't been or isn't scheduled to be re-released on Blu-ray any time soon) then, sure, I'd love to come and hang out! Now, I know I'm not alone here. So, if you've ever said (or just thought or wanted to say) any of these things before agreeing to see  a movie at someone else's house, then rest assured; you're a home theater snob too!  Welcome…friend! (There, see how quick I can make new ones!)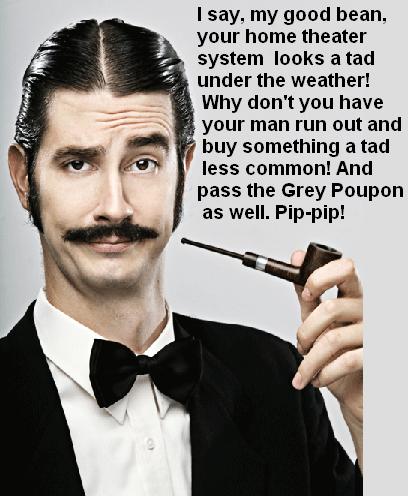 You are a home theater snob if: You worry about the shape of your host's TV.
If their TV is square, then I don't care. Doesn't really matter what else you think you have going on with your system; if your TV isn't even widescreen, then you've already lost me. Also, if you don't know whether your set is or isn't HD, I'm gonna error on the side of caution and just let it be.
You are a home theater snob if: You worry about the size of the TV.
I don't care what Cosmo said, size DOES matter. You might have the greatest 37-inch TV in the world, but when you said "thirty" and "seven" I started ooking over your shoulder to see what other people were talking about. Seriously, unless your mouth starts forming the Ssss of "sixty" or "seventy," I'm probably washing my hair that night.
You are a home theater snob if: You think that HTiB is a 4-letter word.
If your system came packed in a single box – and that box didn't say "Frickin' Giant Ass Totally Awesome Home Theater System!" and barely fit in the back of a Ford dually – then I'd suggest packing it ALL back up in that back and returning it. Whereas One Ring can Rule Them All, One Box systems usually just stink. Like poo. Also, if you happened to buy that shame-in-a-box out of the back of a truck from "some guy in a parking lot," not only am I NOT coming over, but I'm going to make fun of you. To your face.
You are a home theater snob if: You judge a man by how closely his system can recreate the Jurassic Park water glass foot stomp.
Ain't go no sub, then you gets no love. If you don't care enough about your system or yourself to add a subwoofer, then how can I care enough to come over?
You are a home theater snob if: You'll only watch a movie on disc.
If any sentence that you are thinking of saying includes the letters V, C, and/or R then...stop! I'm sure you've got your tracking all dialed in, and that its looks totally fine to you on your small, square, non-HD set, but for this, I'm gonna have to say it IS you, not me. (Note that "disk" can also be substituted for "disc." You want to watch a movie on a Kaleidescape or other movie server system, well, then, I salute you, sir!)

You are a home theater snob if: You expect to hear Chow Yun Fat's *real* voice.
In the (albeit highly unlikely) event that you invite me over to see a foreign film, I will be coming over planning on reading subtitles. If you prefer the listening to the horribly dubbed English version, then I prefer to stay home.
You are a home theater snob if: You use the  term "reference level" as a badge of honor.
If you think that your neighbors or kids or Grandpa Joe and Grandma Josephine might be disturbed by loud volume levels, then why don't we save ourselves the suspense of finding out and just not even bother.
You are a home theater snob if: You know a film's original aspect ratio and expect to have it preserved.
If you're all excited because you found a version of the film that doesn't have "those awful black bars" then expect to hear me say, "Wow! That's great! I hope you love watching two-thirds of the movie…by yourself!"
You are a home theater snob if: You feel that audio is AT LEAST 50% of the equation.
Surround sound means speakers to the side and/or (though, let's be honest, it's much preferably AND) behind me. It doesn't mean sound coming out of your TV or two giant Fischer speakers you've had since college. If you think it means either of these things, then I think it means me not watching at your house.
You are a home theater snob if: You try and sneak a peak behind their rack and see how it is connected.
In return for ME promising not to say anything when I see you turning to Channel  3 to watch a movie, YOU'LL promise that you won't say anything when I get up and leave.
What's that you said? Your TV is lame, your audio system sucks and the movie is something you pirated off Torrent, but you've got plenty of wine? To that I say....what kind of wine is it?

Categories: May 2010, Movies, Rants
/