Shopping Cart
Your Cart is Empty
There was an error with PayPal
Click here to try again
Thank you for your business!
You should be receiving an order confirmation from Paypal shortly.
Exit Shopping Cart
Features, Reviews and a Blog by John Sciacca
| | |
| --- | --- |
| Posted on May 15, 2014 at 12:10 AM | |
"Once is happenstance. Twice is coincidence. Three times, it's enemy action." – Ian Fleming, "Goldfinger"
Remember in the early, Wild West days of the Internet when we used to counter the specter of online retailing with the ominous threats of getting ripped off, receiving the wrong product, or being stuck with some grey-market or broken good that could never be returned? Yeah. Not so much anymore.
Today people love buying off the Internet. In fact, truth be told, Amazon is probably one of people's most trusted business partners. And we've adjusted our strategies to account for this, realizing that we are often going to be competing against some faceless warehouse 3,000 miles whose only goal is to move boxes and is totally content to make low, single-digit profit margins.
Recently, however, I had three separate encounters within a 24-hour period (thus, my opening quote), that made me aware of an issue that has probably cost you and me more business than we care to know: Sales tax.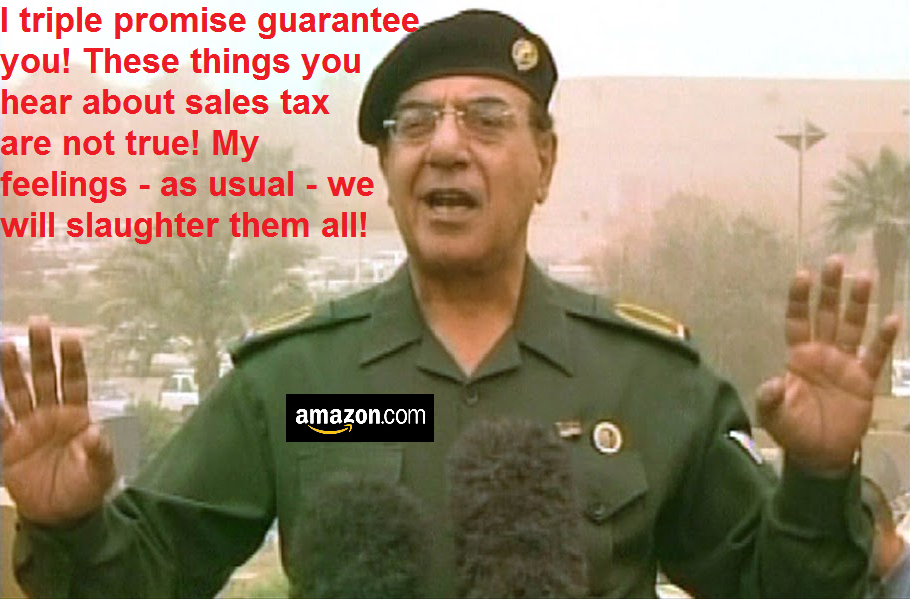 I had three gentlemen come in to discuss different system options last week, and when I followed up with proposals, two of them said that while my price was the same as Amazon, they were going to buy from the Internet because they would save the 6% sales tax (our local rate). If I wanted to not charge them sales tax – or discount the sale an equivalent amount – they would love to buy from me, but, otherwise… (One of the guys then asked if I could research a receiver for him, prompting me to reply, "How much of my time do you expect me to invest in something that you've already said you are going to buy somewhere else?" He seemed genuinely perplexed.)
The third gentleman asked how much he would save if he paid us in cash. When I explained that we actually preferred not to get large cash payments, and that the price was the same either way, he explained that when he gets paid in cash, brother, that money goes straight into his pocket. I explained that my business partner and I have had a policy since day one that we were always going to do the right and honest thing, and that we felt it would always pay off in the long run. He looked at me like I had suddenly sprouted a third eye.  
The big on-line, non-tax-collecting elephant in the room is Amazon. It turns out Amazon only has to collect sales tax in 21 states: Arizona, California, Connecticut, Florida, Georgia, Indiana, Kansas, Kentucky, Massachusetts, Nevada, New Jersey, New York, North Carolina, North Dakota, Pennsylvania, Tennessee, Texas, Virginia, Washington, West Virginia, Wisconsin. And many of those states have had to fight – or are still fighting – with Amazon to get the estimated hundreds of millions of dollars in lost revenue.
Even so, it isn't just Amazon that you are competing against. A visit through the terms and conditions at Sony.com had the message, "Except for products shipping to Mexico, prices do not include any sales, local or other similar taxes." Since you can order pretty much any product Sony offers – Flagship 4K projector or UHDTV? New hi-rez audio player? Yep. – that could be a pretty fair "discount" that you now potentially have to compete against.
Please click here to continue reading at Residential Systems...

Categories: May 2014, CTA, Rants
/