Shopping Cart
Your Cart is Empty
There was an error with PayPal
Click here to try again
Thank you for your business!
You should be receiving an order confirmation from Paypal shortly.
Exit Shopping Cart
Features, Reviews and a Blog by John Sciacca
| | |
| --- | --- |
| Posted on June 18, 2014 at 12:50 AM | |
Recently I found myself in need of a new garbage disposal, in-sink grinder thing for our kitchen. Our previous one had failed in a spectacular fashion, with a hole that blew through the side of it, spewing tons of water out of it when we ran our dishwasher. Like most disposals, ours was located in a cabinet under our kitchen sink, so we didn't noticed the mini-flood until it filled the cabinet with water and then it overflowed out all over the kitchen floor.
To say that I know absolutely nothing about garbage disposals would not be totally true; I mean, I know the exact switch on the wall to turn the thing on and off and I know how to reach down into its disgusting and potentially deadly maw to retrieve some piece of silverware that has decided to end its life in the most grisly fashion possible. But since this unit came with our home, I had never had the need to shop for a disposal.
So, I knew I needed something and I had a basic idea of how it worked, but beyond that I was pretty much a total noob. And in many ways, this put me into the same position of many of our customers when they find themselves needing a new component and coming to us to get advice.
When I got to the Home Depot I headed to the disposal aisle and looked at the wares. They had several units set up ranging in price from $79 to $299, and a nifty display that let you hear the relative loudness of the different units, with the cheaper ones sounding like you were throwing handfuls of change and chunks of metal into a roaring jet turbine and the flagship models giving off a low kitten's purr.
I stood there for a bit pawing over the different models and trying to decide which level of luxury my disposed and grinded food deserved when a Home Depot employee headed over and asked if I could use any help. I explained my situation and pointed to the model that I was considering – a middle of the road affair costing $179 – and asked which one he would buy. With no hesitation whatsoever he pointed to the cheapest model on the shelf, the Badger 5; a plain unit with a Spartan black, plastic housing, a small motor, and made bone-grinding sounds like what you would hear in a Saw movie.
I pointed to the model I had been considering, the stately named Evolution Select wrapped in a luxe red metal case, and asked if he would spend the extra $90 for that unit and he said, "Hell, no! Not in a thousand years."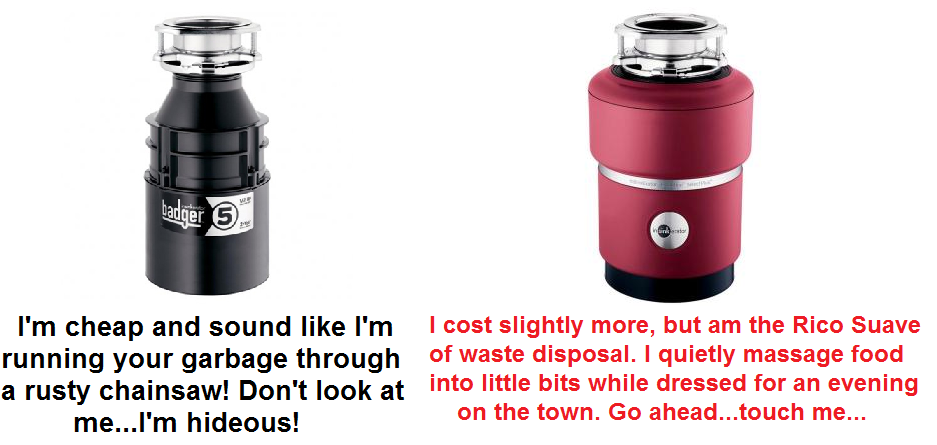 Now, on the one hand, I certainly appreciated the man's honesty. (However, to not even be willing to consider that in a thousand years his needs for disposing of sink garbage might not change frankly just seemed a bit short-sighted in my opinion.) He could have just as easily said, "Hell, yeah! In fact, you should go all the way to the flagship model! That baby makes grinding up your garbage like a day at Disneyland! I can't wait to rush home after work and just grind away!"
But the experience also gave me some great insights into the sales process and how I sell A/V gear to my customers.
Please click here to read all the sales tips at Residential Systems...

Categories: June 2014, Electronics, CTA
/