Shopping Cart
Your Cart is Empty
There was an error with PayPal
Click here to try again
Thank you for your business!
You should be receiving an order confirmation from Paypal shortly.
Exit Shopping Cart
Features, Reviews and a Blog by John Sciacca
| | |
| --- | --- |
| Posted on August 6, 2014 at 3:45 PM | |
Getting complaints sucks.
I mean, who wants to open a letter or an email or pick up the phone to find an upset customer on the other end? Someone looking to tell you what you or your company did wrong or why they are unhappy? We're primarily in the fun business, and we usually hear things like, "This is so great!" or "I love what you did!", so dealing with unhappy people is not usually in the cards for us. But if you're in business the unfortunate reality is that at some point you're going to get a complaint, and how you handle it can not only determine the success of that interaction but possibly the success of your business overall.
A perfect example of how NOT to handle complaints can be seen in the epic social media meltdown of Amy's Baking Company, a restaurant featured on Gordon Ramsey's "Kitchen Nightmares." The owner's took to social media to attack and defame their critics, all spiraling into a massive ball of viral disaster.
My business partner, Allen, was raised by a father that served in the diplomatic core, and he is terrific at handling and diffusing customer complaints. Here are some tips I've learned from watching Allen handle complaints over the years.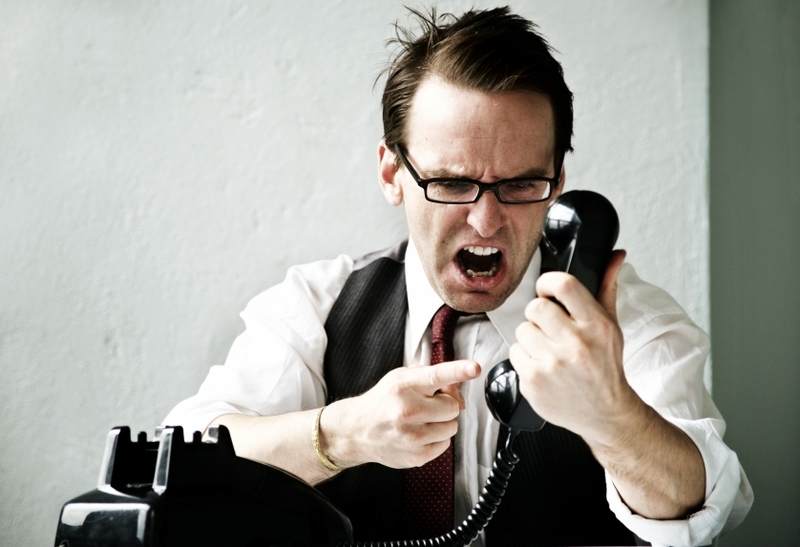 Respond Quickly
Generally this is a case where the old saying "time heals all wounds" doesn't apply, and the more time that passes, the more the person is likely to stew about it meaning you will have a more difficult time coming to a good resolution. Small complaints usually come in via the telephone and the biggies usually arrive in a letter. Sometimes a complaint requires that you "gather facts" – debrief an installer, research a proposal or prior correspondence – and if that is the case, get on it immediately and respond by the end of the day.
Pick Up the Phone
Obviously, if the person is complaining via phone, you'll be forced to deal with the issue on the spot. But if the complaint comes in via letter, email, or social media, responding via phone is usually the best approach. While a letter might be more articulate, it is also very one-sided – just you – and takes too long to arrive. Trying to address the issue via email often results in too much back-and-forth and there is the tendency for tone to be misconstrued in an email escalating or creating a problem that wasn't there to begin with. And social media is too public a platform to address a problem. However, if the complaint came via email or social media, responding with something like, "I'm sorry to hear about this and I'm going to call you today to discuss" is certainly appropriate and lets the person know that they have been heard.
Empathize
Before doing anything, take a deep breath, step back from the stress of the complaint and try to look at the situation from your client's eyes. It's easy to start building a case in your mind coming up with all the reasons why you are right and they are wrong, but that is the wrong approach. Much like my blog, Looking at Your Billing Process Through the Client's Eyes, or WWJD – What Would John Do – try to put yourself in their place and imagine how you would feel. Also, just because you may technically be right doesn't mean that your customer doesn't have a point or change the fact that they feel bad. Also, you might win the battle, but ultimately lose the war if the customer never does business with you again and then goes on to tell others about their bad experience.
Please click here to continue reading more tips at Resi Systems!

Categories: August 2014, CTA
/