Shopping Cart
Your Cart is Empty
There was an error with PayPal
Click here to try again
Thank you for your business!
You should be receiving an order confirmation from Paypal shortly.
Exit Shopping Cart
Features, Reviews and a Blog by John Sciacca
| | |
| --- | --- |
| Posted on August 14, 2014 at 4:20 PM | |
Chances are you've heard a good deal of news recently about Dolby Atmos coming to the home market. If you're totally in the dark, check out my blog, What Integrators Need to Know About Dolby Atmos to get up to speed on the basics of this new surround standard.
I was invited to New York yesterday (August 12) to visit Dolby's offices – and more importantly, Dolby's theater – to hear the home version of Dolby Atmos for myself. As an added bonus, I would also be getting the chance to hear Dolby Atmos' commercial cinema version for the first time as well since the nearest Atmos equipped theater is about 90 miles from my home. Judging from the show of hands in the room, it appears that many people have already experienced Atmos in a commercial cinema, so it's likely a large percentage of readers have already heard it for themselves.
Before I dive in to some of the details and describe what Atmos Home Theater sounded like, I want to say that I think Atmos is something you should definitely take note of. In fact, Atmos represents the most significant upgrade in home theater audio ported directly from the commercial cinema since Dolby Surround EX was introduced back in 1997 with Star Wars: Episode One: The Phantom Menace. All other additions of height and width channels since them have been matrixed signals derived by the processor with no commercial counterpart or support, meaning there was never a theater mix to experience. This makes Atmos the first really saleable major home theater audio upgrade to come along in 17 years! It also offers a great upsell opportunity for a surround system over a soundbar if clients want to experience the next generation of surround sound audio.
So, here's what I learned from Dolby in New York…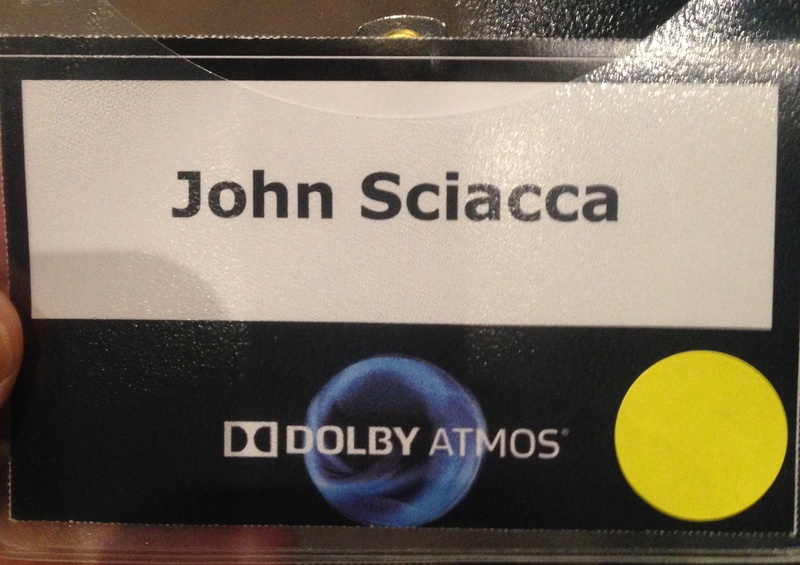 The morning started out with a quick presentation overview from Brett Crockett, Dolby's Senior Director Sound Technology Research.
Crockett explained Atmos is an engineered solution based on how the brain processes sound and that Dolby engineers "hacked your hearing" to reverse engineer how we hear and perceive sound. Atmos was introduced in 2012 with Pixar's Brave, and there are now more than 150 films already mixed in Atmos and more coming continually.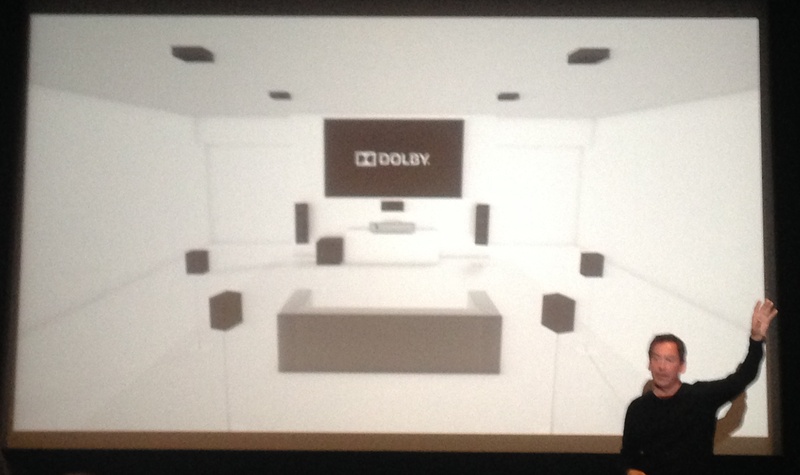 The biggest difference between Atmos and all other surround formats is Atmos is not channel based, but rather uses sound objects; up to 128 of them. The metadata in each audio object tells the Atmos renderer where to move the objects around the room. All 128 audio objects from the original theater mix are represented in the home mix meaning nothing is lost. Spatial coding takes into account how many objects there are and where they are in space and the Atmos renderer makes a custom mix of the movie's audio for your particular listening environment and setup with up to 24 floor and 10 overhead speakers.
Next up was a sit-down Q&A with Craig Eggers, Dolby's Director Home Theater Marketing. Eggers explained the idea of overhead speakers translates well from the commercial cinema to the home but they can be difficult to install or add for many consumers, and Dolby's goal is to bring Atmos to as many consumers as possible. This is one of the big reasons why Dolby developed the Atmos enabled speaker.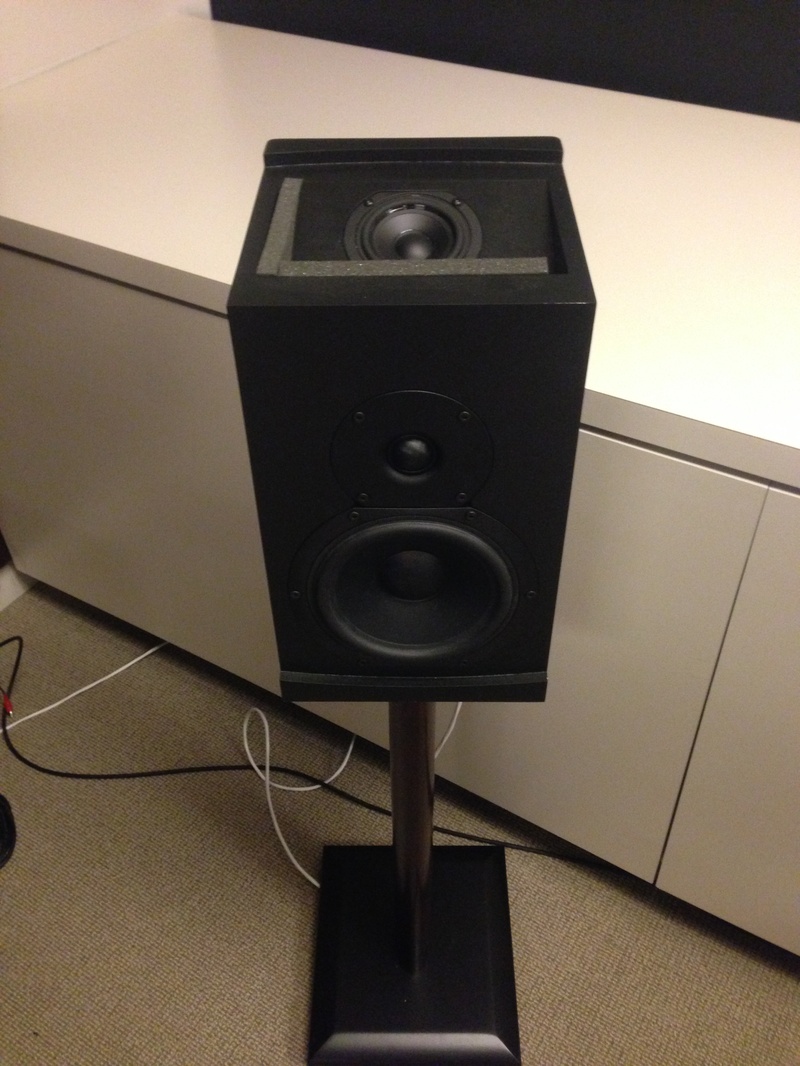 These speakers will be available from a variety of speaker manufacturers including Definitive Technology and Pioneer and will feature an extra set of drivers – and speaker binding posts – to drive the top-mounted Atmos speaker. All Atmos enabled speakers come in to Dolby for testing and certification to meet directivity, range and performance criteria.
Eggers emphasized that the Atmos renderer is scalable and adaptable and adding speakers increases the level of immersion and realism for the listener. During setup, the consumer or installer "tells" the Atmos renderer how many speakers are in the system, where they are located and what frequency range they can handle. This set-up will be done via on screen GUI and utilize a calibration mic similar to the way receivers incorporate technologies like Audyssey, MCACC (Pioneer) and YPAO (Yamaha) today. It will be left up to each receiver/processor manufacturer exactly how to implement this in their systems.
Atmos requires no changes to the Blu-ray or HDMI spec, though the Blu-ray player must be capable of bitstream output (for decoding by the Atmos renderer) and second audio channel must be turned off. Based on this information, it seems likely that movie servers like Kaleidescape would be able to support Atmos titles when they start appearing later this fall.
"Atmos needs to be experienced," Eggers said, "and it is a technology that can bring customers into stores and introduce new customers."
Eggers added, "Atmos represents an incredible opportunity to maximize in-store demo systems."
I asked Eggers if there were different qualities or performance levels of Atmos renderers and he commented that the renderer is the same in all performance levels of devices, so an entry level receiver/processor will offer the same rendering capabilities of a higher-end model.
Knowing there are installers already gearing up to wire for Atmos systems, I pushed him for some specifics on speaker locations. The good news is that Dolby is preparing an Atmos installers guide that will be available at CEDIA which looks to answer all installation related questions. I got a look at this 39 page document, and it is very thorough and will offer specifics on speaker placement and location.
Following this session we were led into Dolby's theater room for a demonstration of Atmos in a commercial theater setting to set an audio benchmark.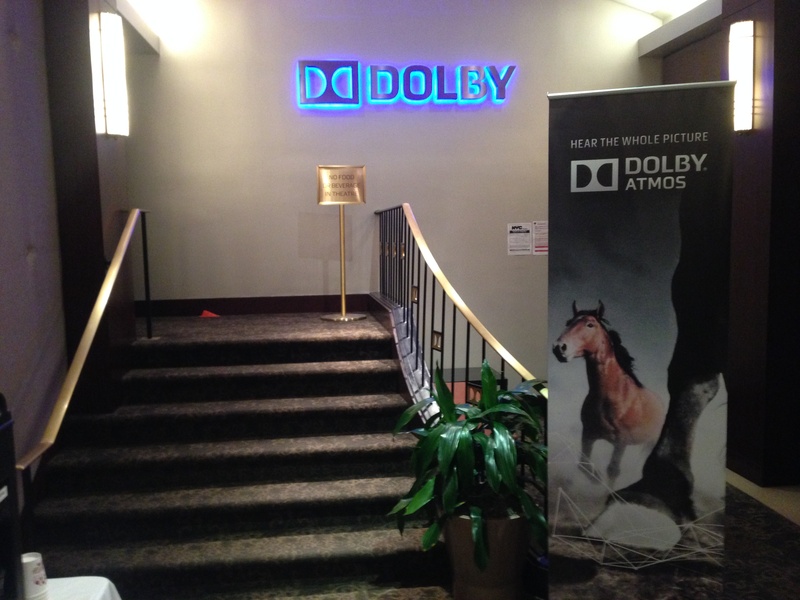 These demos were presented by Stuart Bowling, Dolby Worldwide Technical Marketing Manager, Cinema. Bowling wasn't sure but thought the theater contained 31 speakers with 14 overhead. (It was difficult to count in the dark room.)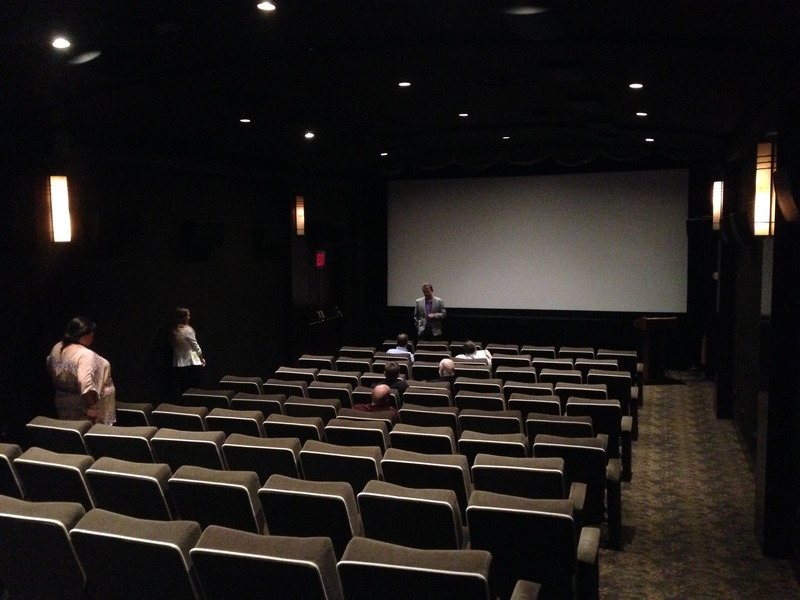 First up were two Atmos trailers, Amaze and Unfold. I have a 9.1 system in my home so I consider myself a fair judge of surround sound, but it was immediately clear the sound had a far more swirling, encompassing feel, creating a canopy of overhead audio that was far more immersive than the standard side channel only mix. I felt wrapped in sound, and the overall audio presentation had a higher plane, getting off the floor and up to screen height and well overhead.
We then watched a lengthy clip from Star Trek Into Darkness, the opening scene where Spock is trying to stop a volcano from erupting and destroying a civilization. There were several audio cues that really caught my ear, including a spear that sounded like it whipped right past my left shoulder, vines snapping all around and a thick cable breaking overhead and snapping across the sound stage. When the Enterprise lifted out of the ocean there was cracking and groaning sounds of metal overhead, and then lava blasts that you could easily track up and overhead.
Immersive, cocoon, canopy, spherical, these were the words that I found myself thinking as I listened, and the audio seemed to be a far more present and aggressive part of the story telling, making for a more involving and engaging experience in a way that current surround speaker layouts can't match.
Next up was a Red Bull racing clip with an F1 car zipping through a city with terrifically detailed notes of engine noises and tire squeals that were precise and easily localizable in the large space.
Finally was a trailer with audio mixed by Gary Rydstrom and animated by Pixar called "Leaf" which reminded me quite a bit of the old "Jungle Sounds" demo put out by Dolby and THX to demonstrate Surround-EX many years ago. Leaf really let you pick out and track specific sound objects as they moved around the room, and also showed off the 360-degree swirling capabilities of Atmos as the leaf twirled around the room and overhead.
After this we were lead into a smaller room to experience an Atmos home theater system.
Please click here to continue reading about my experience with Atmos technology for the home theater!

Categories: August 2014, Movies, Electronics
/