Shopping Cart
Your Cart is Empty
There was an error with PayPal
Click here to try again
Thank you for your business!
You should be receiving an order confirmation from Paypal shortly.
Exit Shopping Cart
Features, Reviews and a Blog by John Sciacca
| | |
| --- | --- |
| Posted on September 5, 2014 at 10:20 AM | |
Riding in to work today I heard a classic on the radio: Vanilla Ice's "Ice Ice Baby." I remember the first time I heard this song I was in Berlin and I thought, "Wait a minute! This isn't David Bowie and Queen!!! What is going on here?!?" I thought it was just another case of those crazy German's taking things one step too far.
Of course, this isn't the first time that Vanilla's masterpiece has inspired a blog from me. I previously wrote about his advice for custom installers. But as I listened to the song this morning, really analyzing the lyrics, I realized that Ice had more to say to our industry. A lot more. In fact, literally each line of his masterpiece is a hidden message directed towards custom installers.
Follow along as I break down this lyrical greatness... All of the Ice Man's lyrics are in italics with the custom translation below. Please to enjoy, playa!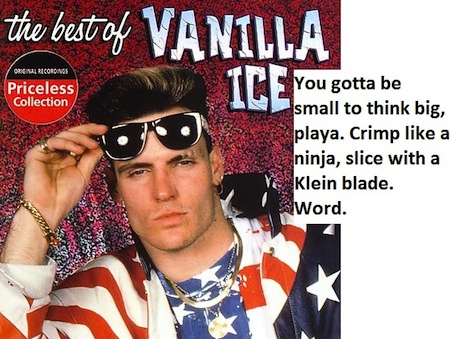 Yo, VIP, Let's kick it!
Hello, high-end customer! It is a pleasure to meet you. Let's sit down and talk for a bit and see if I would be the right fit to be your custom integrator!

Ice Ice Baby, Ice Ice Baby
All right stop, Collaborate and listen
Before we get too far along, let me introduce myself. Also, I'd love to set up a meeting to discuss your needs. We can exchange ideas and design the right system for you. It is a colloborative process where we can figure out exactly what you need.

Ice is back with my brand new invention
Excuse me, let me just put my phone on silent so we aren't interrupted again. OK, I'm back. There is a ton of new technology that I'd like to tell you about that will make sure your new home is both smart and awesome.
Something grabs a hold of me tightly
Flow like a harpoon daily and nightly
If you hire me, I will follow through on the project and I'll be available for your needs any time of the day. Or night. But, preferably during the day.

Will it ever stop? Yo – I don't know
Turn off the lights and I'll glow
We'll definitely want to talk about automated lighting and maybe a back-up generator to make sure that your system stays on line in the case of power failure. We'll also want to put a UPS on media server devices like Kaleidescape to make sure that the hard drives don't suddenly lose power. Even if all the other power is out, the front panel of your Kaleidescape server should still glow blue.

To the extreme I rock a mic like a vandal
Light up a stage and wax a chump like a candle.
If karaoke is your thing, we can definitely build that into your system, and maybe install a stage for you to perform in your new theater. Obviously, a lighting design is going to be key. With the proper lighting control, we can make sure the stage is brightly lit when you perform, or dimmed to a candle-like glow during other times.

Dance, Go rush the speaker that booms
You say that you like listening to dance music? We're going to want to have multiple subs in the theater to give deep, tighter, powerful bass. This will ensure that it sounds good no matter where you are in the room.

I'm killing your brain like a poisonous mushroom
I understand that I am telling you a lot of technical things and that we are discussing a lot of different concepts and ideas, so if you need me to explain something to you further, please let me know.
Deadly, when I play a dope melody
Anything less than the best is a felony
Our company is the best in town and going with any other firm would be a serious mistake.
Love it or leave it, You better gain way
You better hit bull's eye, The kid don't play
Our crew will make sure that your new system will be exactly what you want. But rest assured, if you move to a new house and leave the system behind, we will be happy to install a new system into your new home! Also, please don't let visiting children come and press any buttons or mess with the rack.
If there was a problem, Yo, I'll solve it
My tech support skills are legendary and if anything doesn't work, we're going to fix it!
Check out the hook while my DJ revolves it
If you are having any parties, we can come and make sure that all of the systems are working correctly so you can just enjoy yourself and not worry about anything.
Ice Ice Baby Vanilla, Ice Ice Baby Vanilla
Ice Ice Baby Vanilla, Ice Ice Baby Vanilla
In case you missed it, this the name of my company. Don't worry; I will repeat it several times so you don't forget.
Now that the party is jumping
With the bass kicked in, and the Vegas are pumpin'
Housewide audio is going to make sure your parties have great music in every room. Also, with zoned audio, you can play different music in different areas, so a lower level of jumping in the dining room and then maximum jumping levels out by the pool. Also, the speakers that we install will play loud and with plenty of bass without distortion or blowing out.

Quick to the point, to the point, no faking
I'm not going to techno-babble you or try to confuse you.
Cooking MCs like a pound of bacon
Burning them they ain't quick and nimble
We will definitely want to have heat sensors in the kitchen connected to our monitored security system in case there are any fires. Regardles of the amount of bacon that you choose to cook, our system should never false alarm.

I go crazy when I hear a cymbal
And a hi hat with a souped up tempo
While bass is important, the speakers that we install will also have detailed resolution with crisp, clear highs without distortion. We have speakers with ceramic, beryllium and even diamond tweeters!

I'm on a roll and it's time to go solo
I have an entire install crew, but I will probably do the programming myself.
Rollin' in my 5.0
With my ragtop down so my hair can blow
We have a large work van with a big engine that can deliver all of your gear and my guys prefer to roll the windows down rather than use the AC because we are doing our part to save the environment.
The girlies on standby, Waving just to say, "Hi!"
Did you stop? No – I just drove by
Kept on pursuing to the next stop
There aren't a lot of women in the tech industry, but there is a whole movement to get more Women in AV, beyond just the marketing and PR jobs. Some companies are still using "Booth Babes" to attract people to come to their booths at tradeshows, but when they try to engage me in banal conversation, I just keep on walking to the next booth. If companies don't think their products can stand on their own and need a bikini model to sell them, then I'm really not interested.
I busted a left and I'm heading to the next block
That block was dead
Yo – so I continued to A1A Beachfront Ave.
I'm sorry I was a little late this morning, but the Apple Maps program on my iPhone sent me to the wrong place. I finally opened Google Maps and found your house. Apple Maps, amIright?!

Girls were hot wearing less than bikinis
I actually think I stumbled onto a nude beach while I was driving around lost. I'm not even sure why I told you that. So, ummm, yeah…

Rockman lovers driving Lamborghinis
Jealous 'cause I'm out getting mine
I noticed you have a pretty awesome car collection. I'm quite a fan of Italian sports cars, especially Lambos, and would love to own one someday. But, che bella!
Shay with a gauge and Vanilla with a nine
We have a lot of specialty tools like laser levels and even fiber optic cameras to make sure that are installation is precise and accurate.
Ready for the chumps on the wall
The chumps acting ill because they're so full of "Eight Ball"
Some of those first generation "flat panel" TVs really weren't that flat, and the new curved TVs also look kind of odd on the wall. But, we can mount anything even on brick, stone, wood, whatever.
Gunshots ranged out like a bell
I grabbed my nine – All I heard were shells
Falling on the concrete real fast
You live in a really safe neighborhood, but we also install security systems. Incidentally, the streets gun battle scene in the movie Heat is pretty amazing sounding as a demo for your new home theater system. You can really hear the sounds of shells clinging and bouncing all around you.

Jumped in my car, slammed on the gas
Bumper to bumper, the avenue's packed
Traffic was really awful this morning. I'll make sure that I leave earlier to get here next time.
I'm trying to get away before the jackers jack
Police on the scene, You know what I mean
They passed me up, confronted all the dope fiends
A safe room is a great place to locate things like an alarm panel and security DVR. Also, we can make sure that you can access your system while in the safe room -- or from anywhere in the world -- until the police arrive. We really want to make it so difficult to get into your house that the bad guys would rather just move on to someone else.
If there was a problem, Yo, I'll solve it
Did I mention how technically proficient I am at solving problems? Because if anything – and I mean anything - doesn't work, we're going to fix it!
Check out the hook while my DJ revolves it
And I did mention that we can help out with the music at your next party….?
Ice Ice Baby Vanilla, Ice Ice Baby Vanilla
Ice Ice Baby Vanilla, Ice Ice Baby Vanilla
Again, this is the name of my company. I will be sure to tell you once again before I leave so you don't forget.
Take heed, 'cause I'm a lyrical poet
When I'm not doing the custom installation thing, I also write for a couple of the industry's largest publications, Residential Systems and Sound & Vision. A lot of people read my blogs and columns. Of course, the true musical genius of our industry is The AV Professional. 
Miami's on the scene just in case you didn't know it
We like Niles Audio speakers because they include a lifetime warranty. This is great for outdoor speakers in high humidity, ocean enviroment. They were originally located in Miami, by the way.
My town, that created all the bass sound
Enough to shake and kick holes in the ground
As you would expect, I have a pretty impressive system at my house. My Definitive Technology Super Cube Trinity Reference subwoofer puts out a staggering amount of bass. It literally shakes the walls and windows in my home and is like a seismic punch to your soul. That is the kind of bass I'd like to make sure your theater has.
'Cause my style's like a chemical spill
I assure you that if we make any messes at your home we will clean them up before we leave! We use special solutions to clean video screens too.
Feasible rhymes that you can vision and feel
Your new audio system will produce such high-end sound quality that you will literally see it and hear it. You'll be listening to more music than ever before.
Conducted and formed, This is a hell of a concept
We make it hype and you want to step with this
We will design your system from the ground up and I assure you it will be so amazing you will definitely want to hire our company.
Shay plays on the fade,
Slice like a ninja, Cut like a razor blade
Speaking of ninjas, Ihiji has this whole network ConnectNinja concept that is very cool. It provides a secure, cloud-based remote management system for your networks and devices. Here is a picture of me from a tradeshow I attended last year holding a Katana. Technically I think it is a Wakazashi blade, but we don't have to get hung up on the technicalities of feudal Japanese weaponry.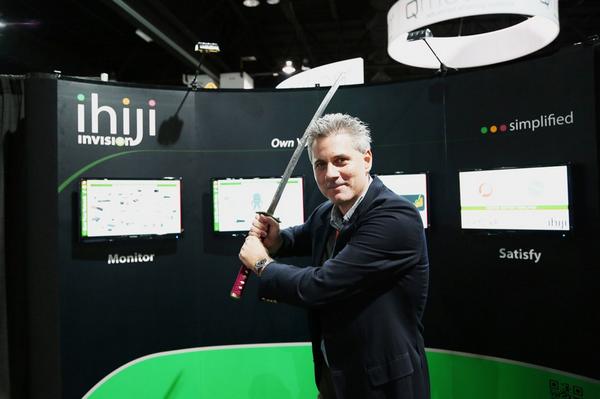 So fast, Other DJs say, "damn"
That is just how quick we can respond to issues if there is a problem. Often times the system can alert us to a problem via text or email before you even know about it! "Damn" indeed, right?
If my rhyme was a drug, I'd sell it by the gram
I realize this is a bit random to bring up, but I am available for freelance writing work, and I sell my stories by the post.

Keep my composure when it's time to get loose
We have a company motto, "Never let them see you sweat." No matter what difficulty we might encounter on your project, we are going to keep our cool!
Magnetized by the mic while I kick my juice
We will run all of our wiring away from any high voltage lines so we don't get any 60-cycle hum in the speakers or other electrical or magnetic interference.
If there was a problem, Yo – I'll solve it!
Check out the hook while DJ revolves it.
Did I mention that I can remote in to your system to fix a lot of problems without even having to come to your house? Pretty cool, right? Also, did you actually want a turntable in your system? We'll need to make sure we get a pre-amp with a Phono input.
Ice Ice Baby Vanilla, Ice Ice Baby Vanilla
Ice Ice Baby Vanilla, Ice Ice Baby Vanilla
To recap, this is the name of my company. I hope you'll give us a call.
Yo, man, let's get out of here! Word to your mother!
Before I leave, I wanted to make sure that you knew about our intercom systems. You can use the touchscreens in the house to contact your mother or any other family member.

Categories: September 2014, Music
/