Shopping Cart
Your Cart is Empty
There was an error with PayPal
Click here to try again
Thank you for your business!
You should be receiving an order confirmation from Paypal shortly.
Exit Shopping Cart
Features, Reviews and a Blog by John Sciacca
| | |
| --- | --- |
| Posted on July 17, 2010 at 3:45 PM | |
I've mentioned before that one of our family's little weekly rituals is getting a pizza at the Piggly Wiggly on Friday nights. (Yes, that really is the name. Though consider the name of another local grocery chain -- Winn-Dixie, which is just slightly less offensively named than Die-Yankees. We also have Bi-Lo which certainly beats the alternative of Sell-Hi.)
We stumbled across this *sick* pizza deal a while ago which is a basically whatever-toppings-you-want freshly made pizza for $5.99. I'm not sure that you can fully appreciate what a great deal this is, so last night I took a couple of pictures that I thought I'd share...
If you decide to get your pizza at Piggly Wiggly, look for this man. His name is Jonathon. Put aside your other shopping duties and wait and watch as he crafts, nay builds your pizza like he is creating a one-off masterpiece.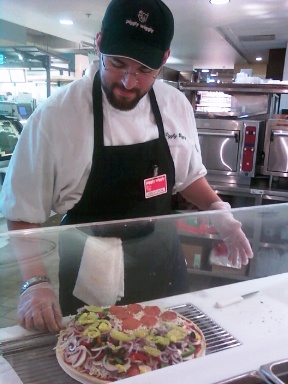 Part of the benefits of being a "regular" at a place (other than if you play Foursquare, some kind of pointless real-life virtual game that I don't totally understand or even care to attempt to) is that people get to know you and get to know what you like and then give you the hook-up. When I walked up, Jonathon greeted me with, "Hey! You're the pizza guy!" (I've been called much worse.) Part of what makes me the "pizza guy" (besides the regular visits) is our custom order. Dana gets her quarter no cheese, all vegetarian. Lauryn gets her quarter cheese and pepperoni only. Me? My half takes it all. When Jonathon asked if I wanted bacon, I said, "Dude, when someone asks you if you want bacon, the only acceptable answer is a loud and clear 'Yes!' On my death bed I am not going to look back on my life and say, 'I only wish that I had eaten less...bacon!'" 
Jonathon carefully laid each topping on our pizza as if each was the final, most important suture in the world's first ever brain transplant, and placed them with an evenness and fairness that would have shamed King Solomon. Prior to making the pizza, he went and selected four giant fresh mushrooms which he sliced with a precision that laser guided bombs would envy.
He put on SO many of each topping that I started to feel a little embarassed. Other people would walk by, look at it, kind of squint their eyes and then look at my with a quizzical "What is wrong with you?" expression. Even the checkout lady said, "My! That is some pizza. What do they call that?" This pizza was SO lopsided on my "everything" side that you could see like a one-inch rise between it and Lauryn's pepper-only section. At the end, I asked if he could shake some parmesan cheese on. So he starts shaking with a zeal and gusto that could only be replicated by a highly modified jackhammer. And he keeps shaking. And shaking. And finally, while still shaking, clearly fighting a massive lactic acid build-up in his arm, he says, "You just tell me when!"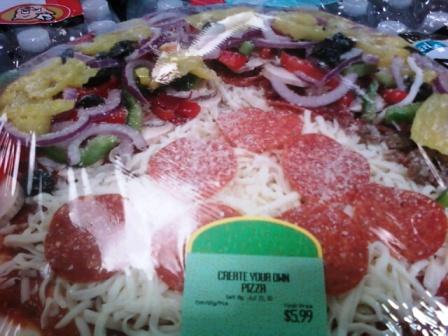 Look at this magnificent bastard! LOOK....AT.....IT!!!! Oh, and that's right. $5.99.

/