Shopping Cart
Your Cart is Empty
There was an error with PayPal
Click here to try again
Thank you for your business!
You should be receiving an order confirmation from Paypal shortly.
Exit Shopping Cart
Features, Reviews and a Blog by John Sciacca
| | |
| --- | --- |
| Posted on September 13, 2017 at 2:50 PM | |
Apple's annual keynote event was held at the company's new complex yesterday, with a fitting opening tribute to Steve Jobs to inaugurate the purpose-built theater with his name. I'll leave it to others to discuss the merits of the new Gen 3 Apple Watch, or iPhone X, or being able to turn oneself into a virtual talking pooh emoji, as the news that most caught my attention was that of the upcoming Apple TV 4K.
By the numbers, the new 4K TV will come in 32- and 64-GB sizes for $179 and $199, and the A10X powered devices will feature Dolby Vision and HDR10, Gigabit Ethernet, an HDMI 2.0a output, and "up to Dolby Digital Plus 7.1 surround sound" (same as the previous generation model.)
On the content side, Apple announced that iTunes users will get automatic – free - upgrades of HD titles in their existing iTunes library to 4K HDR when that version becomes available, and that 4K HDR titles will sell for the same price as HD titles.
The market leader in 4K HDR content delivery is Kaleidescape, with the company now offering more than 260 full quality UHD titles available for download, with deals in place with nearly all the major studios. And fresh from meeting with the company at CEDIA, I reached out to Kaleidescape's CEO and co-founder, Cheena Srinivasan, to discuss what he thought about Apple's entry into this space.
Cheena and I spoke candidly for about an hour and he shared his thoughts on the Apple announcement as well as Kaleidescape's positioning in 4K HDR delivery and the company's relationship with the CEDIA channel. Below are some of quotes from our conversation.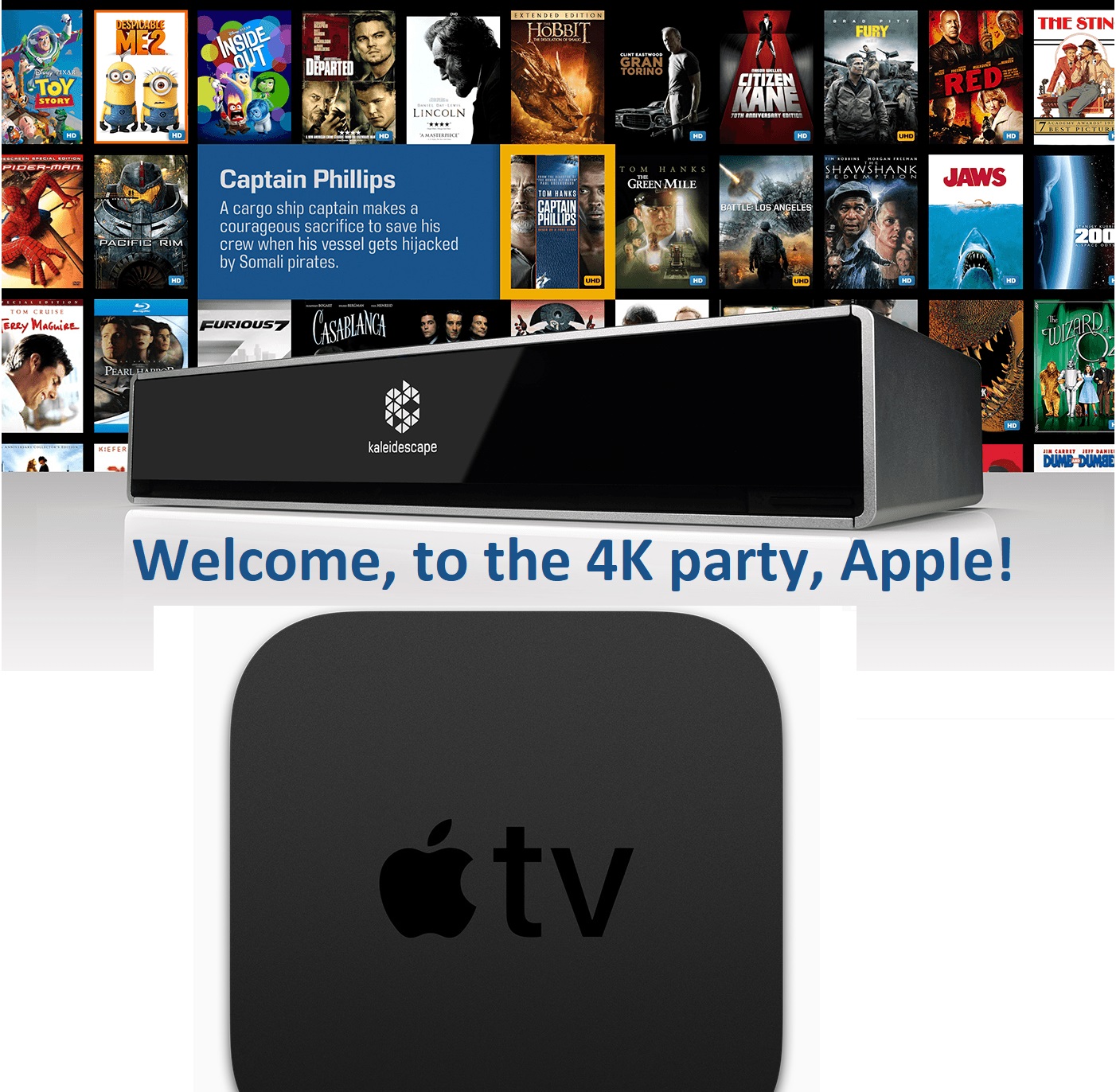 On 4K Marketing
"Here we are supporting true 4K because everybody wants to ride on this format designation, and 8 million pixels, with four times the pixel density of 1080p and…so what? Show me the benefit? And you can see the benefit on our content service. When it comes to showcasing the advantages of 4K, which have to do with picture quality, accompanied with lossless multi-channel audio, what I see happening in the market is that if you want a broad, widespread, multi-million household consumer penetration for a new technology, you're going to have to take the path of 'good enough.' And if you strive for perfection and the position that Kaleidescape takes with its content service, you just don't have the reach because it is very expensive to operate a high-fidelity movie service on a large scale. I think the struggle always becomes economics (price) to drive new content sales versus purity and quality aspirations in what those new standards were meant to achieve from those who invented the specifications, and whether the audience is consuming it in the way it was really meant to be. I think those two objectives are on a collision course. So if you take the Sony/Kaleidescape partnership* and what we bring to consumers in terms of the promise, there is no question about delivering with confidence the highest fidelity video, audio, immersive cinematic experience. Period. But that comes at a price. That's what I see happening: compromising on what [4K HDR] is meant to be, with much lowered picture and sound quality expectations to say, a 4K Ultra HD Blu-ray Disc, to promote a format that is marginally superior to streaming HD. And inferior to HD Blu-ray Disc."
On 4K Content
"I've heard customers and dealers pound on us for 4K [content] because 2 years ago you had display products capable of rendering 4K video stream, but there was no content. I would have dealers tell me, 'My customer is so crazy for 4K content he's getting any 4K clip he can get on YouTube and he's tired of it!' It has taken a while to get some great 4K content, but many content owners were convinced that the consumer benefits of 4K HDR outweighed 4K SDR, especially when compared to Blu-ray video quality upconverted to 4K. Standards take time to settle, and HDR10 is prevalent. I think it's a great thing to have Apple promote and endorse 4K and its merits including high dynamic range. There is no question in my mind that they would like those reds to pop and those colors to be vivid, and why would Apple want their playback to be inferior to other streaming services? In doing so they bring consumer education to the market."
On The Potential Growth of 4K
"If you look at market forecasts of installed base of a few hundred million HD displays compared to 50 or so million 4K HDR displays by 2020, so the newer TVs are still a small fraction. A vast majority of population still has HD (not UHD) but it's different for the custom channel, being early adopters of new technology, and endeavoring to provide the best for the client base that the custom channel serves. So, CEDIA is a test bed, always embracing the latest and greatest before it's really ready for primetime. So by Apple embracing 4K it ensures a good chunk of library titles could be remastered and re-released in 4K, and assures that almost every new release movie will come out in superior quality. Which will mean these titles will also be available in this best quality to Kaleidescape customers for purchase."
On Customer Awareness
"I think it will be good from the perspective that as consumers become aware of the benefits of new formats, there exists a portion of the customer base that says, 'Wait a minute! I just got this new [high-end 4K HDR display], I've got to be able get better quality than this, shouldn't I?' That's gives an opportunity for some number of customers to say, 'You know what, I'm going to get the best out there.' And that's the role Kaleidescape has always filled."
On Purchasing Versus Renting
I asked Cheena what he thought about Apple announcing that any HD titles purchased from iTunes would be eligible to download the 4K version of the film when it was available.
"You can take the position of rekindling consumer in content ownership again, because it's not free if you have to rent it again, it's only free if you bought that title in the past. It would enable a purchase behavior, which is also a good thing for Kaleidescape because purchasing content is always a lean forward activity, it's a very deliberate conscious decision to say, 'I would like to watch this movie later with my family because it was recommended to me or I may watch it again in the future. I'd like to watch this with my family, friends, at least enjoy some parts of it in repeat viewing.' I can't see anything negative about it, as it just raises consumer awareness to a behavior that the studios wish to encourage which is purchasing content versus renting content, versus streaming content on a subscription basis. The economics are very different between those three content consumption models."
On CEDIA Channel
"I come back to value. In everything we offer, we always ask, 'Are we priced to value?' When we work with the channel that we do, we ask, 'Do we believe in the value that the custom channel brings to the equation?' I always tell people, 'Look, in the end, a good quality system integrator is the one that really brings out the Kaleidescape magic. And when they integrate our system beautifully, they pay attention to all the details, the right HDMI cabling, the resolution, the integration, the control systems programming, and beautifully calibrated video and audio reproduction. That comes with passion, with pain, with labor, and that's what you pay for. If you buy an expensive, luxury product that delivers the best experience, then you're leaning on an integrator to make all of the pieces of the puzzle work, and that's why I think that people that really do very high quality home cinema are few and far between -- because one needs to know many facets of how to put together a home cinema that delivers an amazing movie experience."
On Mass Market
"When you look at a product that is geared after a mass market consumption you're playing on a brand recognition: 4K must mean it's better. HDR must stand for better color, vivid colors and eye popping images. OK. I guess that's good, but that says nothing about picture quality; that says nothing about audio quality; that says nothing about true cinematic experience, or to specifications, or any guarantee of quality of service that this is pristine, predictable playback every time. But that's OK. The discerning customer is the one that wants the best every time. The vast majority of the market is not really that. Watching movies on mobile device is anything but cinematic. We have taken the polar opposite view of a mass market service in what we do, and that comes with the very deliberate choices that we make in how we transcode the video, add lossless audio and various other unique things we do such as event cues for control systems automation, favorite scenes, etc., before we make the movie available for sale to ensure that the playback is pristine every single time, and that there are no glitches, audio drops, artifacts, etc. These are deliberate choices we make for the movies we offer in our store."
On Apple Selling HD and UHD at the Same Price
"These are very different products. At the end of the day when someone tells me that the 4K HDR is the same as my HD price, it gives me two signals. One says, the marginal differences between the two are dictated by the TV you own and you shouldn't be punished for owning a better TV by charging you a higher amount. And the second says there isn't substantial differentiation between HD and 4K HDR, it's hard to justify the price difference. At the end of the day, price is the outcome of embedded value, competitive differentiation and profit goals. If Kaleidescape were to say our HD and HDR pricing were the same, that would be a very stupid thing to do because downloading an HD title, which is Blu-ray quality, is roughly 30 Gig, whereas a 4K HDR title like Wonder Woman is around 75 Gigabytes, and Blu-ray quality HD version is around 38 Gigabytes. Some 20 Gigabytes of that is likely lossless multichannel master audio, the rest is rich video information. This is what the director wanted his audience to experience. I don't think it makes any sense for us to just mimic someone else's pricing strategy because we stand by the value differentiation we deliver. But if there's a price reduction from the studios for content, that will benefit all services, including ours and we'd pass those savings to our customers"
On Apple and Kaleidescape Co-Existing
"The overall take for me, is how could this be bad news? [The Apple TV 4K] is a differentiated product – it's like a Swiss Army knife – it's a multi-purpose device. It's for the mass market. And it's going to increase the general awareness for 4K HDR. You look at this announcement, and then you compare it to our Sony partnership and you couldn't find a starker contrast in terms of the audience that we're going after. For those who have both [Apple TV and Kaleidescape], if you have a Sony projector, would you buy a movie on Kaleidescape or Apple TV? They will benefit from watching movies on Kaleidescape. But Apple TV has so many more uses besides movies. And for those with just Apple TV 4K, there will be a sliver of people there that will eventually get excited enough about the new video technologies – just like with 2-channel audio upgrades, etc. – to say, 'You know what? I want something better.' That will be an opportunity for us. We need a big player like Apple embracing 4K and HDR, we haven't had it until now. We need to let them do the democratizing and let us focus on delivering the best flavor of it."
* Announced at CEDIA, the companies will offer a joint promotion where any Kaleidescape Strato customer who purchases a qualifying Sony 4K HDR projector between now and March 31, 2018 will be eligible to download a movie bundle featuring ten 4K HDR movies from the Kaleidescape store valued up to $350. Conversely, existing Sony 4K HDR projector owners that purchase a Kaleidescape Strato movie player will also be eligible for the movie bundle to jumpstart their collections.
Categories: Movies, Electronics
/