Shopping Cart
Your Cart is Empty
There was an error with PayPal
Click here to try again
Thank you for your business!
You should be receiving an order confirmation from Paypal shortly.
Exit Shopping Cart
Features, Reviews and a Blog by John Sciacca
| | |
| --- | --- |
| Posted on November 12, 2010 at 1:51 PM | |
So, I just finished my review of the Sony Google TV device. My story has been written, it has been edited and then re-edited and returned and the hardware has been repacked into its nice white box, a UPS 2-day air carbon offsets label slapped on and it is off to complete its happy review life cycle by being photographed up in New Jersey and then published in the January issue.
And without giving too much of the review away, I have to say that the Google TV's biggest shortcoming that I experienced had little to do with the Google TV device itself, but rather by the big, bullying Network TV Internets. Well, I did have one other pretty big, glaring issue; the remote. Turns out that the backlighting DNA from Lady Phone didn't get passed along in the sexy-time and the Sony remote has exactly one single lit button. An orange light that comes on when AMP is selected. Not being able to *see* the remote – especially when said remote has a button for roughly every person in China – is a bit of a problem for me, And I'm guessing that most people are not going to want to keep another remote, cell phone, laptop, Zippo lighter, Mag-Lite, set of night-vision goggles, etc. handy in order to use this remote once the lights go down.
The biggest problem is that the networks don't seem to like-a the Google TVs. In fact, they seem to hate-a the Google TVs. And even though they are totally cool (well, maybe just mostly luke-cool) about you going to your laptop or desktop or Media Center PC computers and watching their shows, the idea of you using Google TV to watch their shows makes them recoil in horror and disgust and respond with a rousing chorus of "Suck it, Trebek!" (Trebek in this case would be you and your Google TV. (Just try to be a little less douchey about it though, OK? We get it; you've been everywhere, done everything and can pronounce every foreign word -- even those in click-clack -- with the right accent, stress and intonation. And you know the answer to every question ever. But Sean Connery is still straight-up doin' your mom!) The sucking it would be well, actually NOT suckling any of their Internet teat streamed content.)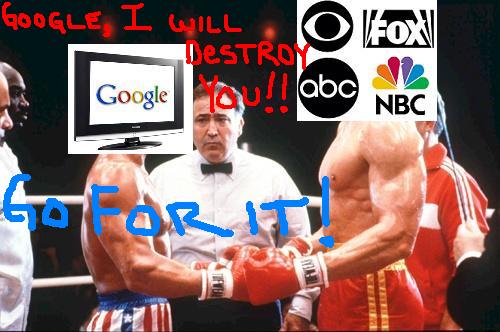 When I first received the Google TV, I navigated to the major networks .com sites and Hulu and this is what I got:
ABC.com "The operating system or Web browser you're using is not currently supported."
CBS.com "The video you have requested is not available on this device."
NBC.com "Sorry, the content you are trying to access is not currently available on this device."
Hulu.com "We notice that you are trying to access Hulu from your Google TV. It's not available but we are working hard to bring out Hulu Plus subscription service to Google TV! Stay tuned for updates."
What DID work was Fox.com. And I know this because I demo'd some Hell's Kitchen to my parents and watched some Simpsons and Family Guy episodes in HD myself. Then I went back and read fellow S+V reviewer, Geoff Morrison's, review of another Sony Google device. And Geoff said that when he was testing it – about 2 weeks earlier in the review timeline – that NBC.com DID work. I confirmed with him that this indeed was the case. So, between when Geoff did his review and I did mine, NBC clamped the Google TV's pipeline shut. (You can see Geoff's entire review at the S+V website here.)
Then yesterday as I was getting ready to leave work, I saw this little headline from Gizmodo: Every Major Network Website is Blocking Google TV. So I clicked over and read and sure enough, Fox had now joined the boycott bandwagon. Google TV seems to be losing features and services like a Windows Vista memory leak. Excpet there doesn't seem to be any control-alt-delete to reboot this problem.

The question is: How much TV can a Google TV if a Google TV can't show Net TV? Because there is only so much TNT, CNN, USA and MTV network programming that I can stomach before I need a good old dose of some quality reality TV programming. So if the dream of Google TV was to allow you to sever the the cruel shackles and chains of satellite and cable TV subscription tyranny, the current reality is more like a dark screen.  Android lack of world domination tears...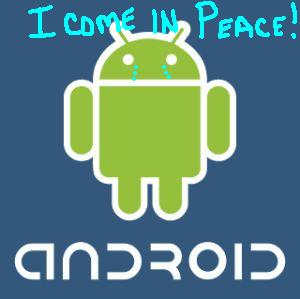 Categories: November 2010, TV, Reviews
/