Shopping Cart
Your Cart is Empty
There was an error with PayPal
Click here to try again
Thank you for your business!
You should be receiving an order confirmation from Paypal shortly.
Exit Shopping Cart
Features, Reviews and a Blog by John Sciacca
| | |
| --- | --- |
| Posted on February 17, 2011 at 6:16 PM | |
You all know I love movies. And you likely know about my love for Netflix – though they are straining the bonds of our singularity with continued price increases and surcharges and the like; seriously you are ON notice Netflix; I don't know that I can stand by my man through yet another rate hike! – and my equal distaste and general "I hope I live long enough to dance on your grave! I DANCE ON YOUR GRAVE!!!"-ness of feelings towards Blockbuster. (They seem to be like some Nosferatu with their in-and-out of bankruptcy. Die already, you unholy monster!) What this leaves in a Sciacca emotional purgatory is Redbox. Not quite a Netflix, not quite a Blocksuccubuster. I guess you can say I'm spiritually agnostic towards the Redbox; I neither embrace nor condemn them. I believe they exist, and welcome others love for them, but I'm unconverted.
So, ninth degree coupon black belt sensei, Dana, has signed me up for this text thing where like once a month Redbox will text me a coupon with a code for a free movie rental. (And by "free" they mean a $1 regular movie, not a $1.50 Blu-ray movie. They do, however, extend the largesse of giving you a $1 credit towards a Blu-rental.) I have unlimited text messaging, so it literally costs me nothing to accept these messages. And, the incoming text alert always fills you with that sense of, "Ah! Someone DOES care enough to send the very best!" so there is that momentary endorphin rush before you see that it is just a 6 digit Redbox code.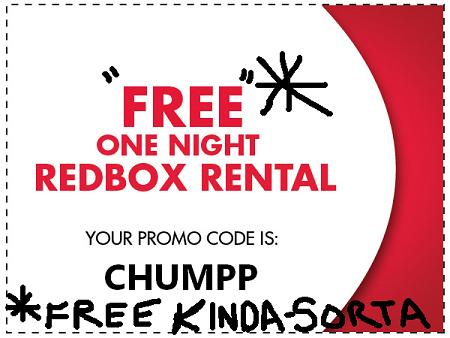 So, the other day, Dana e-mailed to let me know/remind me about the free code and then before leaving work I called Dana to see if she actually wanted me to stop off and get a movie. "Uh, duh! That's why I sent you the e-mail reminding you about the code! What do you think?"

 

So, I go out of my way on the way home to hit a Redbox and scroll through their selections to see that there is...nothing I want to see. Like absolutely nothing. And nothing that Lauryn would want to see either. (Well, she would probably like to see some of the things, so I should rephrase to nothing that I'd LET Lauryn see. She walked in on me watching Rocky -- as the Creed is about to put an epic wailing on the Stallone -- and said, "Hmm, that looks in-ter-es-ting." So, she's pretty open to exploring new film options.)

 

So I start heading home and call Dana to tell her that I can't find anything and this turns into a really curt, abrupt, "Fine. Whatever. Don't get anything." (Turns out that she had to get out of the shower to answer the phone and SHE says she wasn't mad or anything, just dripping wet out of the shower.)

 

So, as I'm driving home, now under the illusion that Dana is angry over the whole lack-of Redbox thing – all right, Dana might have asked if I wanted to try another Redbox location and then I *might* have made some comment about how my time is more valuable than a $1 free movie rental and I don't care whether we use the code or not and then the phone might have gone dead. Those things all MIGHT have happened. So, I'm driving home and I start examining the TRUE cost of a "free" Redbox rental.

 

First, the mileage. I live 2.25 miles from a Wal-mart, my nearest Redbox. I'm guessing that most people don't live much closer to a Redbox than that, and probably live a good bit further. But since this – like everything – is about me, I'll stick with the 2.25 figure. So a trip to get the movie is 4.5 miles there and back. The IRS allows a $.51 per mile allowance for business travel so let's use that number. (Seriously, if the IRS is gonna give you a $.51 credit, it's the LEAST Redbox could do.) So that there-and-back tripper cost me $2.30 of vehicle wear.

 

Second, the time. Best case – and I mean frickin' hit every light, rolled through a stop sign or two, found a good space, no one in line in front of you, no waylaying at the Mart and browsing for something else – I mean BEST-best case it is going to take 15 minutes to make that trip. I'd like to say my time is worth more than $10 an hour, but I'll be conservative. So I'm putting that drive at another $2.50 for 15 minutes vanishing like Keyser Soze.

 

Third, the crushingly limited selection. OK, I am pretty much at a point where I will ONLY watch movies on Blu-ray. I have a 115-inch screen, and I promise you that Blu-ray movies smoke DVD in picture and sound quality. And the Redbox Blu-ray selection is ass. Like a world record Redbox stuffed to the gills with Blu-rays might have 25 titles. (I just checked. My Wal-mart currently has 20.) (I will allow that some Redbox locations – like Hollywood or Manhattan or something – might have a more generous Blu-ray selection. And the next time I'm in Times Square with a free coupon code, I'll be sure and submit a live blog from the field.) And a lot of those Blu-rays would be incredibly lame or WAY out of date titles. Again, of those 20 here are some of the ones available at my Mart right now: Iron Man, Iron Man 2, Gladiator, Marmaduke, Primal Fear (yeah, the one from 1996), and We Were Soldiers. So, before I even get there, I already know that there is a GIANT percentage chance of massive disappointment. OK, take away my Blu-ray fetish. There are a fair number of new DVD releases, and by fair I mean they have some. But Redbox seems to stock the Box with an abnormally high percentage of R-rated titles. Out of 125 currently available DVD titles, 51 of them are rated R. (Yes, I seriously counted them. I'm sad, but thorough and that's why you all love me.) And 19 of them are animated. So, that narrows the viewing pool down even further. Word to the wise: Don't head to a Redbox with a specific movie in mind. You're more likely to be successful heading to your McDonald's and ordering a McTaco. Head to the box with more of an, "Hmm, maybe we'll find something to watch and maybe we'll get a movie or maybe we'll just watch that re-run of Seinfeld" kind of vibe. And like Lauryn says, "I doubt it yes or I doubt it no?" I doubt it no.




Fourth, the "Oh, you got that?!" Limited selection = high probability of disappointment to female spousal unit. This can truly be a case where nothing -- as in, "Sorry, I got nothing" -- is better than something -- as in, "Hey! They had that old Chuck Norris movie I've always been wanting to see! Awesome, right! RIGHT?!"





Fifth, but wait! The return! So you didn't think you got to KEEP that movie did you? Fool! It's due back the next day! Bwa-ha-ha-ha! So lump on another mileage charge ($2.30) and time charge ($2.50). Plus the whole time you have this "Oh! I've got to go to Wal-Mart to take this stupid movie back!" thing looming over your head. Not cool. I won't factor in any late fees bonus $1 charges to my equation, but it is certainly there, looming like an invisible specter on the horizon, ever vigilant and waiting for that one minute slip-up where you return a movie past due.

 

So, total cost of your "free" Redbox? Roughly $9.60. And that's if you don't factor in the residual emotional strain and guilt from a bad pick and the two hours of sighing and "You never get any movies I want to see!" Or if you don't get sidetracked into purchasing something else while you were out doing all that extra driving. You know you saw that sign in Arby's for the giant curly fries and the Jamocha shake. Go on. You're already in this far...

Categories: February 2011, Movies

0

/