Shopping Cart
Your Cart is Empty
There was an error with PayPal
Click here to try again
Thank you for your business!
You should be receiving an order confirmation from Paypal shortly.
Exit Shopping Cart
Features, Reviews and a Blog by John Sciacca
| | |
| --- | --- |
| Posted on February 27, 2011 at 1:10 PM | |
Alternate Title: Things to do in Portland before you're dead
Occasionally my travels take me to some pretty cool places. Of course I was just in DC where I hit a ton of museums, and there's been the previous trips to Lucas Ranch (and my second trip), a trip to Microsoft's Bellevue campus, the overnight on the aircraft carrier, CES in Vegas, etc. Right now I'm in Portland, Oregon. Now, it has been many, MANY years since I've been in Oregon. My aunt used to own an Italian restaurant called Amelia's in a small town called Coos Bay, Oregon. And when I say used to, I'm thinking that it was around 28 years ago or something when I was there. I spent a summer washing dishes and being a waiter for like $1 an hour when I was 13 years old. I saved up all of my money and bought a Betamax.
So, I'm back in Portland now for the Runco training event and from the moment that I arrived I could tell that Portland was going to be a totally cool place to hang out and spend a little time. My hotel room is overlooking the Willamette River and the OMSI (Oregon Museum of Science and Industry) and in the distance is Mt. Hood all covered in snow. Here's the view out of my Waterfront Marriott window (OMSI would be just out of frame to the right...)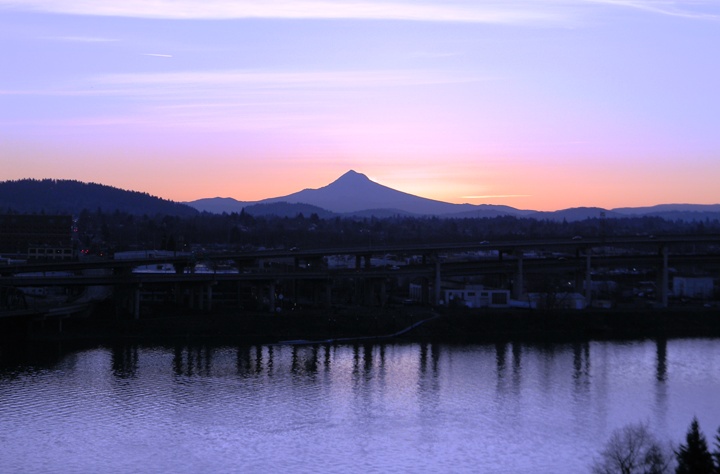 Within an hour's drive you can either be skiing or checking out the ocean. And if you can't make it a full hour, you can be drinking some stellar Pinot in the Willamette Valley. And when the city is advertising itself with things like "Most breweries per capita in the US" and "all buses are free" and "biggest bookstore in the world" and "no sales tax" it speaks to me. Plus a lot of museums and art galleries and a downtown pro basketball time, a TON of restaurants and bars and it seems like not only the kind of place you'd like to visit but the kind of place you'd consider living in. (I realize that I'm starting to sound like I'm on the PR board for Portland... But when you have spent almost 14 years in the cultural void which is Myrtle Beach, it is easy to get excited by some time in a real city!)

 

Runco has been running a training schedule that can only be described so far as a brutalizing, Pol Pot Power Point regime. It's been up at 6:30, bus leaving at 7:25, and then slide-after-slide-after-slide of The Point until the class mercifully lets out at 5. This is some no foolin' around schoolin's. So tonight was a "free" night where we were on our own for dinner. So I grabbed a map from the front desk and headed out to the free street car and worked my way over to Powell's, the largest book store in the world. (I must say "alleged" largest bookstore, because the girl I met at dinner – you'll hear more about her in a bit – said that Powell's reminded her of a smaller version of another bookstore she went to in New York, The Strand. And another guy from the training said that a bookstore in Toronto where he lives claims to be the world's largest. So, while I can't speak to the accuracy of its worldwide ranking, I can say that it's easily the largest bookstore that I've ever been to.)

 

I make it to Powell's and it's obvious that this place is ha-yuge. Instead of a bookstore, imagine that it is a Nordstrom that is like 4 stories tall. Except the shoe department is books. And the women's department is books. And the men's department is books. And every other department is also books. Huge. If you are an author and you have a book published and NO other bookstore in the world will stock your book, don't fear. Because Powell's will. And probably like two copies. In hard and paperback versions. And unlike Barnes & Noble where you never see anyone actually buying anything, people in Powell's were actually buying stuff and not just using the books to occupy their time while they drank a coffee.

 

In the past I've mentioned that I've mentioned that my favorite kid's book is "No dessert until you've finished your mashed potatoes." So, I've searched used bookstores ALL over the country trying to find this book and I have never been able to find it. (Yes, I know that I could do Amazon or something, but I've got this romantic notion of just stumbling across it organically in a used bookstore and having a "Eureka! Finally! I've found it!!!" And I figured that if ANY store could finally come through for me, it would be Powell's. So after perusing the kid's section for a bit – where I discovered an AWESOME parody of Shell Silverstein's "TheGiving Tree" called "The Taking Tree" where the boy is a jerk and the tree *hates* the boy. Here's a passage: "Then the tree took the kid's hat and threw it in the river. And she took the kid's credit cards and ordered a bunch of DVDs she had no intention of watching. And she took the kid's cell phone and called the cops. 'How do you like them apples?' said the tree." – I decided to ask one of the workers. So they searched for my book and they...didn't have it. But she said that she found it available on Amazon.com for over $100! So, apparently my favorite kid's book is fairly rare and difficult to get. So my search for the Holy Mashed Potatoes remains...

 

So, I had been planning on eating at this place called Henry's 12th Street Tavern that had like 100 beers on tap. The hotel guy recommended it, and it sounded like just the kind of thing for a John on his own in Portland to enjoy. But when Kirsten -- aka "Glasseser" -- heard that I was here in Portland she insisted that I instead abandon my plans for Henry's and instead head over to a place called Clyde Commons. It was apparently fate that Clyde was located about 2 blocks away from from Powell's and – according to Glasses – has "seriously amazing food. You can eat at the bar or a communal table. Restaurant/bar is in the hipster Ace hotel (where I always stay), so lots of people from out of town, dining alone. It's all artisan and good, good food!"

 

Plus, it sounds like she is rockin' a total hardcore, pipe-hittin' crush on the Clyde's bartender. OK. How many of you actually go to a restaurant because of the bartender? (If you're a dude and you answer "yes" to that, your hetero card is in serious question; unless said bartender is a lady; a hot lady.) And how many of you know a bartender's name? OK, how about his FULL name? Kirsten wanted me to "say hi to Jeffrey Morgenthaler who is a gifted mixologist. Seriously. An artist."

 

So, after Kirsten finally guilt/convinced me to go, then agreed to supply real-time text directions to the restaurant – no. stop. turn around. Ok, you'll see Stark street. Go left. – I found the place and it was PACKED. I asked about a seat and was told it was a two hour wait but that I could hover at the bar until a chair opened up. So I couldn't find any seating, but then I asked for Jeffrey and passed along the message, "Kirsten, the audio writer from Salt Lake City said I had to come here and say hello to you and get a drink," and magically a beer appeared and a seat opened up. Sweet!

 

So I sat down and I have to say I had a GREAT time. On top of the food being really good – I had a braised lamb shoulder and some kind of vegetable dish that had broccoli that actually didn't taste like poison and something called a "sunchoke" – I met some really interesting people. And, I must say, watching Jeffrey mix up the drinks, using all manner of ingredients and measurement devices and shaking and glass accessorizing techniques, he IS an artist. If Benihana quit making Japanese food, and had a beard, he would be this guy making drinks tableside. Since my normal drink-making routine involves opening bottle of liquor, deciding whether or not to add an ice cube and then pouring said liquor into glass, watching this guy was just *fascinating.* So he prepares this multi-staged, multi-ingredient concoction and sets it down to the guy to my left and I say, "Watching him make that thing was amazing. Is it good?" So he immediately offered me a drink. To which I declined and his girlfriend said, "You don't offer drinks to strangers! You might have AIDS for all he knows." To which I pointed out equally that I might have AIDS for all HE knows. (Then we assured each other that there was nary an AID among us. And, note to the AIDS council: I'm pretty aware that you can't contract AIDS from a shared drink, no matter how amazing it was to made. Or from a public phone. Or a toilet seat. So, AIDS awareness campaign propaganda successful!) This of course started a conversation with the couple who were in their mid-20s couple and from Toronto. Or maybe it was Vancouver. I can't remember now. They were from the one that is a 5 hour car ride away, not from the one that is a 40 hour car ride away, which we all decided was entirely too far to drive for a weekend trip no matter how brilliant the bartender at the other end of the drive may be. To my right was a really attractive girl from the Mission San Francisco whose purse was located rather unfortunately right between my legs due to the way that the bar purse hanging area was arranged. Within minutes I was no longer alone and having some great conversations. (I'm totally embarrassed to say that I can't remember any of their names. Total meeting-new-people Fail for Sciacca!)

 

The Canadians were a ton of fun to talk to and were staying at the hotel and appeared to be trying to drink their way through the majority of the drink menu. The guy loved movies so of course we were immediately simpatico. The girl shockingly didn't like movies, which I was about to tell her was completely un-American, then I recalled that they WERE un-American and from Canada so what could I expect? However other than this obviously deviant and aberrant behavior she seemed otherwise entirely normal and funny. After some discussion, the guy and I agreed that Toy Story 3 should take home the Best Film Oscar (though we both conceded that, sadly, it wouldn't.) He loved American TV including Mad Men, though he seemed truly offended when I asked if he liked any of our reality shows, like Survivor. But he picked up on some obscure Simpson's references ("big book of British smiles") so he's definitely getting a score of cool-guy.

 

When the girl asked about how I could just go out and eat along when I was traveling, I told her that I travel a decent bit, and that it was either eat alone or not at all. She then talked about taking her first business trip to Vegas and how awkward she felt going out to a restaurant/bar and eating alone, saying she ended up feeling like a hooker just sitting alone at a bar. I told her that maybe if she didn't walk up to people and ask if they were looking for company for the evening or tell guys that a drink would cost them $400 to $600 depending she would probably feel less prostitutey. And, in her defense, she totally didn't look at all like a prostitute. Though, maybe that is exactly the way that the high class prostitutes DO look, more like a just an attractive date and not a, you know, paid "date." For all of my visits to Vegas and CES, I have shockingly little real-world prostitute experience to relate. The guy was going to school to be a lawyer though he seemed rather undecided and uninspired as to whether he actually wanted to be a lawyer or not. It sounded like he graduated college – or grade 14 or 18 or whatever the hell it is called in the metric Canadian school system – and the he wanted to go back to school so, what the heck? Law school. Plus it hardly costs anything to go to school in Canada, so why not? Canada girl was in fashion and on some kind of work team that did something involving fashion. They asked what I did and I told them about the writing thing and the blogging thing and they asked for my blog site – along with Mission area girl – so there's a decent chance that they might even be reading this. (Hello, my new Portland Clyde Commons friends!)

 

Inspired to step outside of my draft IPA choice, I ordered a whisky drink at the guy's suggestion and the drink comes and "Hmmm, what is that cinnamon flavor I'm noting?" I ask Jeffrey. "That's cinnamon." "Well, that would definitely explain it." So in the glass is this giant, thick, incredibly resistant to melting, ice cube. It is quite brilliant. The cube is cooling my drink like a professional, but not melting and watering it down. I love this cube. The guy, however, says that he occasionally likes to crunch up icecubes and that this could would be more likely to fight back and shatter your teeth and jaw. (Where he then picked up a brilliant "Little Shop of Horrors" reference. Seriously, this guy was money with picking up my movie drops.) No worries, I say, you've got free health care! Except apparently there is NO Canadian dental plan, they must PAY for things of the teeth variety. So if you ever find yourself in a scuffle with a Canadian, go for the teeth! Now that the Loonie is stronger than the dollar, this might be their last week point! And when they heard about me being in audio, the guy asked me about headphones and which ones I thought he should get. I told him of my Etymotics and about the headphone shoot-out I did for Sound & Vision. So, he listens politely and then DAMN ! if he didn't ask me about Bose! Clearly, even while at a bar in Portland having a civil chat with some Canadians you just can't have a conversation with a non-industry person without Bose coming up!

 

After dinner, I headed back to the free street car thing and looked up to see that for some reason the cars weren't running on the regular schedule and that I could expect my next car to arrive in...84 minutes. WTF? They were supposed to run every 15 minutes. And it is like 30 degrees. I did think a bit ahead and brought a scarf and some ski gloves this time, but there's only so much that helps out when the rest of your outfit is a sports coat and button-down shirt. So, I checked my map and saw that I was about 10 blocks up and 6 blocks over from my hotel, so I just wrapped the scarf balaclava style around my face and beat feet.

 

Baring the walk home – which only took about 20 minutes and really was kind of refreshing, in a my face is starting to chap right off my skull kind of way – it was a great night. Well played, Portland. Well played!

 

(Final link: I told the guy and girl about Lauryn and how cute and clever and awesome she was and how she made that great video explaining our Kaleidescape system. So, if they've made it this far, there's the link to the video!)

Categories: February 2011, Books, Beer/Liquor/Wine

0

/