Shopping Cart
Your Cart is Empty
There was an error with PayPal
Click here to try again
Thank you for your business!
You should be receiving an order confirmation from Paypal shortly.
Exit Shopping Cart
Features, Reviews and a Blog by John Sciacca
| | |
| --- | --- |
| Posted on April 6, 2011 at 3:42 PM | |
Deep down, I think I wanted to be an ad man. I'd like to be a modern day Don Draper, wearing cool suits, heading up creative and coming up with concepts that move you people to break out your wallets and buy into the Sciacca lifestyle image. (OK, perhaps Don Draper with less womanizing and a more judicious approach to the three martini lunch.)
I can remember watching TV with my grandfather and he would grouse about how awful a given ad was. "Why was that so bad, gramp?" "They spent the whole time talking about this instead of about the product! Who will even remember what the ad was about in five minutes? Terrible!" So when I see ads in magazines, I often wonder how I would have done it differently or sometimes just wonder, "What in God's name were they thinking?" I had a pile of magazines I just went through and here are seven ads that really stood out as earning the FAIL hashtag.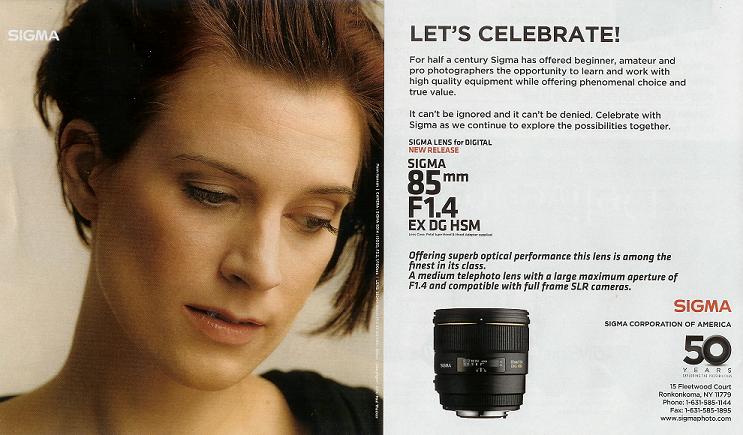 OK, first off what a GIANT disconnect between the picture and the opening text. "LET'S CELEBRATE!"? Really? Cause this woman looks like she is deciding whether or not she can make it through another minute of her day without bursting into tears or opening up that new plastic jug of bourbon something. The expression of her mouth looks pained, like a particularly unpleasant gas bubble is on the verge of bursting, not like even a hint of celebration is on her mind. My first thought on seeing this picture was that they had accidentally slipped in an ad for Cymbalta. I think this text (from the Cymbalta ad) would be a lot more apropos to the image: "When you're depressed where do you want to go? Nowhere. Who do you feel like seeing? No one. Depression hurts in so many ways. Sadness, loss of interest, anxiety. Cymbalta can help. Cymbalta is a prescription medication that treats many symptoms of depression. Severe liver problems – some fatal – were reported. Signs include abdominal pain or yellowing of the skin or eyes. Dizziness or fainting may occur upon standing. Side effects include nausea, dry mouth and constipation." Maybe the point of the ad was that this lens is SO revealing that it will allow you to see how your subject is really feeling. Which, apparently is super depressed, constipated and on the verge of massive liver failure.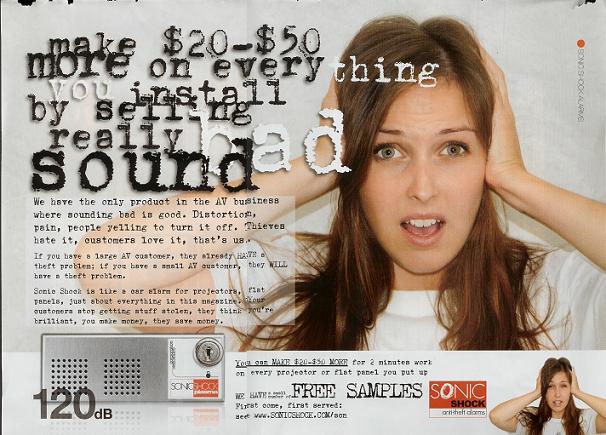 Again, what about this picture makes you want to buy anything? This ad makes me just want to turn the page as fast as possible. Is it for a hangover remedy? A way to get back at neighbors that party-too-hearty? A cure for a bad hair day? (And in the little picture is looks like th egirl has a wonky eye which, granted, is a desirable trait in some circles, but rarely in the advertising world.) Then the text is REALLY difficult to read. I had to stare at it for a few minutes before I could follow that awful text font, color and overlapping characters. The product is selling an alarm to protect flat panel TVs and projectors. Apparently the best thing about them is how loud they are. But why not show a thief being scared away by it or having his eardrums exploding under the brutal sonic onslaught or something? Nah, that'd just be TOO obvious...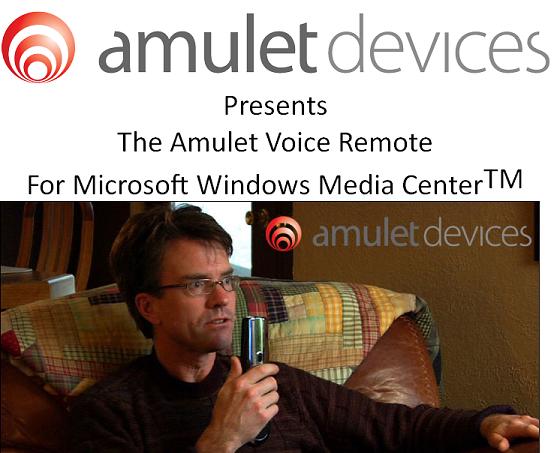 This dude looks like he is sitting RIGHT...ON...THE...EDGE! Like he just lost his job, he came home to find that his wife had left with the kids and the money, the cable is out, a bill collector is banging on the door, the tea kettle is whistling incessantly and he is like one bad cup of coffee or a missed cigarette break away for going on some kind of seriously heinous killing spree. He's just got wild, crazy "DON'T EFF WITH ME, MAN!!! YOU DO NOT WANT TO EFFING EFF WITH ME OR I WILL EFFING EFF YOU THE EFF UP!!!" eyes. But in that silent, smiling, "OK, fine. I'm gonna come back later when I've got my special skin filleting blade and my modified Butt Out for human use and really make sure I take my time and enjoy this..." Also, the color scheme. Brown? It's so, you know, brown. You get the sense that the art director begged them to throw in that quilt or whatever at the last second to break the mono-brown-ic color palette. And the product being advertised – which apparently isn't some form of psychotropic "take those killing feelings away" medicine – is a remote control which totally doesn't stand out at all. I feel like this guy is talking into a micro-corder. And he is saying things like, "The voices have started again. I tell them I don't want to hurt anyone, but they promise to go away if I just do this one bad thing..."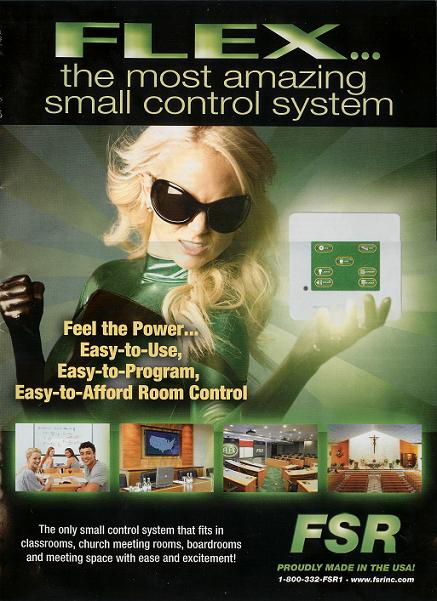 Other than they are trying to capitalize on a Green Lantern theme here – or, with those glasses, maybe she is more Green Hornet – I'm not really feeling any special kind of power going on with this ad. There are a ton of control systems out there, what makes this "the most amazing"? It's totally plain template? It doesn't look especially small. I mean I can probably name half-dozen 4-inch control systems. And why is it "The only small control system that fits in classrooms, etc."? And how does it cause excitement? It is only causing me to question it and its reason for existence.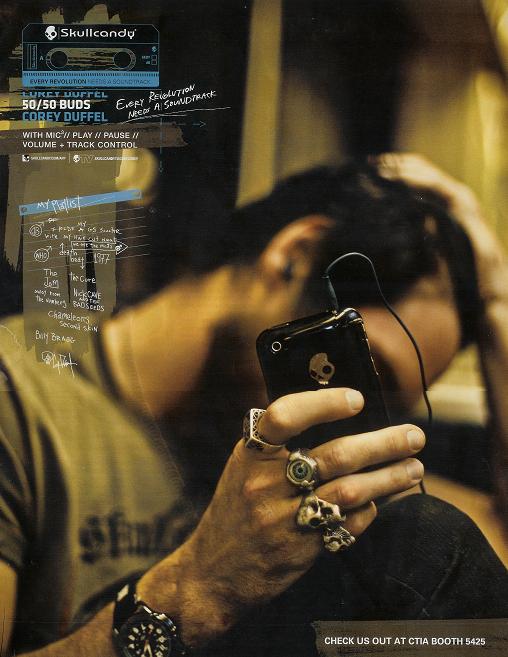 Now, if this ad were in a consumer publication geared towards 13 – 21 year old males, like, I don't know something like "Sk8!" or "Grind World" or "Skater Enthusiast!" or "Shred!" or something, then I could see this being a good ad. But this was in a magazine geared towards retailers. And most retailers are older, non-shredding types. How many of you even know what "Skull Candy" is? It is not a hat, hoodie or Yarmulke. It is not a topical hair cream or unguent. It doesn't actually involve either skulls OR candy. Give up...? It is a headphone company. So, since most adolescents listen with their skulls, this makes perfect sense. This ad just totally misses its target audience demo to me. I'm sure that someone out there knows who Corey Duffel is, and I'm guessing he isn't the heir to the Duffel Bag dynasty, but I sure don't. I'm sure someone cares about his playlist or why he looks like he is having such an awful head-in-hand, heroin-withdrawal-bummker kind of day, but I don't. I'm just thinking, "Dude! Your headphone plug doesn't look like it is jacked all the way in! You're probably only getting left ear audio! And your rings look really uncomfortable!"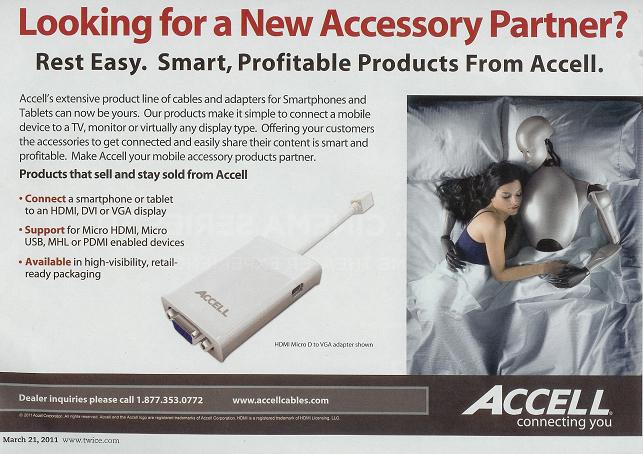 Look, I'll admit it. There was a time not very long ago when it first came out that I wanted to lock myself away in a room and make sweet-sweet analog-to-digital love to a new iPad. Sure. That was one damn sexy-fine piece of electronics. I was fully swept up in the Jobsian euphoria that often accompanies a new i-Launch. I'm not even sure what that would have meant, but the iPad raised feelings in me that I myself didn't fully understand. But this ad just takes those secret-special feelings and puts them on display and makes them all icky and eww-ey. Look, F/X design reject from the I-Robot movie, you might be smarter and stronger and programmed in 1000 ways to please a woman, but you don't have to just lie there all cold and robot-ey and in some obviously creepy attempt at an expression that is reminiscent of post robot coital glow. Seriously, I'm kind of expecting to see a slot open on that robot's chest for depositing post sex cigarette ashes. "If you are finished with me, mistress, I shall be powering down now..." If this is the level of commitment that Accell is expecting from "a new accessory partner," then you're gonna have to count me out. And exactly what "accessory" is that robot packing?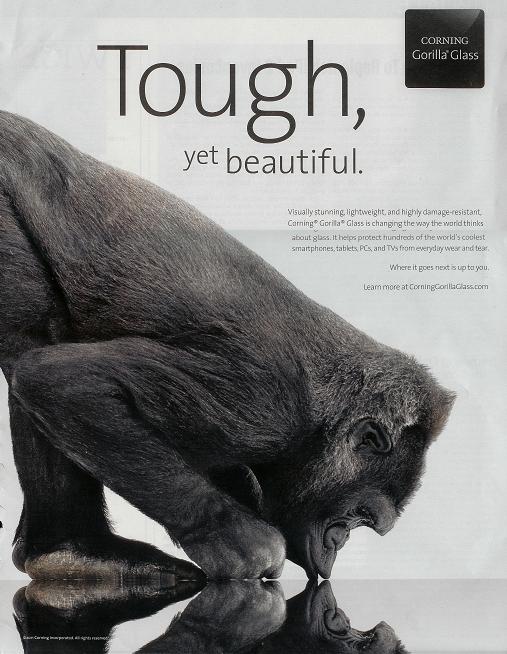 First, you're looking at this thinking it is an ad for a zoo or for helping animals that are being endangered because of the chemical byproducts produced in flat panel glass fabrication aren't you? Well, you're wrong. OK...some things that are tough: Understanding the theory of relativity, discovering that your hard-drive just dumped you entire iTunes library, that piece of I-think-it's-beef-jerky you found on the floor of your car, fixing my stupid pool leak and that chick Jenelle from Teen Mom 2. Things that are beautiful: Flushing a perfect 8-iron into a tricky green, discovering you are getting a refund on your taxes, a Pegasus flying through a double rainbow, your daughter running to give you a hug and not asking you to buy her anything. Things that are tough AND beautiful. Trinity from The Matrix, any of the girls that played La Femme Nikita, Leeloo in the Fifth Element. Things that are tough but NOT beautiful: The Ebola virus, Sigourney Williams in Aliens, IRS tax code, Gorillas. The point of this new glass from Corning is how tough it is, yet how I guess it doesn't look like prison window glass. (Which, would actually be considered beautiful under the right circumstances. Say if it was the last thing between you and some Tea Bag type character...) Why not show someone smashing it with a bat, or standing behind it while someone else fires baseballs at their head or show the Swedish bikini team standing on a sheet of it or something?

Categories: April 2011, Electronics
/