Shopping Cart
Your Cart is Empty
There was an error with PayPal
Click here to try again
Thank you for your business!
You should be receiving an order confirmation from Paypal shortly.
Exit Shopping Cart
Features, Reviews and a Blog by John Sciacca
| | |
| --- | --- |
| Posted on June 7, 2011 at 5:34 PM | |
Last year about this time I went to a Sony press meeting in Beverly Hills. I remember this because, well, they put me up in the SLS, one of the swankiest hotels I've ever been to. A hotel that used M16's as lamps. A hotel with bizarre, shape-shifting, animal-to-man artwork displayed on flat panel TVs throughout. A hotel with full-sized bottles of shampoo and conditioner. A hotel with a swimming pool area SO luxe that I barely even winced at the $27 charge for a single beer and order of chips and guac. Yes, this was the kind of hotel that you could pull up to in your new Lambo and say, "That'll do, Pig. That'll do."
And while the purpose of that meeting was to wow us with all of the ways that Sony was going to make 3D post-production better (or "less sucky" as I so eloquently wrote) by giving us a behind the scenes tour of the Sony Picture Studios lot (some cool pix on those links if you never read those stories before...), also buried within the 3D hyperbole juggernaut was a rather important announcement about Sony's change of position on their ES line of gear.
ES stands for Elevated Standard, which is intended to be Sony's premier line of gear. Think Lexus or Infinity. Built to a higher standard for people that demand the best. Or something. But for a while, the ES was starting to mean Sells Everywhere. (Yes, I realize that is SE. Everywhere Sells just seemed clumsy. Maybe I'm getting lazy, but I couldn't think up a better one.) ES products were available for sale on the Internet, on Sony's own Website, in Big Box stores, pitched by Don Pardo on late night TV, thrown in with jumbopack purchases of super-absorbency towels at Costco... But Sony was drawing a line in the silicon. I'm sure they used a blue laser to do so. They said, "Kore ijō no!" which roughly translates to "No mas!" in Spanish.
Specifically they said that ES home theater products and VW series home cinema projectors were no longer authorized to be sold online. No more Best Buys. No more Amazons. No more even SonyStyle.com. And no more distribution. All of it off the table. Gone. You would have to go to a qualified, certified ES retail partner to purchase who would have to purchase the ES equipment directly from Sony. So clean, so simple, so perfect! They wanted customers to receive a premium experience when considering purchasing these products; and make sure they were installed properly. The kind of experience that could only be guaranteed by making sure that their installation partners were chosen selectively.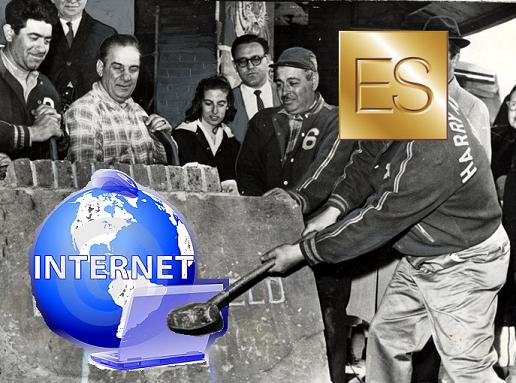 And, I must say, as a dealer, this was terrific news. This level of exclusivity has long been disappearing from this industry. When any new Johnny-trunk-slammer can throw a magnet onto his van and call himself "Audio Expert" and have access to nearly every product in the biz, it can make it tough for the legitimate, real players to differentiate their product offerings. "Well you bid me brand X, model 123; and this here fella up the road says he can sell me the same exact thing for $100 less. So, I figure I'll have him do it and mow ma lawn, clean ma gutters and look at them catfish swimmin' in ma pool at the same time!"




And in an age where the goal of most manufacturers is to drive their sales numbers up by any means possible, you see companies ADDING distribution channels not taking them away. (Oh, They Who Shall Not Be Named! How's it workin' out for you cutting like a third of your brick-and-mortar supporting dealers and going downstream into Best Buy and Apple stores? Selling a lot of $500 Hindenburg-shaped iPod docks, are you?)




But a lot of companies make these claims. This was one of the big claims from Yamaha about their new Aventage line, but shortly after we decided to carry it, I had this little situation... It has happened so often with Sharp TVs – with people quoting products that are often *hundreds* of dollars below my direct dealer cost – that I used to always go running to our rep, "See! Look! How am I supposed to sell your product with this happening?!" But they would act all, "Oh, yes, terrible, awful, indeed. Send me the link and I'll make sure it gets handled."




But...it never would. Ultimately, the feeling is the companies don't care. They're moving boxes. Shipping units. Jacking numbers. It's all good to the bottom line. Who cares which dealer sells it as long as it gets sold? But not this time with Sony. Seems they're taking their ES policy for real, which makes ME want to take it for real. To that end, I got a letter from the Big S today. Here's some of what it said:




"Dear Sony ES partner,




I would like to personally thank you for your support through this transition, which was specifically designed to protect your business. We could not have achieved such strong results so quickly without your cooperation and participation. Here are some of the actions Sony has taken to date to continue protecting our business partnership with you:




•    103 auctions of ES and VW series products have been removed from eBay




•    129 web dealers have ceased selling ES products




•    Three instances of trans-shipping have been detected and dealt with




•    Continued investment in the Sony Retailer Network to drive consumers to our in-network resellers so they are sure to have the best customer experience.




To identify trans-shippers, we place orders with violating websites to find out where their violating product was originally shipped to. Since announcing our new distribution strategy, we have attempted to purchase dozens of ES products from violating websites. Of those purchases, only three websites actually had ES product in stock.




This means that more than ninety percent of the ES receivers and VW projectors we've attempted to buy online were not actually available for purchase.




PS: We love your blog here at Sony, and wish you continued success. If there is anything we can do for you, please don't hesitate to ask. You are so much more clean and pleasant to deal with than that oh Baka, Wilkinson! Arigato and sayonara!"





Nice! Keep bustin', Sony! Keep bustin'! (Some -- or all -- of that last bit might have been exagerrated, but I'm sure they would have meant every word. Especially the bit about Darryl.)


Categories: June 2011, Electronics, CTA

0

/