Shopping Cart
Your Cart is Empty
There was an error with PayPal
Click here to try again
Thank you for your business!
You should be receiving an order confirmation from Paypal shortly.
Exit Shopping Cart
Features, Reviews and a Blog by John Sciacca
| | |
| --- | --- |
| Posted on June 15, 2011 at 4:08 PM | |
"I've built walls,
A fortress deep and mighty,
That none may penetrate.
I have no need of friendship; friendship causes pain.
It's laughter and it's loving I disdain.
I have my books
And my poetry to protect me;
I am shielded in my armor,
Hiding in my room, safe within my womb.
I touch no one and no one touches me.
I am a rock,
I am an island."
(Simon & Garfunkel)
Except, well, I'm not. At least, well, I don't want to be a rock. Or an island. In fact, I think I'm funny and rather enjoy laughter, except when that laughter is totally directed AT me accompanied with the finger pointing and the jeering and not, you know, WITH me. And even if that laughter is just of the subdued/acknowledged, "Oh, that's funny! You're clever!" variety. And the only poetry that I have to protect myself with is likely of the Seussical type. And unless that attack is of the Green Egg or Thing 1 and Thing 2 variety, I'm not sure what good that will do me.
However the other day I was in a down patch and was feeling more than my general state of morose – possibly, the sudden, unexpected death of a friend, or maybe just all of that scotch and depressing music finally taking its toll, slowly building up in my system like a toxic bout of lead, it's tough to say – and I told Dana, "You know. I don't really have that many friends."
Dana, ever the compassionate, ever the considerate, ever the vigilant keeper of truth and pointer-outer of the often painful, sometimes obvious, frequently painfully-obvious, said, "Well, you're not always the most approachable person and you don't make it easy for people to be friends with you. You're often harsh and your honesty can be brutal and you don't really go out of your way to be nice to people. So..."
Yes. So... As in, "So...what should you expect?"
And this made me think of something one of our employees said a while back after I posted a blog of a dinner with our Definitive Rep, Woody. "You know you risk alienating anyone that is ever nice to you!" And, well, do I? Or maybe more accurately *have* I?
And then I started thinking about it; who really are my friends? And maybe more importantly, what does being a friend mean to me? And outside of family – of course, because they seem obligated by blood or marriage to at least act friendly towards you and to overlook your foibles as you, in turn, do your best to overlook theirs – and PR reps – who are literally paid to act friendly and interested and, "Oh, you're so very funny and clever and interesting!" in a manner that the very best do with such complete and utter conviction and aplomb that you might even feel convinced that the friendship could last beyond whatever current story or review or product pitch has brought your two worlds momentarily into alignment --  and work colleagues – who generally try to keep the ship sailing as smoothly as possible, keeping any rocking waves of contention and unease to a bare minimum and steering as far clear from rocky, emotionally dark waters so that everyone can be mutually productive and stress and as misery-free as possible for your mutual eight hour slog of pushing the big boulder back up to the top of the hill – when you remove all of those people from my life, I don't have many friends. In fact, I think I might only have one.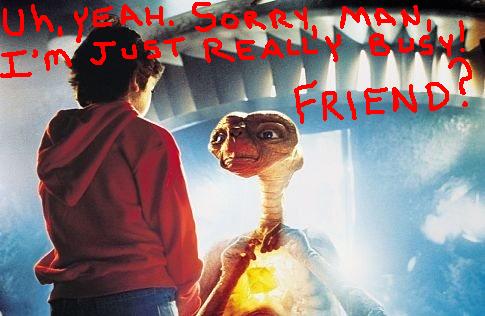 Certainly I have lots of people that I'm "friendly" with. People that I chat with and discuss TV shows in common and say things like, "Hey, we should really get together and do something" who, in turn, nod and agree, "Yeah! Totally! We should definitely do that." But, inevitably, we don't. I get it, Tommy Shaw, you totally nailed it with, "I got dozens of friends, and the fun never ends, that is, as long as I'm buying." Or maybe rather as long as I'm inviting, as long as I'm initiating, as long as I'm doing the friending. 




It isn't like I go through life intentionally being a total prick to everyone I encounter and trying to estrange anyone that shows even the slightest sign of interest in Sciacca. To the contrary, I *feel* like I'm often the one that is actively doing the approaching and introducing and meeting and engaging. And I don't think there are a lot of people out there that overtly *dislike* me. (Except for Mr. Brain. He's made no bones about his feelings and is totally, wholly honest in his dislike and utter contempt of John. And yet, even he calls me on a far more regular basis than lots of other people who supposedly DO like me. So, I guess I've got to give him something for that.)

 

And there are plenty of people that I would hang the generic, "Oh, (s)he's a friend..." tag on, but that is just a label that seems to have been so  completely and overly watered down by social networking like Facebook and Linked In and such that I'm not even sure what that is even supposed to mean anymore. Almost every day I get an "invite to connect" from my Linked In account. The message generally has some generic bit of text preceded by, "So and so has indicated you are a friend." Really? I'm your friend? Because I'd say 80% of the time I don't even know these people. Yet somehow, in the nonspecific 21st Century acquaintance collecting society we live in, I'm a friend.




But in what sense? They read something I wrote? My name popped up in some "Other People You May Know..." metadata, cross-reference, computer suggested list? Yet I dutifully click "Accept" and grow my chain of Links. And I hear of other people with hundreds and even thousands of Facebook "friends" and I think, "Really?" Maybe that's my problem. Honestly, there aren't hundreds – let alone, dear God, thousands – of people that I really and truly care to know about. And at the same time that Facebook has given people such a giant collection of "friends" it has also made it so easy to "keep" a friend and yet have absolutely nothing to do with them; where you can secretly ignore them and have nothing to do with them and yet, still appear as their "friend." How, uh, friendly.

 

Granted, I don't go to work looking to make friends with clients; I go there to do my job and service my clients. I certainly try to be nice to them, to fulfill their requests, to make their encounter as successful as possible, but at the end of the job, I'm not really looking to go and hang out with them; I'm looking to retreat back into John world.




I do have my share of industry/journalism work colleagues that I *think* I'd be actual, real, outside of "you have a business reason interact with me" friends with. I enjoy spending time with Jeremy G whenever our paths cross at industry events. But is Jeremy going to still be interested in hanging with me if I suddenly stopped providing interesting and timely copy? (We'll never know, because I have every plan to continue doing so. Some hypotheticals need not be answered in the cruel real world.)  From my afternoon drinking beers and hanging at the airport with Dennis B in New York, I can tell we would possibly find time for the occasional get together and beer hang out, but he's already told me his best friends are generally girls. And despite all of my overt jabs and pokes and barbs, I am probably closer to Darryl Wilkinson than about anyone else in this whole biz. If he doesn't send me at least one -- and more likely many -- Panera hotness update, Absinthe drink recipe, bit of tech braggadocio, random piece of lewdness or insulting texts or e-mails a day, then there's probably some natural disaster working its way through Missouri. Or he's wading through his latest shipments of review gear. Or he's slipped into an absinthe fueled coma. Either way. Perhaps we are just kindred spirits; kindred in that caustic, abrasive, standoffish-ey way that is bound to only attract like kind. And yet, when living so far apart, how close of friends can you really be?

 

Maybe I'm just expecting too much from my old-world mentality of what a "friend" should be. To me it means that I'm not always the one that has to make every invitation or initiate every call, e-mail or text. Maybe just once in awhile you could go out of your way to reach out to me. Maybe you won't make it seem like a chore or obligation to get together and do something; where the thinnest excuse can derail plans. (I'm in California like once every couple of years; really? You can't find a night to get together? OK. I got it. Loud and clear.) And maybe I'm expecting more than an occasional hit reply or group mass-mailing. And I'm gonna need more than, "Sorry. Can't talk. Busy." e-mails or the occasional 160 character quip of the same or just a random, occasional comment on something I've written as the link that is supposed to hold our friendship together. I get it; we're all busy. And yet, somehow I made the time to reach out. Weird, huh? And maybe the contact will be deeper than what essentially just feels like some bit of subterfuge to disguise the fact that after several years of no contact you're really just now wanting to solicit some free advice or information about your A/V system.

 

But, thankfully, even in this hazy, shape-shifting definition of what a friend is, there is still that one friend; and fortunately for me, he is a great one. My friend, Dan. I've known him for almost 30 years, which is as close to ever as anyone I've known, and even though we're 2,500 miles apart, we've managed to maintain a friendship that continues to remain strong and two-way and friendly and, well, real.




I guess ultimately friendship, to me, is about putting out the effort. And, maybe what I'm seeing is that, for some reason, I'm not worth it. And maybe when you strip away all the other stuff, maybe having one great friend is all that anyone can ever really attain. But we can certainly always hope for more...


Categories: June 2011, Family, Rants

0

/