Shopping Cart
Your Cart is Empty
There was an error with PayPal
Click here to try again
Thank you for your business!
You should be receiving an order confirmation from Paypal shortly.
Exit Shopping Cart
Features, Reviews and a Blog by John Sciacca
| | |
| --- | --- |
| Posted on June 29, 2011 at 10:12 PM | |
Read a story to a Lauryn, and she'll just ask you for another. And another. And then a glass of water. And then maybe a snack. And then probably wander out to ask what show you're watching and if she can have some popcorn and are you drinking wine. And then she'll probably want a gummi vitamin. And then a gummi calcium...
But, TEACH a Lauryn to read! Ah! Then you have given her a skill for life! And probably bought yourself some much needed hours of extra free time!
To understand the history behind the reading, it is important for me to confess that I am a hoarder. I love my things and I like to hold onto them. Now I'm nos-where near the level of people that you see on TV, though I understand that at some point they too were nowhere near that level either and probably laughed at other people and their collections of old tubs of mayonnaise. I have no interest in old newspapers and magazines, unless, of course, I happen to have a story or article in one of them. I don't need to hang on to discarded espresso-pucks from my coffee machine, I don't collect vacuums or extension cords, my "big bag o' hair" collection is well within the normal range and you'd be hard pressed to find even a single jar of urine. However I do have quite an impressive collection of extinct and discarded electronics. My real weakness comes if there can be any scintilla of sentimental value attached to something; then I will keep it and lovingly cherish it. And at some point possibly put it into a box somewhere that will then be put under a bed, or up in a closet, or in the attic. Somewhere. But keep it secret, keep it safe. Because there will come a day far, far, FAR off in the future when I want to go to that box and spend a few moments remembering the special attachment that I have with that item. It doesn't even have to be my stuff. Dana was cleaning out an old "parent attic box" one day – mistakenly when I was around stumbled across her doing it, I might add -- and we came across this pile of random school work that she had done in like the 4th of 5th grade.
"Wait. What are you doing with all that stuff?"
"Trash."
"What?!"
"That's all trash. It's nothing special. It's just some old school work from when I was little."
"But it's yours. You did it."
"It's nothing special. It's not like a story or anything."
"But it's old. And you did it."
"You didn't even know me then! I was like 10."
"I would have wanted to know you! This is my only link to 10 year old Dana! We have to keep it! And, besides, one day maybe Lauryn will want to see what you did when you were her age."
(Lengthy exasperated sigh followed by sounds of wine corks popping.)
One of these sentimental holdovers from my childhood is this bag of books that I've been hanging onto for years now. They are all about 14 pages long and are the books that I actually learned to read with. Many of them bear the scrawl of a young Sciacca, backwards S and all. And besides just the obvious attachment of a connect-the-dots link to my past, I've always had the romantic notion that one day I would use them to teach my child to read with them. (Much the way that I fully expect Lauryn to learn that "a noun's a special kind of word, It's any name you ever heard. I find it quite interesting, a noun's a person, place, or thing" and that "HE, HIM, and HIS are pronouns, replacing the noun Rufus Xavier Sarsaparilla, a very proper noun" by watching SchoolHouse Rocks with me. Ahh, the fun times we have in store!)
But as for the reading...that day has finally come!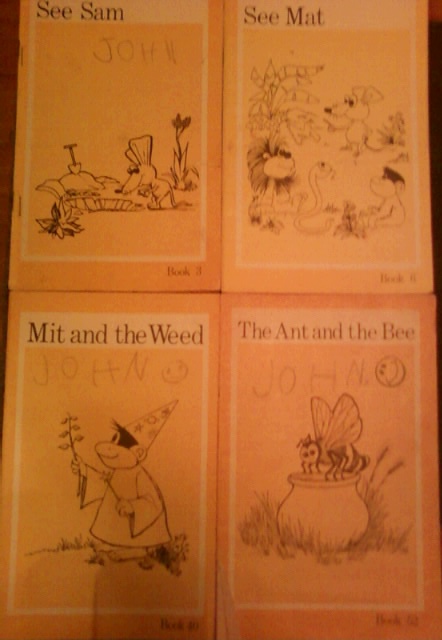 Lauryn initially took to reading with her usual level of passion and zest for life and love of all things new. "I hate reading! I'll never learn how to read! NEVERRRRRR!!!" This immediate love for reading continued over several days until she finally say that she was *totally* getting it and then she became excited by the fact that she was telling the story and making sense of all those crazy squiggley characters on the page.
There are a total of 52 books and since they have a copyright date of 1972, I'm pretty sure that means that I learned to read when I was two. (I've shown signs of undeniable brilliance from such an early age...)  
The first book has all of three words in it: I, see, Sam. In a variety of combinations. Some pages have, "See." while others get all deep and metaphysical with, "See?" Then some mix it up all crazy sentence reading, free-form Parkour, "Sam! I see Sam!" style.
Sam, you see, is a lion. We read one new and one previous book each night, hopefully building on some bit of new word knowledge. Lauryn is a rock star most nights, but is still grasping the concept of a letter sound at the END of a word...
"What does a-n sound like?"
"Ah…nah. Ah…nah. An!"
"And if you put an M in front?"
"Ma-ma…man!"
"And an R?"
"Ra-ra…ran!"
"And if you put a D on the END? An…duh..An…DUH."
"Duh-duh…dan!"
Doh!
So far Lauryn and I have worked our way up to book 16 and along with Sam we've met Mit (a monkey), Sis (a snake), Mat (a mouse), Ann (a kangaroo), and Nan (a bird). There's also a nameless elephant that made a cameo and was confusingly called "it" the entire time...
I'm wondering if anyone else out there learned to read with Sam and the gang? Is this another case of a unique-to-California-70s-youth-culture like Donald Duck in Mathmagic Land and Johnny Sokko and the Giant Robot?
According  to a little Google-ing, I discovered that in 1972, the federally funded Southwest Regional Laboratory for Educational Development and Research (SWRL) and Ginn and Company (A Xerox Educational Company) published this group of early reader books as parts of SWRL's Beginning Reading Program (BRP).
If you are interested in teaching your young-ins how to read, or remember Sam from your own youth or find modern day literature too long and involved or just want to see the skill level that I'm currently reading at, you can find ALL of the Sam books here in easy-to-print PDF format. And if you skip ahead and find out that elephant's name, don't go spoiling it for the rest of us!

Categories: June 2011, Family, Books
/