Shopping Cart
Your Cart is Empty
There was an error with PayPal
Click here to try again
Thank you for your business!
You should be receiving an order confirmation from Paypal shortly.
Exit Shopping Cart
Features, Reviews and a Blog by John Sciacca
| | |
| --- | --- |
| Posted on July 25, 2011 at 9:48 PM | |
Fields of prancing Pegasus unicorns, a perfectly struck mid-iron, the first bite of an amazing steak, the first sip of an amazing red wine, a package delivery on Saturday morning, finding out that your tickets in Row ZZ are not near the back but rather the *very* front…yes, these are all great things. Things that would cause the normal heart to well up with emotion and unbounded joy to be sure.
But they all pale to one thing: Finding money.
Seriously, there are few things in this world that are done while clothed that can rival the unbridled adrenaline spike of looking down and seeing...money! And not just any money. I mean, sure, a quarter is good for a self-satisfied smile, but when that money is of the paper variety, it is like you have been singularly chosen out to receive a special little blessing. (Having found a 10,000 Lira note in Italy, I can assure you that this pleasure is indeed global in nature. Though, as the bill was blue, momentarily confusing and making you take a double-take to insure that you aren't actually just picking up some discarded piece of a pasta box.)
We once went to a concert at the House of Blues here in Myrtle. I can't even remember what the band was we were going to see. The point is, that doesn't even matter. What DOES matter is that when I stepped out of the car, I saw that particularly unique flutter that American paper bills have. Heavier than regular paper, yet light enough to still take wing under gentle winds. If you've even had the pleasure of experiencing the site of found money blowing on a breeze out in the wild, then you'll know what I'm talking about. The bills float and twirl and dance majestically as they glide in to kiss the ground, pausing ever so briefly as they pulse and tremble waiting for the next breath of air to send them along once again. There is a probably a documentary short just waiting to be filmed. So, I see these billS (plural!) and I go running full tilt across the parking lot, dodging cars, racing the wind, gathering rosebuds as ye may. Except these weren't rosebuds, these were Washingtons. I think I grabbed nine of them. And I had more fun and got a bigger rush from it than $9 has any right to provide. I don't even care if someone had staged this and was sitting in a van somewhere with a hidden camera filming it. In fact, it SHOULD be on YouTube. It could be titled, "John's Greatest Joy" or "Quintessential Bliss."
Anyhow, found money is the best. And I'm sure we all have great memories of finding bills. Here's another quickie. We were in Napa Valley and went to Opus One where a single glass tasting is $20. We ponied up for the tasting, but of course I was grousing about it, questioning the veracity  of my so-called one-ounce pour, etc. So we leave Opus and head to our next winery, Cakebread, which is like a half mile down the road. I park and open my door and what do I see sitting right there, all folded up like a perfect present there to restore the balance to the universe and my wallet? A twenty. Instantly that glass of wine tasted better.
I have told Lauryn before that you need to always look down, that you're never going to find any money looking UP. (I'm sure that is true in all but the rarest of instances. However, I welcome any "found money while looking up" stories in the comments section...) And she has found some pennies and a nickel and I think even a dime, so Lauryn knows what to look out for. (Though, to be honest, she is also just as likely to pick up a popsicle stick or shiny rock.) So, we're at Costco today doing some shopping and I am in the checkout line and Lauryn comes up and tugs on my shirt.
"Daddy. Look what I found; a money!"
I look down and she is holding this: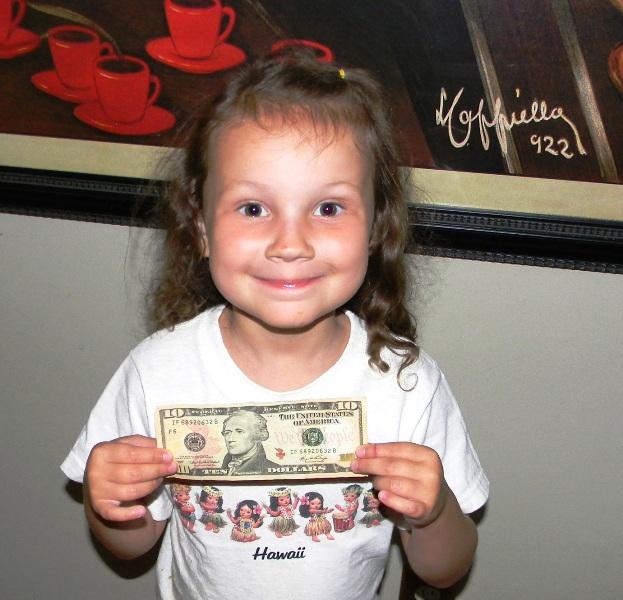 A tenner! For her first go! Of course, we tell her the first rule of finding money: BE DISCREET! Without getting into all of the moral kiosk situations and explanations of sure, WE'RE happy we found the money, but there is someone out there fulfilling Newton's Third Law of money finding who is equally UNHAPPY about it. And that a found money in motion, needs to stay in motion…all the way into your pocket!
When we get out to the car, I ask Lauryn to tell me how she found it. "Well, I was walking along, and I looked down and I saw the money. And I picked it up."
"How did you know it was a money?"
"Daddy. I just know things that you don't know."
So great! Lauryn has always been my daughter, but today she truly became...a Sciacca! 
So I shared with Lauryn my first memory of finding money. And now I'll share it with you. It was 1977 and I was in Coos Bay, Oregon walking to the arcade in the mall with my cousin, Gabe. Just outside the mall, there it was; a perfectly folded, brand new two dollar bill. So crisp, so fresh, so worth 8 quarters! But instead of cashing it in, I picked it up and put it into my wallet. And have carried it with me nearly every day of my life ever since.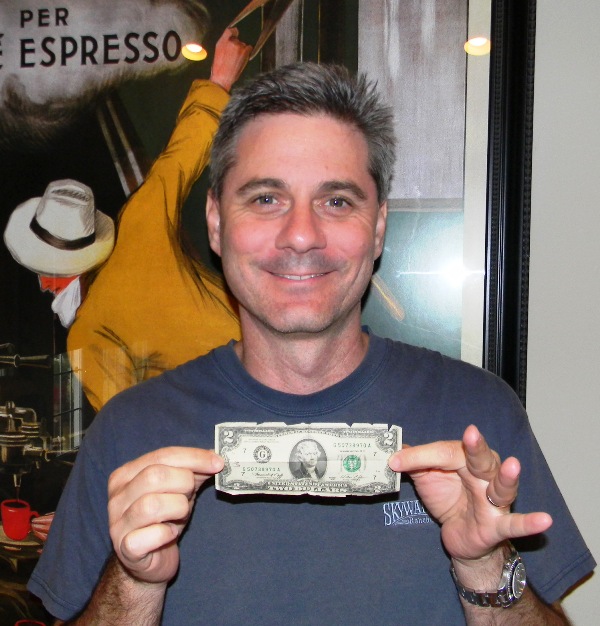 /