Shopping Cart
Your Cart is Empty
There was an error with PayPal
Click here to try again
Thank you for your business!
You should be receiving an order confirmation from Paypal shortly.
Exit Shopping Cart
Features, Reviews and a Blog by John Sciacca
| | |
| --- | --- |
| Posted on July 31, 2011 at 5:15 PM | |
I've been resistant to being any more social network-ey than I already am. Beyond my blog's NetworkedBlogs page -- which I mainly keep to allow people to Follow Me -- I don't really have anything to do with Facebook. (Honestly, it seems like the only people that want to "Friend" me are people I've never even met, talked to or have any idea they existed right up until the moment that they decided we were simpatico enough to be digital besties.) I wouldn't have any idea how to use a Google+ or how to segregate my contacts into clusters or circles or pods or whatever. I don't really want everyone knowing my every moment's whereabouts via FourSquare or when I stop in to get Gordita at Taco Bell or whatever. (And, for the record, I actually hate Gorditas. They are too much fried and doughey grossness.) I use LinkedIn as a way of keeping up with some businessey goings on, and have actually managed to parlay my Linked account into getting actual real, worky-spendy dollars.
Honestly, with a near daily issuance of 1000-word (give or take) blog postings, I feel like there isn't much about my daily goings on that those who care to know don't already.
However, there are times when there is a brief -- say 140 characters or so – thought, idea or observation that I might wish to share. Something that doesn't merit the full Sciacca Blog treatment. Or, probably more likely, times when I would like to notify a larger group of something that I've written.
In the past, I've either shared these mental pearls of wisdom with a select few via text message, or sent out mass e-mails to people (time consuming) or posted up on my Linked account (unreliable) or I've relied on others who are far more PR savvy and connected than myself (primarily @juliejacobson and Jeremy G @resisys) to do my Twitter PR bidding.
But this puts me at the fickle, unpredictable whim of others; will they find my request Tweet-worthy and when will they get around to doing it? And if there's anything I've learned from all my viewings of The Apprentice, it's that you don't trust the fate of your success into the hands of others. (Also, never volunteer to be fired. That one is never gonna turn out well either.) And after finally being shamed by Julie for the last time – via her Twitter account on July 20 with, "If John Sciacca knew how to tweet, I wouldn't have to do his bidding for him. He won't let me into boys' #avtweeps club, so why should I?" – and by e-mail today with "Dude, get a twitter account!" While I can't do anything about the first -- Julie, I keep telling you, there are forces much more powerful than I needed to get you into the boys' club! -- I can most certainly rectify the second. 
So, I have decided to, in fact, dude, get a Twitter account.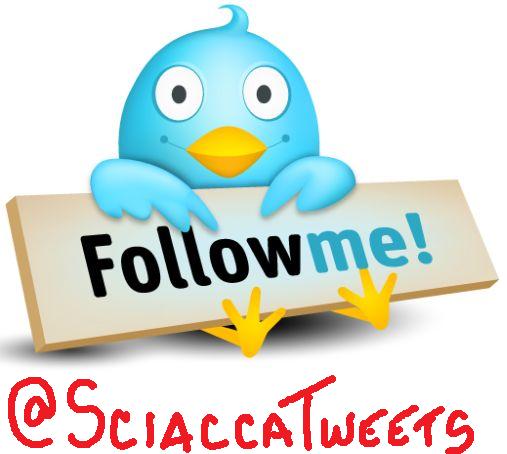 As of today, you can follow me at @SciaccaTweets (or by clicking here). I'd like to say I can tell you exactly how to go about doing that or what it will mean, but, well, I'm not entirely sure yet myself. I imagine it will be random and unrelated things like, "The one time Dana doesn't tell me to look out for the car in our driveway – the ONE time! – I back into her sister's car in our driveway. DAMN! #Fail" (Though, to be honest, I'm not even sure that would fit. 140 characters is going to be a real challenge to my typical, what some would call "exceedingly verbose," writing style.)
Also, I figured that if I'm going to be one of the Social Media "experts" at the upcoming CEDIA show that I should at least embrace the Twitters on even the most basic of levels. You know, kind of like that pulling away but still hugging motion you give the weird kind-of aunt that comes over occasionally with the unidentifiable odor and off-putting chin beard.

I think one of my biggest reservations for joining the little blue bird was the fear of having to follow people back. It seems that a large part of Twitter etiquette is to follow those who follow you. And, well, kind of like this blog, I mainly expect my Twiiter-verse to be a one way street. I would love you to follow me – you know, if you're interested and inclined – but I'm not gonna guarantee to follow you back. If that's a deal breaker, well, I understand.
As always, thanks for reading. Here, there or anywhere...
Categories: July 2011, Computers, On Writing
/