Shopping Cart
Your Cart is Empty
There was an error with PayPal
Click here to try again
Thank you for your business!
You should be receiving an order confirmation from Paypal shortly.
Exit Shopping Cart
Features, Reviews and a Blog by John Sciacca
| | |
| --- | --- |
| Posted on August 3, 2011 at 12:55 AM | |
"This is a story of blog meets world. The blog, John Sciacca Writes, grew up believing that it would never truly be happy until the day it met the one. This belief stemmed from early exposure to depressing chick rock and a total mis-reading of many of its Top 10 Movies. The one, you, from wherever, did not share this belief. Since the proliferation of other blogs and tweets and such, you only loved two things. The first was occasionally checking in. The second was how easily you could log off and not feel a thing. Blog meets World on February 25th, 2010. It knows almost immediately that you is who it has been searching for. This is a story of blog meets world, but you should know upfront, this IS a blog story."
Ladies and gentleman, this – THIS – is my 500th blog post!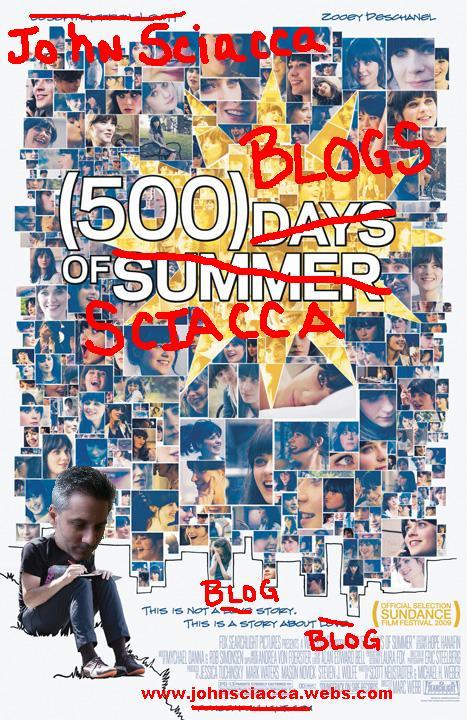 (Takes a deep breath...exhales...basks in the moment of sweet accomplishment.)
Back on November 14th, I published my 300th post. (I must say, it featured a cool graphic, even with my totally amateur MS Paint editing skills.) And back on February 25th, 2010, my very first foray into this then unknown world.
I sincerely thank you for following me so far on this journey; especially those of you that manage to check in on a near daily basis. Knowing that you'll be here is a big motivation to try and put something fresh up each day. Even if I don't know you, know that I appreciate you.
From the start where I would be excited to see visitor counts in the teens, or two people logged on at once, to my first 100 visitor day, to my first 1000 visitor day, it has been amazing to see the numbers of people that are actually interested – on a regular, reoccurring basis – in what I have to say grow on a regular basis. I know this is largely due to word of mouth and sharing and I thank you.
One of the challenges of writing – especially something personal like a blog – is that there is really no telling what will resonate with readers;  often stories that might be really meaningful to you are often shrugged off by others. Conversely, other things that you bang out in a quick whim can be the ones that people love the most. To quote Mayor Quimby, sometimes people really are nothing but a bunch of fickle, mush heads.
However, you all know my love for analystics. (Who can forget the joys of Googling incinerated testicles? I still hold the #2 spot, by the way!) And one thing about analytics is: they don't lie. They also tell the tale of what people enjoy reading. So I thought after 500 posts, I would share the Top 11 (by unique page views) that I've done so far.
At #1, with 2080 unique visits, is my story on how crappy a deal Best Buy's Buy Back Program was. If I saved even one of those people from making that purchase, then it was totally worth it.
Best Buy Back: Not Such a Best Buy
Way down the hit parade at 1065 views is #2; a guest blog from my Navy SEAL cousin on silenced weapons. Almost daily someone – usually from some scary country that ends in stan – will Google something like "how loud is a silenced weapon".
Pew-Pew! What does a silenced weapon *really* sound like?
Oh, how equal parts fitting AND ironic that a 3D post would be #3! 1027 people found their "For Dummies" questions answered here.
3D TV For Dummies: 10 questions answered about 3D TV
My post on Kaleidescape's new lower priced system was called "the best article on Kaleidescape to date!" by the company's president. High praise indeed. They also posted a link on their site providing a bunch of traffic making this the #4 post with 1013 visits.
Kaleidescape: Slashes the Price, Retains the Awesome!
Exclusives are always a good thing, and I was the ONLY reviewer to be given a pre-launch sample of Kaleidescape's new M700 Disc Vault. Good for the #5 spot and 686 visits.
Exclusive Hands On review: Kaleidescape's M700 Disc Vault
Thanks to a link from Geoff Morrisson over at CNET, I got a lot of hits on my ISF calibration gone bad story. 572 views to be exact. Unfortunately, it didn't make the guy's dad any happier.
You broke my TV! Now fix it or give me a new one!
Netflix's recent price increase created a ton of outrage. They got thousands of super negative-borderline-hostile comments on their blog, their stock price got pummeled, and people flocked away from the Big Red One. All of that made for post #7 and 490 views.
Netflix: Important Account Info and F You!
My disdain for 3D is pretty well known around these parts, and my #8 post with 432 views is about more reasons why I still pretty much hate 3D. (Though, this hate has been tempered somewhat by Runco's D73 projector. However, I'm still like $65,000 short on owning one, so...)
3D: I STILL pretty much hate you!
Those Kaleidescape owners are a loyal bunch and Kaleidescape adding Blu-ray support to their servers was newsworthy enough to get 427 views and the #9 spot.
Even though the founder of this company thought my post was "mean" and he wasn't sure if I was joking – for the record, I do NOT encourage auto-asphyxiation as a sensory deprivation aid to improve music listening; unless it works that is – the Music Mask post was hilarious and snagged the #10 spot with 415 views.
Music is ugly. Put a mask on it!
My #11 post shows just how much you can never underestimate the power of "porn" in the title of something. Also, little did I know that there actually IS a porn producer called "AV Porn" and an "adult actress" named Meridian. All of that combined for a lot of disappointed (I'm sure) visitors with 389 views.
AV Porn: Meridian Core 200 and DSP3200
Want to know what's sad? The "Hmm… Let's try that again" page didn't load thingy that hopefully you only occasionally encounter would have been my #13 post with 332 views. Glad that you people DID try again!
I can' t promise that there will be another 500 posts in me, but I will try and make each one entertaining along the way. If you want to get your Sciacca fix in smaller, more bit-sized servings, you can now follow me on Twitter.

Thanks again for reading,
John
Categories: August 2011, Best Of..., On Writing
/