Shopping Cart
Your Cart is Empty
There was an error with PayPal
Click here to try again
Thank you for your business!
You should be receiving an order confirmation from Paypal shortly.
Exit Shopping Cart
Features, Reviews and a Blog by John Sciacca
| | |
| --- | --- |
| Posted on August 9, 2011 at 6:15 PM | |
I'm going to be totally honest and up front before I even begin here… I have yet to use Spotify's music service. (Even though I signed myself up and someone else says they sent me an invite. Harumpf!) So, I am going to be throwing out some gripes and comparisons and some, "What the hell's?!" here against a service that I haven't actually personally used yet. Which is not normally how I likes to do. So, if I'm off in some area, please correct me. If I've missed the ball on see key point, tell me where I'm wrong. If I have blundered some bit of research, tell me that I'm a big, fat, stupid head. Or just tell me all of the reasons why you think Spotify is the greatest musical coming, since the wax cylinder. Or iTunes. Or whatever your personal musical coming moment happens to be.
Because, there is a ton of hype and pomp AND circumstance surrounding Spotify and frankly, I don't get any of it.
There are celebrities like Demi Moore (or @mrskutcher, and seriously, does she ever REALLY call or even think of herself as Mrs. Kutcher? In fact, if you were to run into her home in the middle of the night and scream, "Mrs. Kutcher! Mrs. Kutcher!" she would probably go, "Who? Just what are you rambling on about?!") saying, "Spotify is genius!" and Mr. Facebook himself, Mark Zuckerberg broke out all his Harvard book learnin' and adjective prowess and then probably had an entire team tasked to rating the Social Media impact of his pro-Spotify statement, "Spotify is so good." (Really? That's your pull quote? I mean…really? "Spotify = cool" would have even been better. Or maybe it was originally "Spotify is nice" and the marketing guys decided to punch it up a bit. Whatever.) Even the LA Times, Wired, Time and Billboard jumped into the Spotify praise-wagon.
But from what I can gather, Spotify isn't really offering anything new or revolutionary or blowing "the doors off anything on the market." (LA Times) And what I don't get is why EVERYONE seems to be acting like Spotify is the First Coming of on-demand music. Because, well, it TOTALLY ISN'T! That musical messiah arrived back in 2001 with Rhapsody. And to me, Spotify just seems like the other subscription music services. Except, well, it is missing some of the cooler features like artist channels and makes you be both ON Spotify AND Facebook to share music. But other than the things it doesn't offer, it seems pretty much like the other services.
I've been using Rhapsody and Napster for a while, so I totally get the "unlimited jukebox in the sky" concept. And while it is VERY cool to be able to call up just about any song you can think of for instant playback, that's, uh, pretty much what Spotify is offering, right? (Again, I will reiterate that I have YET to use the service. So, if I am missing something, PLEASE tell me where I am blind and yet need to see. Or rather where I am deaf and yet need to hear. On demand. With Spotify.) Time Magazine, your quote of, "The celestial jukebox is no pipe dream; it's here now" might have been real news like last millennium, but, buddy, it HAS been here for quite some time. Maybe you guys have just been too busy covering budget crisis and plummeting dollars to notice.
And yet, with all of its apparent sameness, you don't see quotes from The Zuck saying, "Spotify is so like the other things that have already been around for awhile." Or Mrs. Kutcher opining, "Spotify is so of average intelligence."
So I was reading a Bloomberg Businessweek the other day – I know, that bit of info is jaw-dropping enough in itself. Look, I finished my book – "Mission: Black List #1: The Inside Story of the Search for Saddam Hussein---As Told by the Soldier Who Masterminded His Capture" -- our Entertainment Weekly subscription has run out, and Dana couponed us up for a free subscription of Bloomberg so there it was. Just sitting there. All taunting me with its business-ey self. And anyhow, there was giant spread on Spotify and how it is taking over the music world and all that and so I read it trying to gain some insight. And, well, I didn't really learn anything new. What I did find very interesting was this graph. (Information reprinted from Bloomberg Businessweek, July 18-July 24, 2011 issue; I'd put a page number but I can't find one! And, serioulsy, my rules of proper bibliography and citation are woefully out of date. I'm sorry, Mrs. Russi!)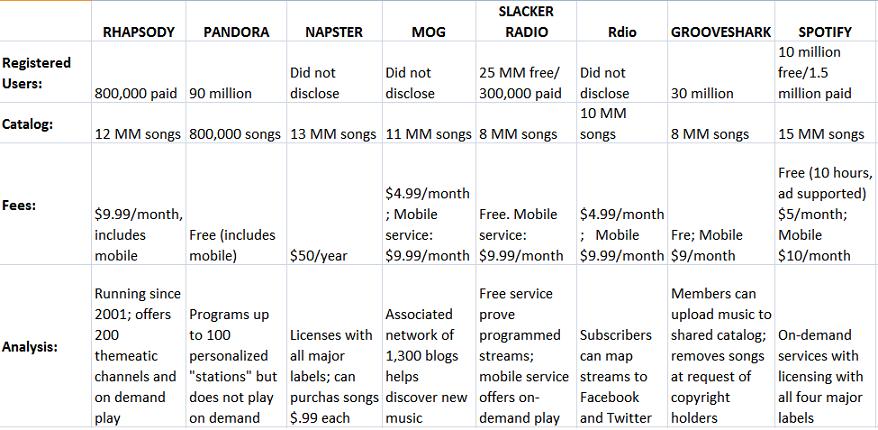 (First, I can tell you are all pretty impressed with my Excel skills. So, I will just admit that I can be a real freak with the spreadsheets.)
Now, what I REALLY learned from that chart is why it seems that I keep hearing the SAME songs over and over (AND OVER!) on Pandora. At only 800,000 songs – with about 237,688 of them being various iterations of the same Jack Johnson tunes by my unofficial tally – it is definitely why it seems like ALL of my stations end up sounding the same and playing the same tunes over and over. Look, don't create 8 They Might Be Giants stations; trust me; they are ALL the same in the end!
My editorial pal, Al Griffin, over at Sound + Vision did a nice official deathmatch comparison of Spotify to Mog. And, well, I'll let you read it but let's just say that Spotify didn't win a SINGLE round against Mog.
Clearly what Spotify HAS done WAY better than the other guys is to figure out that exclusivity creates demand; demand creates buzz; buzz creates hype; hype creates business; and hate leads to suffering. Or something. Look, I'm several (like ALL) credits short on getting a marketing degree, but by having their service ONLY available in Europe, you know that us Americans TOTALLY wanted it. It's like absinthe. We couldn't have it so we HAD to have it. What's that; the actual wormwood is thought to be poison or hallucinogenic and there is a possibility we'll go on an ear-chopping tear? Don't care! You've made it illegal, so now I will drink nothing until I can have it with absinthe! (Sorry. Channeled a little Wilkinson there. Now I'm all sweaty and fever-dreamy and have that not-so-fresh feeling down below.)  It's like those weird flavors of soda at the Coke museum in Atlanta. (If you've ever been there you'll know EXACTLY what I'm talking about.) Sure they're gross and horrible, but they aren't available here so, dammit, pour me a frickin' glass of Beverly and Root Water and shut the hell up!
Then, once Spotify came across the Pond to the US, they didn't just stand on a corner pimping their gal out for five bucks a go. No. They gave her a shower, cleaned her up and dressed her all up in celebrity quoted finery, and then they trickled out invites like you were being shoulder-tapped to sneak behind the velvet ropes. Eww! I got an invite! I'm so special! Look, they're all drinking Cristal and smoking Cubans! That's genius. It creates a total "in" vibe like, "Oh, yeah, did I mention that I've been using Spotify?"
"Really? What's that? Some stain remover?"
"No. It's this totally awesome new music service. It's like impossible to get invited. But, I'm using it. I'm in."  
"Oh, really?  Is it really that good? Think I can get an invite."
"Oh, yeah, it's totally that good. I mean, it's SO good just like my man Zuck says. So...good. Did you see that? I used air quotes. Cause that is exactly what Zuck said." 

"Yeah. Nice with the quotes. What is it even?"
"An on-demand music service. In the cloud. Like every song. Like ever song EVER made in the world."
"Really?"
"No. They are missing a bunch. But like A LOT of songs."
"So, it's like Rhapsody? Or Napster? Or Mog? Or..."
"Look. It's like all those things. But for cool people."
"How'd you get in?"
"Well, I just know this guy and he is friends with this other guy, and yeah, well, anyhow, I totally got the hook-up invite and it's totally cool. If you want I could maybe see what I can do for you."
"That'd be great."
"Look, I'm not making any promises, so totally don't get your hopes up, OK? This things pretty  frickin' cool and limited so, you know, I'll see what I can do."
To me, the whole Spotify craze boils down to one thing at this point: We want what we cannot have. It is human nature. Exhibit A: Me and the Black Card.
OK. What am I missing? Now's the part where you tell me what a naïve, Spotify-less idiot I am. I'm waiting...
Categories: August 2011, Music
/