Shopping Cart
Your Cart is Empty
There was an error with PayPal
Click here to try again
Thank you for your business!
You should be receiving an order confirmation from Paypal shortly.
Exit Shopping Cart
Features, Reviews and a Blog by John Sciacca
| | |
| --- | --- |
| Posted on September 12, 2011 at 3:40 PM | |
As a "journalist" (I have to quote that because, well, Jeremy G hasn't actually blessed me officially with the title yet. I think there is a ring-kissing involved and maybe a sword tap on each shoulder. Something.) part of the CEDIA life is covering different events. Stop one at the show is the press room to get your press credentials. This year, mine looked like this: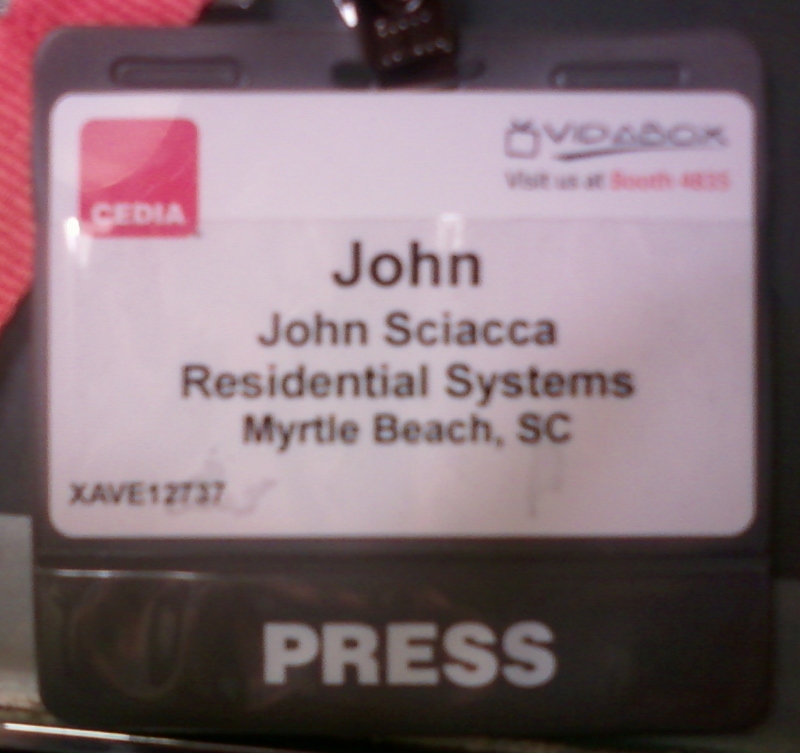 This is my CEDIA Press Badge. There are many like it, but this one is mine. My Press Badge is my best friend. It is my life. I must wear it as I wear my life. My Press Badge without me is actually still useful. Someone else can pick it up and easily carry on, possibly even better than I would have done. But without my Press Badge, I am useless. I must wear my Press Badge true and not try to sneak onto the floor during hours when I am not permitted.
So, not two seconds after getting said Press Badge, I look on the little podium area of the press check-in area and there is the Show Directory. Now, look at this cover and tell me what the VERY FIRST thing you see is: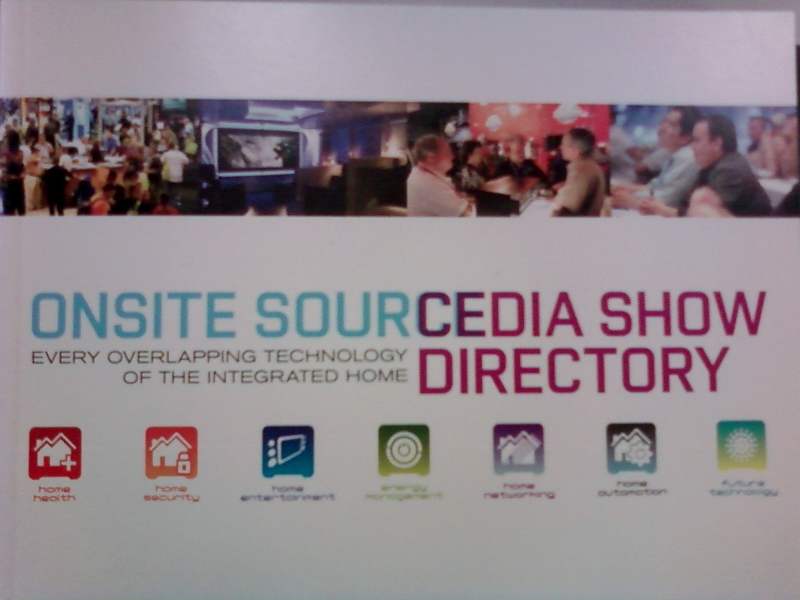 It's the Onsite Sour, right? Now, I don't know anything about graphics and layout, but I'm pretty sure that unless you are hosting a lemon convention, you don't want to lead with "SOUR" on your cover. And, of course, I immediately named this the "CEDIA Sour" which is the name that stuck in the Daily room. "Hey, can you pass me the Sour?" "Who's got the Sour?" Awesome.
Next I headed over to the Daily room. Last year in Atlanta, the Daily office was like right next to the press conference room. So you could go to the press conference, jot down your notes, step across the hall, type-type-type, e-mail it to Kirsten ("Sciacca, that's another bit of journalistic brilliance!" "Sciacca, how is that next masterpiece coming?" "Sciacca, where's that Starbucks we keep talking about?!" "I'm not even joking; I f---in' haven't been out of this f---in' chair all f---in' day!") and then return to the press conference room to do it all over again. This year you had to hike like 4 miles and several escalators to get there. It was conveniently located to nothing. Though our room DID have a bathroom AND a shower in it. Sadly, no one sacked up enough to use the shower. Though the jokes of, "Dammit! Why won't you flush! Go down! Pleeeeease! Don't do this to me!" while the toilet flushed over and over as everyone listened in awkward uncomfortable silence just feet away were too delicious. So, here is the group hard at work in the Resi Daily room: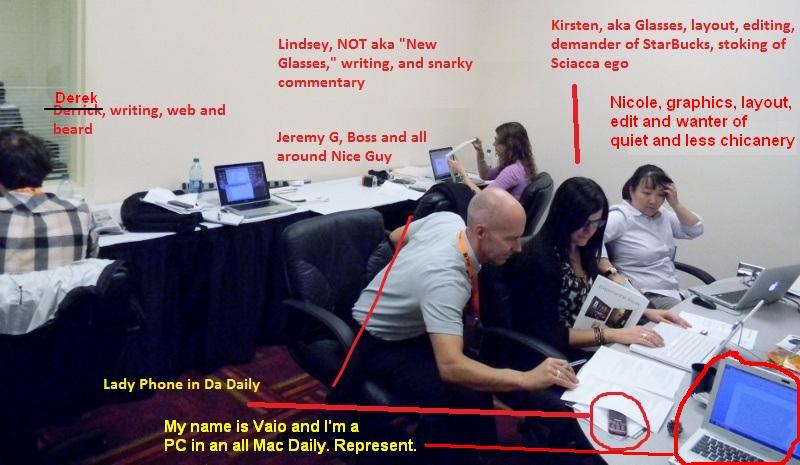 This year Kirsten and I re-invented journalism by adding the bracket quote. The bracket quote allows you to spice up regular quotes by adding brackets to imply and improve meaning. Here is an example: "[Listen up, all you bitches,]" said Joe Smith, product engineering manager, XYZ Systems, "We're elevating this [mother f'er] to a whole new level. [If you don't like it, then you can all just suck it!]". Seriously. Bracket quotes are going to be the greatest thing to hit journalism since movable type. Here's a close-up of Glasses herself, hard in thought (I came up with a voice for her internal dialogue; it's very shouty and demanding and sounds like a woman that has spent the last 50-years smoking Camel non-filters and then washing the smoke down with glass after glass of bitter espresso) probably trying to decide between Harvard comma and the new and improved Harvard semi-colon: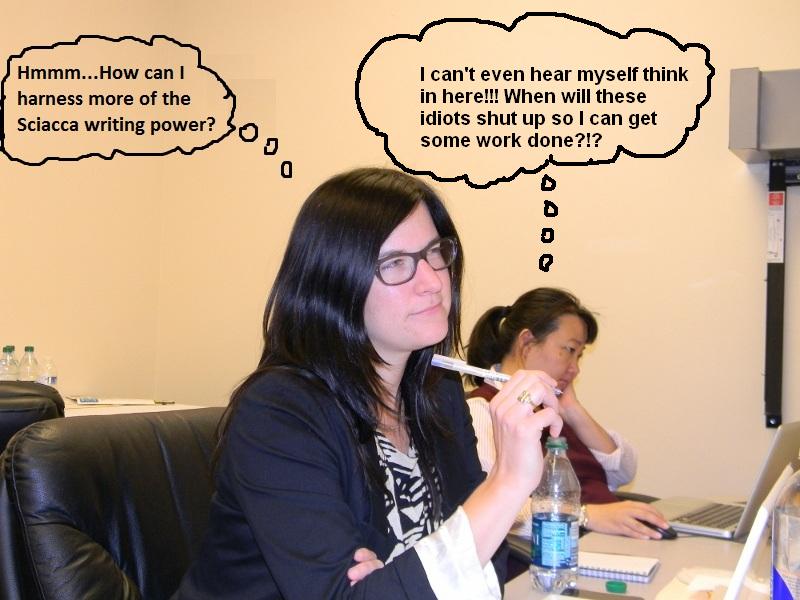 One of the first press events I attended was on the showfloor in the Future Technology pavilion.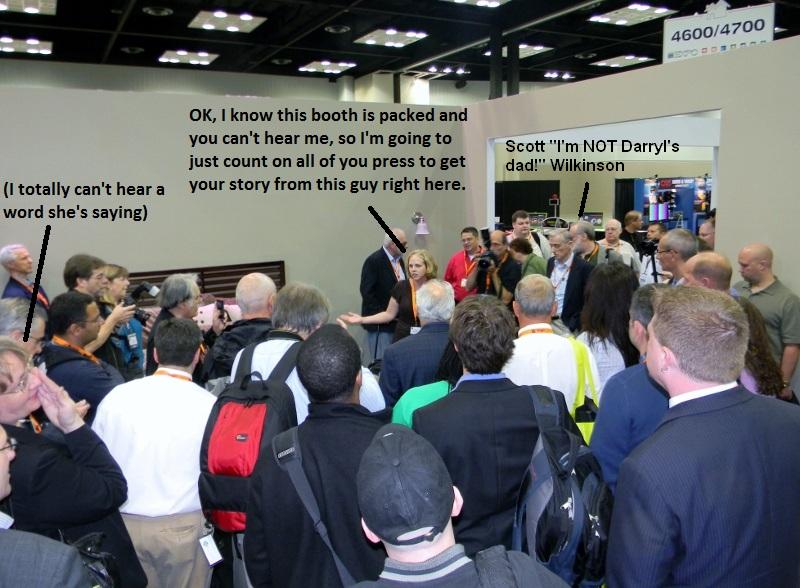 Unfortunately, I arrived about 5 minutes late and saw Darryl, Geoff Morrison and Dennis Burger standing way behind the group. They all said it was too crowded and impossible to hear so we, umm, left and then went wandering about the unopen showfloor. Good times...

Categories: September 2011, CES/CEDIA, On Writing
/