Shopping Cart
Your Cart is Empty
There was an error with PayPal
Click here to try again
Thank you for your business!
You should be receiving an order confirmation from Paypal shortly.
Exit Shopping Cart
Features, Reviews and a Blog by John Sciacca
| | |
| --- | --- |
| Posted on September 16, 2011 at 3:40 PM | |
It occurs to me that I've already put up several CEDIA blogs and have pretty much avoided talking about ANY of the tech at the show. (Well, except for the Lutron shading thing. That was just too cool to pass up.) Lest anyone should forget, the one of the principal points of the CEDIA Expo is to show off all the latest and greatest which is to be found in the wonderful world of custom installation.
So, I thought I'd break this up into a couple of obvious segments – Audio AND Video; kind of like that quote from The Blues Brothers: "We've got both kinds; Country AND Western" – and will mention some of the audio stuff here that caught my ear.
Harman/Lexicon - QuantumLogic
Prior to the show, this was one of the two things that was highest on my radar of must check out gear. (The other was Digital Projections lens-less, full-resolution anamorphic projector. But that's video. And we aren't talking video here.) I've been a Lexicon fan for a while, but feel that the company has frankly faltered and stumbled and grown stagnant and irrelevant in recent years. Their current, most-current processor sells for close to $10,000 yet won't even decode the high-res audio formats that a $299 receiver will. Then they had that little Oppo Blu-ray rebox fiasco… (Also, though unrelated, whenever I see their name initialized – Harman High Performance Audio Video – as HPAV the FIRST thing I think of is Human papillomavirus (HPV). Which, you know, is probably not a brand they want to affiliate themselves with.) So I'm walking by the Harman booth and I see this: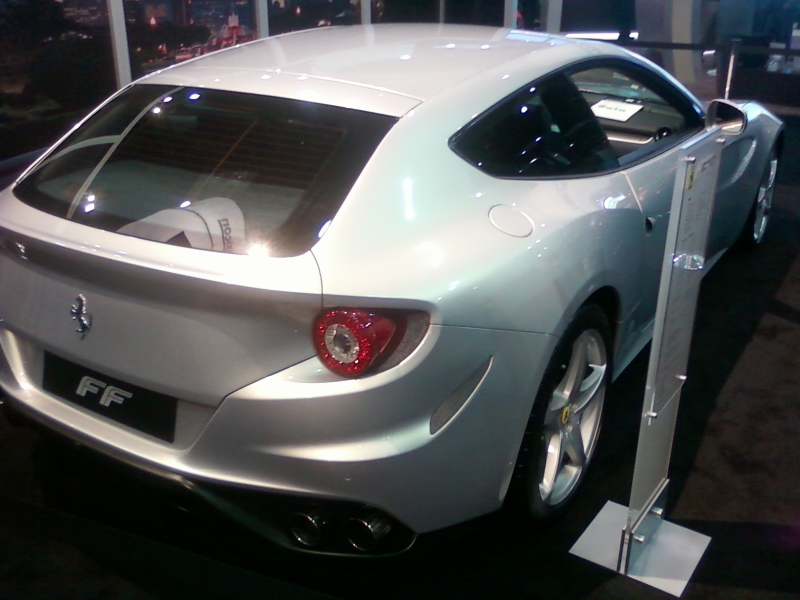 And, frankly, this makes me a bit sad. It's the new Ferrari FF. To be honest, I didn't think the day would EVER come where I would think, "Wow! That is an ugly Ferrari." Surely hell hath frozen over because come that day did. Granted, it still goes almost 200 MPH and turns 0 to 60 in the low 3's with 4 adults, but it is a frickin' bubble-butted hatchback! And, PS, showfloor demo Ferraris should pretty much only come in one color: Rosso Corsa (Ferrari red, though, technically "Racing red.") Did someone at Pinanfarina have a stroke?! The car was there to demo QuntumLogic which debuts in this auto, but I didn't bother trying to get a demo. I wanted the home debut. Unfortunately, this proved tougher than I anticipated. Even with my, "No, really, I'm with the press. I don't wait in these lines" attitude I had to return to the demo trailer/RV/Sound Lab-thing FOUR times. Quattro!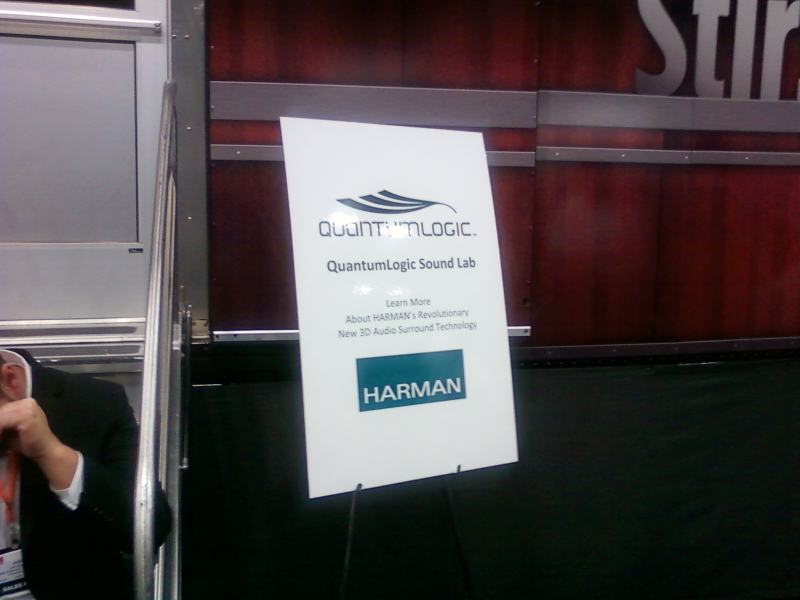 But I finally got in – literally my last demo of the Expo, ending like 5 minutes after the showfloor closed -- and the technology (which uses a standard 7-channel surround system and augments it with 5 additional height channels) was pretty impressive. It takes "slices" of the audio spectrum and separates and redistributes them.  Very cool audio from The Matrix demo and some cool and trippy, swirly guitars from Led Zep. Though, to be honest, the number of rooms/clients that would allow you to do a 7.1 plus 5 height system is probably pretty thin. But, at least Lexi is back and re-innovating again.
Definitive Technology – Studio Monitor Bookshelf's
While CEDIA is traditionally a "Bigger is better!" and "Mine is bigger than yours!" and "Suck the marrow out of life!" kind of place, I noticed a lot of speaker manufacturers taking a step back and rediscovering the humble, once forgotten bookshelf speaker. With new design technologies, the bookshelf is sounding bigger and better than ever and seems to fit into the listening lifestyle of many today, with a nice pair of bookshelf's and a sub making great sound without dominating a room. Since I happen to not only OWN Definitive speakers but also be a DEALER for them -- and may or may not be engaged to my Gay-sake bringing rep, Woody -- I definitely had to see what they were bringing to the show. (No. I'm not getting rid of my biggest-in-line towers or giant-ass Trinity sub. Bookshelf's aren't THAT great.) Definitive had three new models in its revamped Studio Monitor series, the SM45, 55 and 65, which are basically small, little bigger, and medium-large.They demo'd the middle size ($600 a pair) and they looked and sounded great. They also demo'd the new remote controllable Super Cube 4000 which accepts an optional wireless receiver for those "Oh, crap!" moments when you forgot to prewire in a sub cable.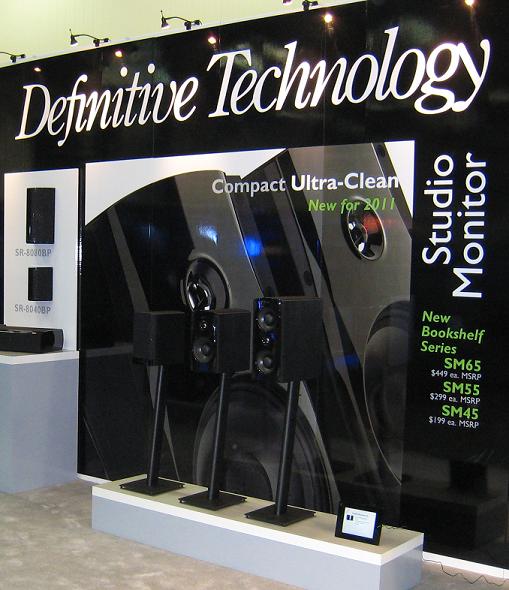 Monster Cable - Clarity HD
Speaking of Ferrari Red and race cars, Monster Cable had their press event on Thursday which I attended. On top of a new bottle of iPad screen cleaning solution, they also demo'd a self-powered speaker called the Clarity HD that had both an internal iPod dock and accepts a very high-resolution Bluetooth audio stream. Head Monster, Noel Lee, Lee stated he's "introducing high-end audio to young people" and that his "goal was to bring high-end audio to the masses of consumers."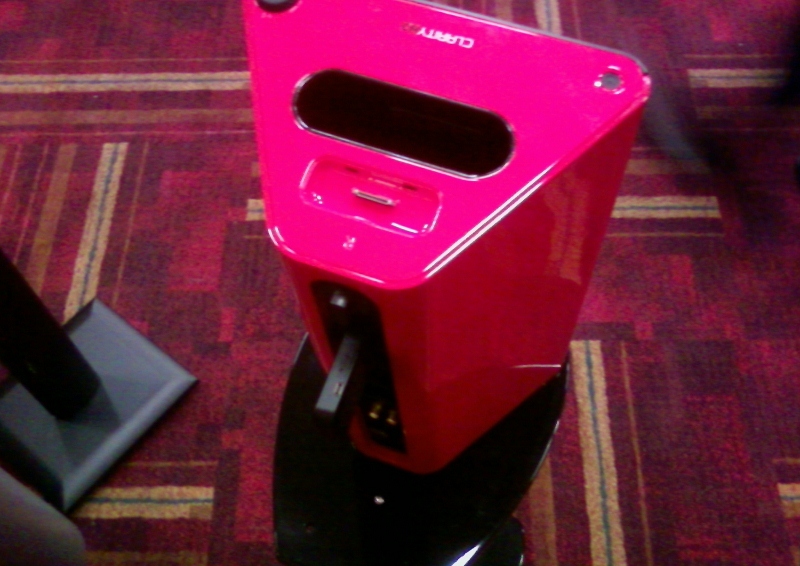 Lee also said, "Today's speakers need to have self-contained amplifiers. We need to get away from the traditional stack of amplifiers and be able to just plug in an MP3 player." The speakers also "come in a variety of bright colors to appeal to the style sense of young buyers ."  Sure they sounded good and looked  cool, but nowhere NEAR as cool as this: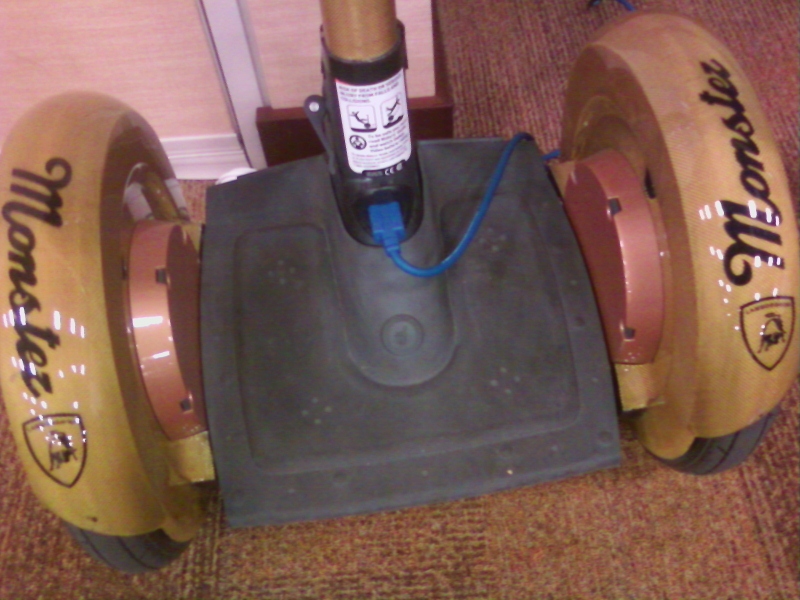 Noel's custom made, carbon-fibre Lambo Segway! Apparently he also has a Lambo to match, cause, you know, why not, right? This thing makes me take back most-everything I've ever said/thought about Segway people!
KEF - Blade
Not too many speakers *look* cool. Yes there are those super-high end ones that look like giant gramophones or that have bizarre styling or exotic materials or whatever, but generally, speakers have drivers, cones, midranges, tweeters, all wrapped up in some kind of cabinet, blah, blah. KEF introduced the Concept Blade (or something like that) last year and it was in this SICK black carbon fibre. It was beautiful. But it was a statement piece; a concept of what COULD be if money were no object and the KEF accountants let the KEF engineers run amok with the checkbook and the design lab. Well, this year, the Blade is no longer a concept (nor is it carbon fibre; I was told it would cost $100,000-plus; apparently you CAN put a price on awesome) but is available for sale now. (Gloss white awesome costs $30,000.) It looks stormtrooper sexy in gloss white with black accents and sounded as good as anything can on the horrible sonics of the showfloor. Best of all was Johan Coorg, KEF's brand manager that gave the presentation. He exudes total Euro-cool and has a slightly Hans Gruber-esque accent and as he was describing the completely vibration-free nature of the cabinet he said, "I implore you to come touch The Blade. Come. Feel it. Touch it. Touch the Blade." The AWESOME! So, of course I went and touched the Blade; cool and smooth and sleek and vibration-less.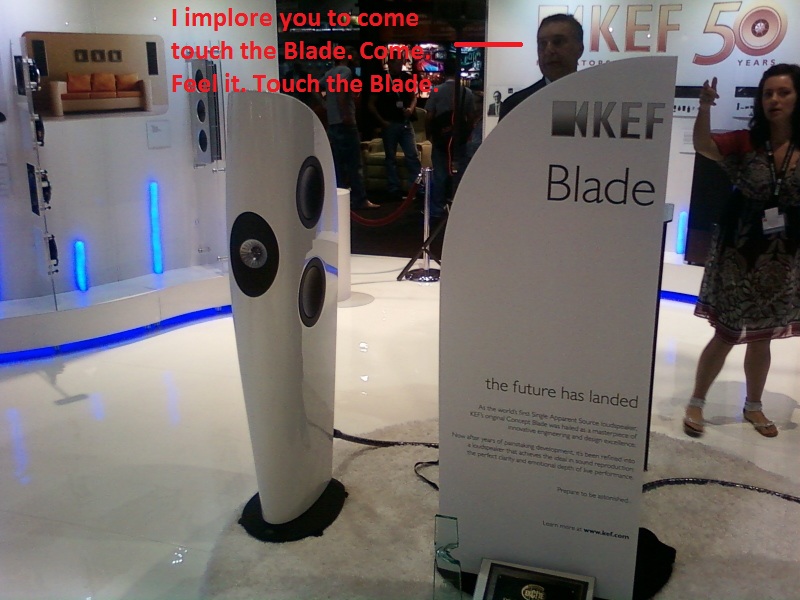 Martin Logan – Killer in-walls
Remember what I said like two seconds about about most speakers looking lame? Well, this is the other exception. I have always been a giant ML fan. Their electrostats are like 51% great sound and 49% beautiful pieces of art. (My percentages might be slightly skewed.) But they literally look as good as they sound and they sound frickin' great. Stats have this wonderful open, airy sound quality that I just drips butter and honey into my ears. But in a good way. So they had a demo room that I stepped into and was blown away by the quality of their new in-wall speakers. I think the price is around $3,000 for the pair which is either a lot for in-walls or damn reasonable for just great speakers. Martin Logan speakers + McIntosh tube amps = Happy, happy sounds!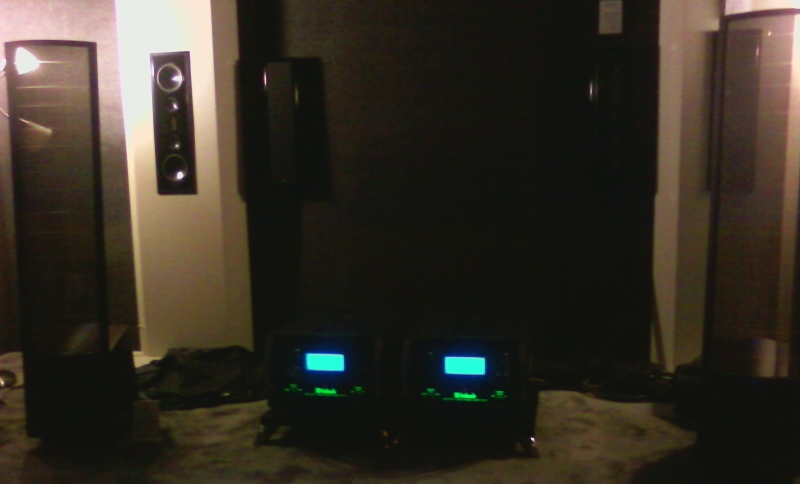 JBL – Project Everest
On my way to my next listening session, I walked past these. I mean, sure, they're nice, and all, and I guess twin 15's with 96 dB sensitivity would be good enough for most people -- or like if you needed to throw up a quick giant wall-of-sound for the Guns 'n Roses spontaneous reunion tour in your backyard -- but don't you have anything a little bigger? I mean, I wanted something BIG, not just big.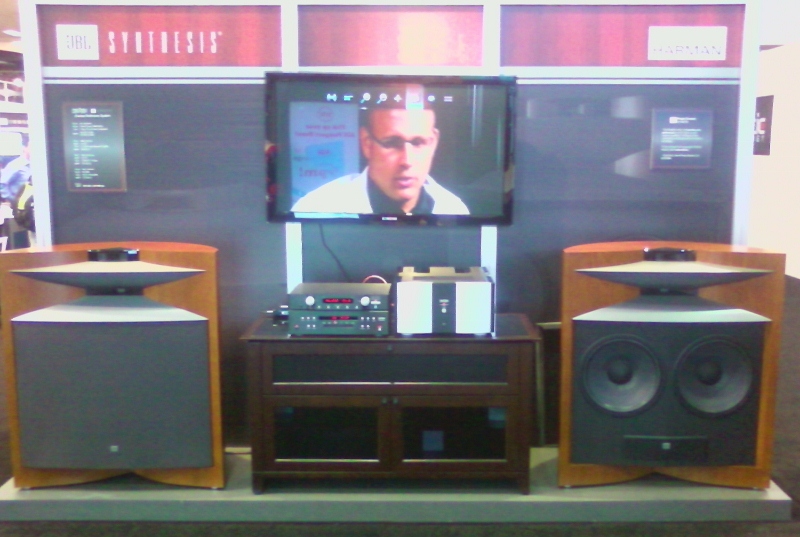 Paradigm - Shift
I am NOT going to say that the only reason why I went to the Paradigm booth was to see Erin and Mark, two of the coolest factory people in the audio biz. I am NOT going to say that I wanted to just further needle Erin about her (possible too many drinks) acceptance of a $50 wager to do a Polar Bear dip in the cold-cold Canadian waters should I ever make it to the factory for a visit. (Preferably on the coldest day of the Canadian year, which I think is sometime in August.)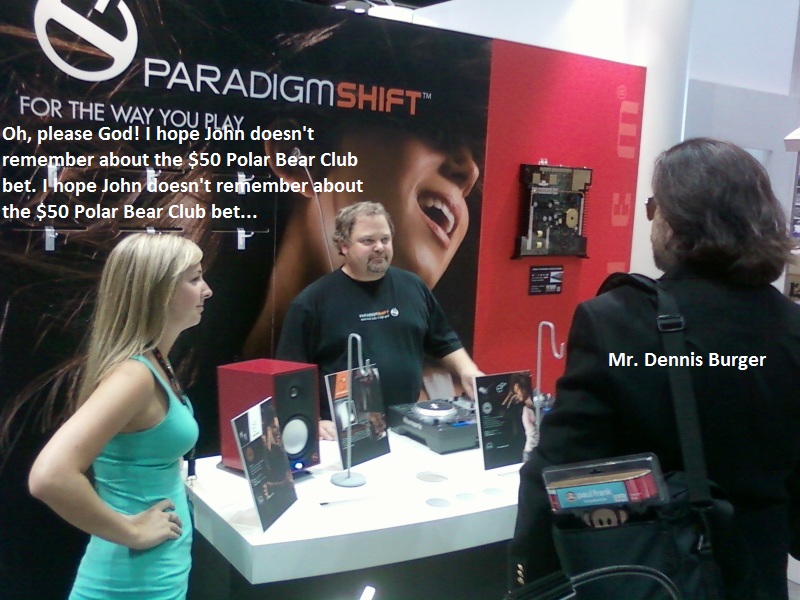 I am NOT going to say that because they also make some great speakers and this year they were branching out to the next great frontier of audio: the earbud. With the new generation listening to more and more music on portable players, this is a great market to reach out to and a way to get them listening to good audio for (hopefully) a lifetime. Also, Mark spun a mean beat on the turntable, literally pulling up some Fat Boy Slim on demand, playing through the self-powered Paradigm bookshelf monitors.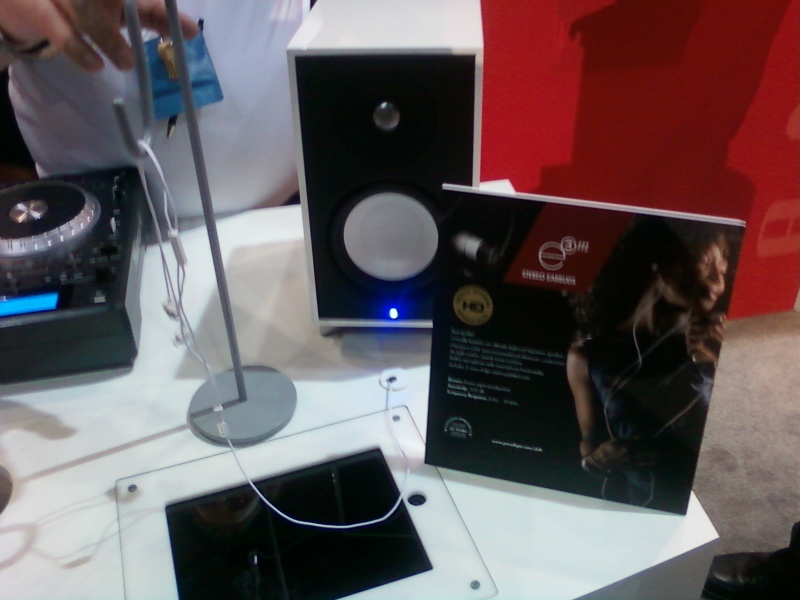 AudioQuest – HDMI "believe your ears" demo
Shane Buettner proved that there is life on the other side of this journalism thing. Last year he left the EiC role over at Home Theater Magazine (probably more from being tired of dealing with all of the harassment and "Where the F is our review gear that we sent him?!" complaints about Darryl Wilkinson) and went to work for cable company AudioQuest as the director of education. I had heard that he was taking a new approach to the whole "all HDMI cables are created equal" thing. Shane clearly acknowledges that they aren't going to throw a hat in the "our video looks better!" ring, but rather he claims that HDMI cables can SOUND differently. And, not sound differently to Golden Eared listeners sitting in absolute quiet, sound vault chambers listening to 7-figure systems, but noticeably, audibly different on even the most typical gear. I decided to take him up on this. Using a very simple Blu-ray player connected directly to a Yamaha receiver and a pair of open-ear headphones, Shane played some audio with a "Brand M" cable and then swapped and replayed with a entry AudioQuest HDMI and then a top-o-the-line AudioQuest cable. The results were instantly apparent. Sonics were clearer and more forward, similar – but not QUITE – to the extreme improvement I noticed with the PSAudio PerfectWave DAC, the closest thing I've heard to magic on my own system. Shane described the technology and winding and Devil's blood that AudioQuest uses to get better audio, but I would be lying if I said I remembered it all. But, he did give me a Carbon series HDMI cable and I look forward to some A-B demos at home.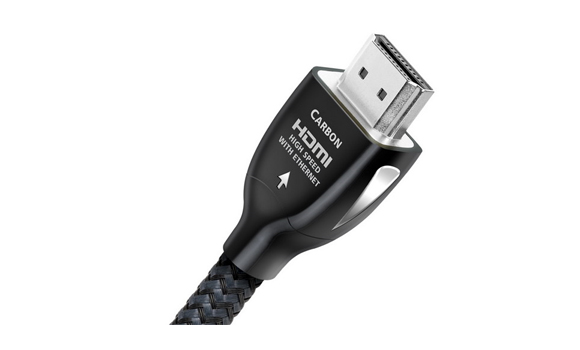 GoldenEar Technology – Aon 3
Sandy Gross introduced his new company just last year and has quickly garnered a lot of press and attention over his new designs. The big news is his high-velocity folded ribbon tweeter. This year he introduced two new bookshelf models and was demoing the larger, Aon 3, in his demo room. The speakers retail just shy of $1000 for the pair, but sounded wonderful. My notes from the demo were "Layered, textured sound. Dripping with air, space and detail!" The speaker's trapezoid shape makes it appear smaller than it really is – good for a bookshelf – while the 7-inch active and dual 8-inch passive drivers put out a surprising amount of low end. Even more impressive was that Sandy was driving the speakers with a very real-world-priced Peachtree Audio iNova. Here's a picture of me with head GoldenEar, Sandy Gross.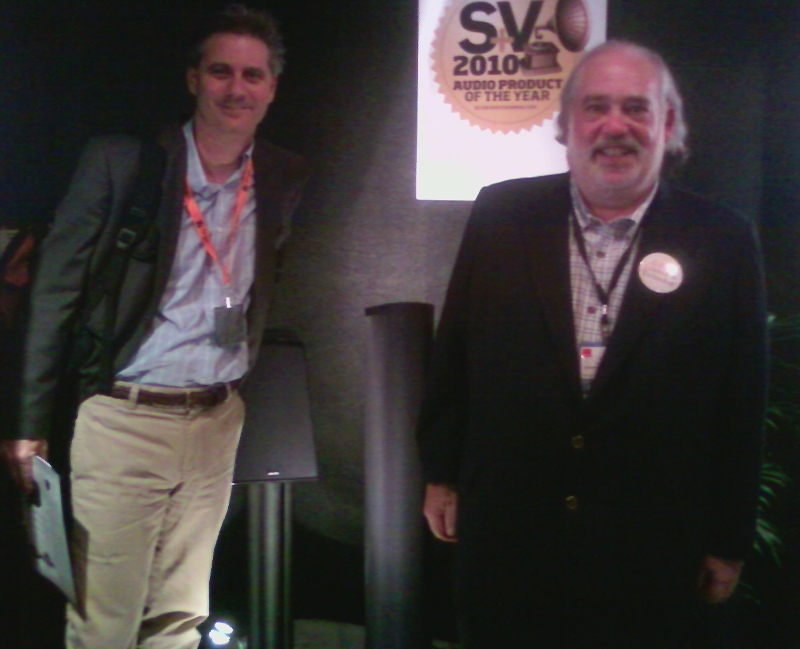 Categories: September 2011, Music, CES/CEDIA
/