Shopping Cart
Your Cart is Empty
There was an error with PayPal
Click here to try again
Thank you for your business!
You should be receiving an order confirmation from Paypal shortly.
Exit Shopping Cart
Features, Reviews and a Blog by John Sciacca
| | |
| --- | --- |
| Posted on September 26, 2011 at 10:25 PM | |
"In this country, you gotta make the money first. Then when you get the money, you get the power. Then when you get the power, then you get the women." – Tony Montana, Scarface
Yesterday I talked about how my motivation for writing has changed over the years. First it was really for the thrill of seeing my name in print. If you've ever had anything published – especially in print – you'll know what a charge this is. Next, much like Tony Montana said, came the desire for the money. It turned out that writing WAS work, and the money validated and rewarded the work. And it spends good too. And, side bonus, writing money doesn't leave any coke trails on your nose or desk. Then, also kind of like Tony Montana, following the money came a form of the "power," the recognition. And, there definitely IS some power in that. When someone recognizes you or reads your name on your nametag and that flash of, "Oh! You're that guy!" washes over them. I'm not gonna lie; it's pretty frickin' sweet.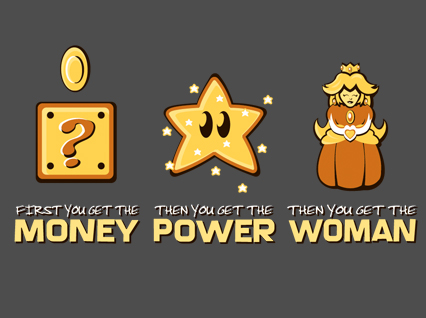 Since I already HAD the woman, and wasn't really interested in chopping anybody up with a chainsaw or going on an M-60 shooting rampage, the next big thing for me was...the experiences.
Writing for Sound + Vision and Residential Systems has opened up a variety of opportunities that have allowed me to experience some things that -- in some cases -- money can't even buy. And while I still love writing for writing's sake – look at this blog; still $0.00 made from it so far yet still going strong! – the writing and its exposure has become the key that opens the doors to some amazing experiences.
As I write this, I am on the cusp of enjoying another unique, first-time ever experience. British speaker manufacturer, KEF, has invited me to attend its 50th Anniversary party. In New York. At the British Consul General's residence.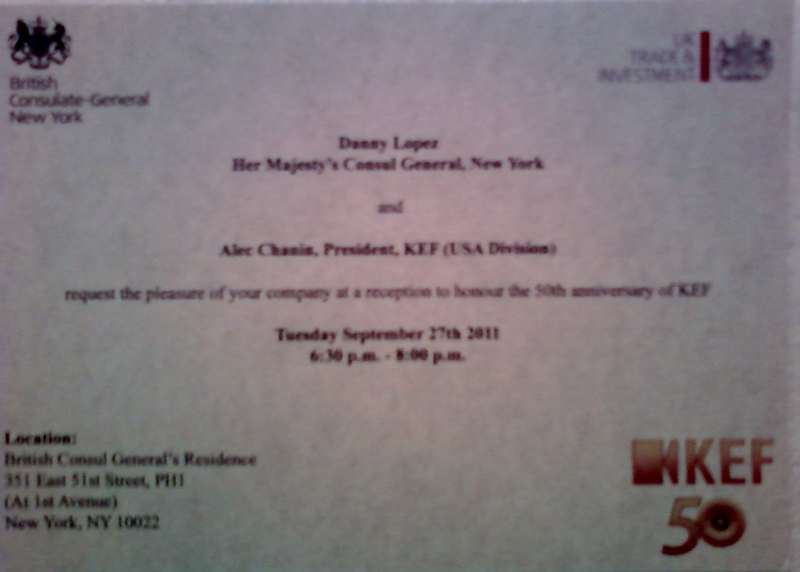 Think that's the kind of thing you can just call up and get invited to? No. Think I'd have gotten the invite if I wasn't "John Sciacca, writer"? Again, big, fat, negative-oh.
With that in mind, I thought I'd share the ten best experiences I've had so far. Unlike other top 10 lists, this one IS ranked in order. Thought I'd count them down from 10, and break it into two parts. Here is part 1, experiences 10 – 6...
#10 Getting the Exclusive First Look
You get to a point where you have earned a sort of industry "security clearance."  At some point, you'll find a manufacturer that is in the position of having to trust you with some information – or product – that is yet to be released or announced to the general public. They share this with you under embargo. You are brought into the sanctum sanctorum and are privy to info before anyone else. Blow that trust, and you probably won't get the opportunity next time. And there is something incredibly cool about being one of the FIRST people to get your hands on a product. I had one of the first 20 PlayStation3s...IN THE COUNTRY. With a stack of pre-launch games and slew of Blu-ray discs. While other magazines and Websites were speculating about the features, I was PLAYING them. Same with the Xbox 360. Shipped to me directly from Microsoft. Think that didn't make me the coolest grown-up around? Over the years, I've developed a terrific relationship with Kaleidescape and I'm often the first reviewer to get to lay hands on product. I've been the first to "break" reviews on their 1080p player, Blu-ray player, Modular Disc Vault and the M700 Integrated Disc Vault.
#9 Press Events
Much like the upcoming KEF event, PR companies throw some of the coolest parties and events – and no party like a party thrown with someone else's money! -- and it is great to get an invite to attend. Especially when you realize that there are a finite number of people that CAN be invited and yet your name still happened to – probably mistakenly – make the cut. You can read about my Press Dinners from this year's CEDIA here. But beyond some great food and drink (and more drink…;), I've also been fortunate enough to sit in the private luxury box with Microsoft and DTS (two different events) at a Colorado Rockies game, stay in some amazing hotels and go on some cool factory visits.
#8 The Training
Training can usually be a drag. It is often boring, frequently not really applicable and can be expensive. That's the training YOU take. For me, I usually get to PICK the training that I WANT to go to. Become ISF (Imagine Science Foundation) certified? Yeah, sounds awesome. Sign me up. Learn how to be an HAA (Home Acoustic Alliance) calibrator? Hell, yeah! Want to know the ins and outs of THX audio AND video calibrating? Damn straight! Calibrate Runco projectors and Lutron lighting systems? Double yup. And, because I'm writing a story on it, the training is usually free. And because I'm writing a story on it, I usually get that extra special, teacher's pet kind of attention. "Are you getting all the information you need? Is there anything special you'd like us to cover?" Yeah. That kind of training is sweet. Blue packet of sugar sweet.
#7 Dolby Labs
If you've ever been to a movie or bought a cassette or DVD or Blu-ray or basically any piece of electronics in the days since Edison, then you've seen the Double-D Dolby Labs logo. But, did you know there is an ACTUAL Dolby Lab? Their HQ was (or maybe still is) on Potrero Street in San Francisco. This was one of my first ever "behind the scenes" tours. I lived nearby and called them up and used the old, "I'm a writer for Sound + Vision and am really interested in surround sound. Could I come and see your facilities?" The inside of the building was this beautiful open beam woodwork and they had one of the quietest screening rooms I've ever been in. So quiet that there are actually speakers used to generate mechanical noise like fans and AC machinery to better simulate an actual commercial cinema. Unfortunately, they couldn't demo the theater the day we were there…because they were getting ready to SCREEN FILMS FOR THE ACADEMY AWARDS!
#6 Burbank Digital Cinema
Right around the time that Star Wars Episode II was getting ready to launch, there was a ton of hubbub in the industry about commercial cinemas switching over from film to digital projection. As someone that loves movies, getting a glimpse into the behind-the-scenes production process of movies – specifically how they make their way from film reel/digital file to the commercial cinema and then to our home screens – is pretty sweet. I saw this as an opportunity to write a story AND see some cool stuff. (I wrote a 3000 word story on the subject that was – sadly, heartbreakingly – never published. Until now! I just posted it up. Read the 9 year old fruits of my labor here!) Not surprisingly, one of the big players in this was THX, handling quality control and certification. So a trip to Burbank, California lead me through the offices THX where Rick dean gave me a thorough education and an extensive discussion of their involvement with Digital Cinema and commercial theater evaluation and a trip to IVC Digital Film Center where I enjoyed a private tour through their facilities and was able to see them working on the home Pan and Scan DVD transfer of Ice Age (surprising to me, the tech didn't agonize over chopping off bunches of the film or even refer to the original widescreen version when making his P&S selection), see the telecine process, watch them digitally cleaning dirt and scratches from old film prints, and see their server room, etc.  
Check back later to see the top 5 experiences of my writing career…so far!
Categories: September 2011, On Writing
/