Shopping Cart
Your Cart is Empty
There was an error with PayPal
Click here to try again
Thank you for your business!
You should be receiving an order confirmation from Paypal shortly.
Exit Shopping Cart
Features, Reviews and a Blog by John Sciacca
| | |
| --- | --- |
| Posted on September 30, 2011 at 10:00 AM | |
After I started typing part two of this, I realized that the number 2 and 1 items had a lot more story that I still wanted to tell. Recalling these experiences has helped me to relive some great memories, so instead of burying you with one giant 3000 word mega-post, I decided to give the final two items their own room to stretch their legs and breathe a little. Here is the second coolest experience that I've yet to have because of the writing...

#2 Bang & Olufsen/Aston Martin DBS
Honestly, I'm not even sure how I got this gig. It isn't like Sound + Vision really did a lot of B&O coverage, but for some reason, my name popped-up on their radar and they have invited me to a couple of events. (Note: If you ever get invited to a B&O event, ACCEPT! Immediately! Those guys know how to entertain and throw one swank, lux event!) So I check my cell phone and see that I missed a call and I'm listening to my voicemail and it starts off, "Hi, John. This is Monica with Bang & Olufsen. There is an opportunity for you to spend the weekend with the new Aston Martin DBS and the Bang & Olufsen sound system if you can get yourself to New York. Pease give me a call and let me know if you're interested. Thanks!" Umm. Let me get this straight. If I can get myself to New York…I can spend the weekend…driving the Aston Martin DBS?! The $300,000 car from the new James Bond film?! The first one in the country with the new 6-speed paddle shifting transmission?! Umm, HELL YEAH!
The photographer on this shoot, Michael Weschler, was also terrific, doing everything possible to make me look good. (The car needed no help whatsoever. That thing was so SICK! Like stage 4, terminally awesome sick.) Michael would say things like, "Take your jacket off, and then lean back on the car like you're just hanging out, having fun. You're just out for a drive, and you decided to pull over and just lean back on the hood and take a look around. Umm, yeah, that's not working for me. Why don't you put the jacket back on and sit inside and fiddle with the stereo or something."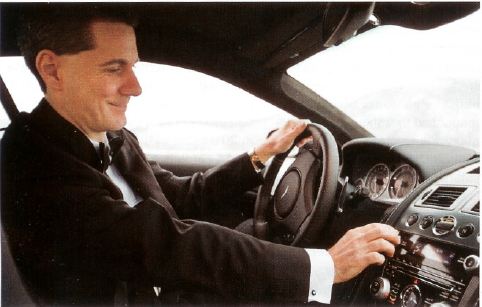 Michael also suggested that I get a tux for the shoot, so I called the Brioni in Manhattan, the clothier for most James Bond films. They were totally cool with it, and suited me up with a $6,000 tuxedo for the day. Want to know what is total rock star? Driving around Manhattan in a Storm Black Aston Martin DBS wearing a fitted Brioni tux. Rock-frickin'-star! Seriously, people would stop on the street and turn to watch the car go by. At stoplights people took out cameras and were snapping pictures. I never really fancied myself a car guy, but I totally get it now; that car was a 510 HP ego stroke! You could have a giant, oozing, weeping sore on the middle of your face, and you would still be the most eligible guy wherever you were.
Also adding to the experience was that I got to share it with my best friend, Dan. I called him up and said, "Dan, if you can make it to New York this weekend, we can hang out together WITH THE NEW ASTON MARTIN!" Yeah, Dan is *totally* the kind of friend you can A) count on to show up and B) force-multiply the awesomeness of the experience. So he flew out from California to hang with me and if there is anything better than having a great experience, it's being able to share it with someone else.
So the car pulls up in front of our hotel, the driver hops out, shows me where to plug in my iPod – I was technically up there to review the audio system; uh, right… – and where to fill up with gas, how to start it and then says, "OK. See you on Sunday night. Have fun!" And pow! Just like that I'm left to my own devices with a $300,000, 6.0 liter, V-12 Aston Martin. So we're driving away and I'm trying to figure out the Nav system – which is totally one of the worst GPS systems I've used. But, seriously, at the end of the day you're STILL driving an Aston Martin, so how bad can it be, really? – so I ask Dan to check in the glove box to see if there are any instruction on using it. Dan pulls out this thick stack of papers and starts looking through them. "Umm, this looks like a liability contract you were *probably* supposed to sign. And, I'm totally not supposed to be in the car with you." Oh well!
The only real bummer was the weather; a freak snow storm made driving the car totally sketchy.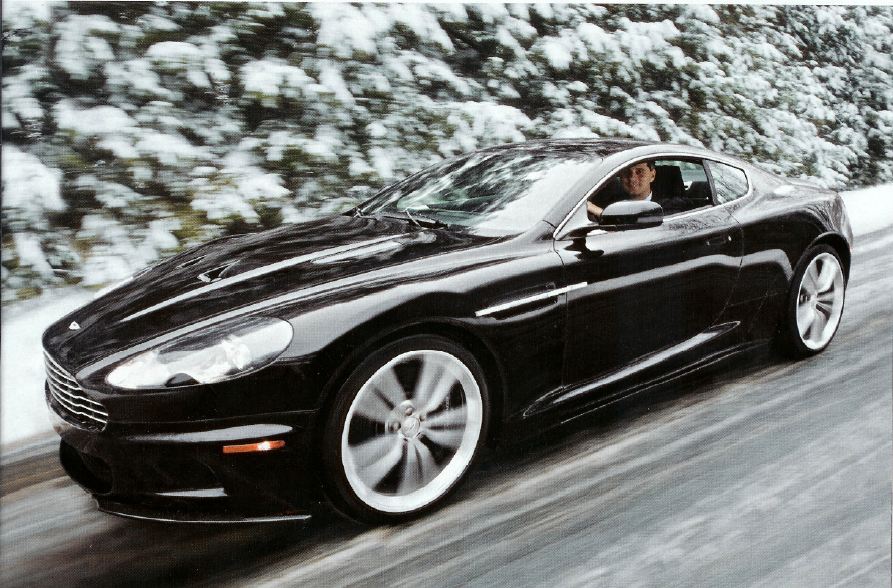 As we are getting ready to pull off the freeway to meet with the photog, Dan is like, "Um, you're going a little fast, you should probably slow down," and I say, "I'm only going like 15, I'm fine," and the next second the tires totally break loose and the car goes sideways and starts sliding into the traffic of cars coming up the on-ramp. (Reminding me a bit of Dana-esque warnings/prophecies of doom!) A little gas, some Gran Tourismo counter-steer and the fact that the oncoming traffic stopped saved me from a hugely life-altering financial lesson. At another point when we were on the freeway, Michael was in a car ahead of us and calls back, "Traffic looks clear; why don't you punch it!" So I'm doing 55 and I press down on the gas and the rear wheels spin and the nose of the car *immediately* lunges to the right and I decided that would be the end of any punching of it. Also, I *might* have had a little low-speed slide into a snow bank incident while trying to drive up this icy little hill. Might. Not so good on a carbon fiber bumper. No.
Here's a quick video Dan took. It's really dark, but you can hear how *awesome* that V-12 engine sounds! When I would fire the engine up, people would turn and look.

Click here for more of Michael Weschler's awesome photos from that day.

If you'd like to read my published story on the car and sound system, click here.
Next up, #1: The BEST EXPERIENCE...EVER!

Categories: September 2011, On Writing
/