Shopping Cart
Your Cart is Empty
There was an error with PayPal
Click here to try again
Thank you for your business!
You should be receiving an order confirmation from Paypal shortly.
Exit Shopping Cart
Features, Reviews and a Blog by John Sciacca
| | |
| --- | --- |
| Posted on September 28, 2011 at 10:40 PM | |
Earlier this week I shared the first half of some of the greatest experiences that this whole writing gig has opened up for me so far. If you haven't read it yet, take a moment to do so now. If you are more of a, "Dammit, man! Just give me the bullet!" kind of gal, or just have a really crappy short-term memory, then I'll just give you the quick catch-up rundown here:
#10 – Getting the exclusive First Look on products before anyone else.
#9 – Invites to awesome press events (I'm on a plane right now headed to New York for an event at the British Consul's house for KEF's 50th Anniversary Party. Yeah, that kind of stuff.)
#8 – Getting my pick of training. ISF, HAA, THX, Runco, etc.
#7 – Touring through Dolby Labs. THE Dolby Labs.
#6 – Visiting Digital Cinema houses in Burbank and watching some behind the scenes of movies being mastered.
OK, with that out of the way, let's pick up our countdown... Here are experiences 5, 4, and 3...
#5 Microsoft's Media Center Campus
Mentally you might understand that Microsoft is one of the largest companies in the *world*, but that is kind of an abstract. What isn't an abstract is when you go to Redmond, Seattle and see that they practically OWN the entire city. There are these giant groups of buildings (called "campuses") and this entire bus and shuttle system that takes Microsoft employees around town. Caster Communications arranged for a little press visit in 2008 to meet with the Media Center team to go over the new features that would be included in Windows 7.
Now, when you think about Media Center, it is really a pretty small part of Windows. But when you arrive and you see the amount of resources and employees and real-estate that is dedicated to Media Center – over 300 members on the Media Center team alone! – you start to realize just how totally, immensely, GIANT Microsoft is.
One of my favorite parts of the day was going through Microsoft's "Home of the future" where people are tasked to explore the kinds of tech and how we will be using it in the next 7-10 years.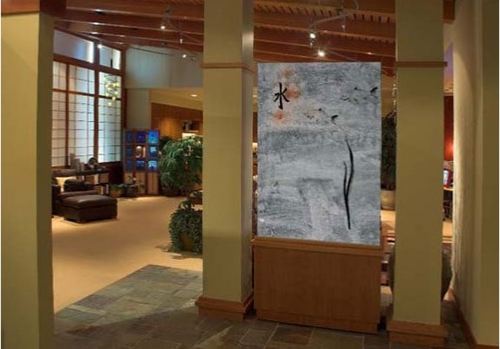 One of the team's mission goals was answering, "What would you do if it existed?" There was a lot of discussion about RFID technology and how at one point it would be SO inexpensive that EVERYTHING would have a tag and then everything would report in and you would have a nearly self-aware home. Pull out sugar, butter, flour and chocolate chips and the home would know it and then pull up a recipe for cookies on one of the many screens.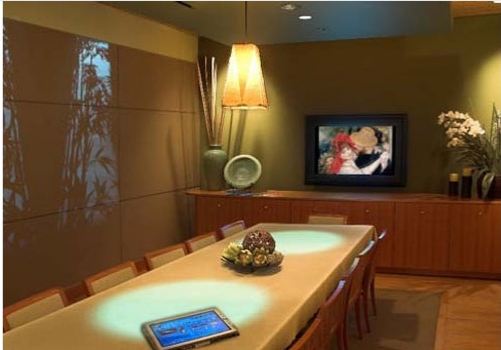 Or open a book and the home would start a reading "scene" with lighting and music appropriate to that book. Cool stuff to be sure. I spent the majority of the day goofing off with Ashley from Caster, and we noticed that – according the repeated themes in the Microsoft house – in the future we will all apparently be naked, drunk and Asian.
Our day ended with a trip through a Microsoft Exec's 11,000 square-foot home. It wasn't BG or Ballmer, but it was someone WAY up. His home was run completely by Media Center, including his 360 Lutron light controllers, 14 zones of HVAC, multiple security cameras and 20-plus Terabytes of storage. The highlight was supposed to be this demo of his home theater. He had this They Who Shall Not Be Named speaker system that was one of like 5 installs in the whole country, driven by STACKS of Denon amplifiers. But it was SO FRICKIN' HOT in his room that I could barely stand it. I just remember sitting in the back with Ashley, sweating and panting and asking for even a single drop of water and if any of his 14 zones of HVAC and automation control could spare us from spontaneously combusting. Also not cool? He inexplicably chose Mariah Carey in concert as his demo material. Like *multiple* songs worth. (Note to all future executives giving home theater demos: No Mariah Carey. None. Think something with explosions and blowing up-ness, and you know, way less anything to do with Mariah Carey.)
You can see a slideshow and read more about my Microsoft tour by clicking here.

#4 Sony Picture Studios 3D Tour
I don't see how someone could love movies and not be fascinated by the movie making process. Sometimes it is easy to laser-focus on something and forget that Sony is not merely a TV, PS3, VAIO or other manufacturer; they are also a giant powerhouse in the film world. And similar to the trip through IVC in Burbank years before, this visit to Sony Picture Studios was a terrific behind the scenes look at how Sony makes movies. (Movies that they certainly hope end up being viewed on Sony Blu-ray players, receivers and TVs.) The specific focus of the event was to hear about Sony's commitment to 3D technology, but not in the way that you'd expect. This wasn't a trip about "our 3D TVs are the best!" or "Sony 3D movies take 3D to the Fourth D!" or "If you say you don't like TV, then maybe you're a terrorist to capitalism!" No. It was more an acknowledgement that a lot of 3D is done badly, but that it isn't inherently 3D that is the problem; it is filmmakers misunderstanding how to use 3D as a new story-telling tool. Sony began a 3-day program to educate filmmakers from any studio on best practices for using 3D correctly. There was a lot of discussion on how our eyes work and how 3D cameras work and what makes good – and BAD – 3D. As someone who is not the biggest rah-rah cheerleader of 3D, I felt the whole thing was incredibly interesting and informative.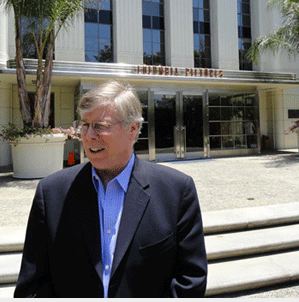 Chris Cookson, President Sony Pictures
Sony really pulled out all of the stops; first they put us up in like one of the sweetest 90210 hotels ever. Then they took us to the lot and gave us awesome access to some of the "PAY NO ATTENTION TO THE MAN BEHIND THE CURTAIN!" bits of the movie magic. As part of the day, we were introduced to Chris Cookson, President Sony Pictures, Buzz Hays, Executive Stereoscopic 3D Producer and 13-time Academy nominee for sound editing, Greg P Russell.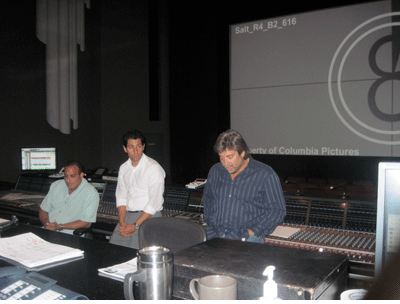 Sound editor, Greg Russell

A comment from Buzz really stuck with me: "Making 3D is easy; making it look good is hard." We learned a lot about how vision works and how 3D cameras work and how directors and cinematographers can screw it up and make the experience uncomfortable. We watched a few clips on Sony's R320 commercial 4K projector, which turned out to be a bit of CEDIA foreshadowing for their recent 4K home projector release. We toured the Digital Authoring Center where all work is done in 4K. (A typical 2 hour film scanned to 4K would take about 12 Terabytes, and the main server farm holds about 2 Petabytes or 2 *thousand* Terabytes!) Russell explained how 3D movies are making changes for audio mixes, and we walked in on him working on Salt. We visited the scoring stage and got to check out the Foley artists work area.
To read more about my Sony factory tour, click here.
To read more about Sony making 3D movies less sucky, click here.

#3 The Lucasfilm stuff. (AKA: Lucas Ranch, Skywalker Sound, THX, ILM, LucasArts)
As someone born in 1970, Star Wars means a ton to me. (You can read my lightning review of the new Blu-ray discs here.) I am old enough – just barely – to have seen the first film in the theater -- and actually remember it! I owned the toys, I played Jedi lightsaber fighting with sticks, I played the video games, I'm all in. As such, the house that George built – aka Lucas Ranch – is kind of like Mecca. I don't want to face it and pray, but, it is the kind of place that you want to visit at least once in your life.There was even a movie – Fanboys, OK I didn't say it was a GOOD movie – filmed about super fans trying to sneak their way onto the Ranch. For Star Wars fans, it is a mythical, magical, fairytale land where dreams are born. Except it isn't in a galaxy far, far away. It's in Marin, California. And getting to visit this place is like getting a Golden Ticket to visit the Wonka Factory. The cool, Gene Wilder one.
So, I have been fortunate enough to visit the Ranch not once, not twice, but THREE times. Each visit is special and each visit is awesome and each visit feels like you'd better soak in all the magic because you probably won't get another chance to come back.
My first visit was back in 2002; a quick private tour before my attendance of the THX certification class. My friend and fellow major Star Wars fan, Dan, happens to live in the Bay Area pretty close-by, and under the guise of, "I need to bring my, uh, photographer, yeah, that's it!" I was able to bring him along as well. The amazing part of the Ranch is that it is not only the DNA center of all things Star Wars, but it is a full-blown, major motion picture post-production facility that looks nothing at all like that. Parking is all underground and out of sight. The buildings are separated and all look like wineries or farm houses. People walk everywhere. They have an organic garden and grow a lot of the food that is served in the restaurant. There is this entry way that has a ton of Star Wars and Indiana Jones memorabilia, a room filled with books and magazines where people fact check costumes and weapons and set dressing looks for films of all different time periods. On our first tour we saw David Fincher working on the audio mix for the Panic Room. We sat in while the Academy screened clips for that year's audio selections.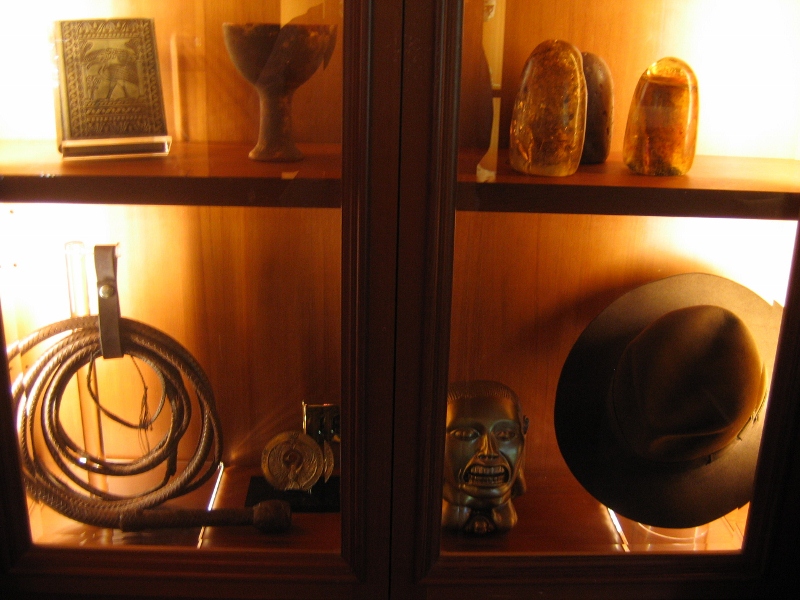 My second visit was part of the class excursion to the Ranch. (Sadly, now that THX is no longer a fully owned division of Lucasfilm, the trips to the Ranch have ceased to exist. Bummer for the people going through the training now, but bully for me for going then!) On top of the same tour that Dan and I received, we had dinner at the Ranch and then watched TWO films in the legendary Stag Theater. The Stag is a large, beautiful, incredibly noise-controlled and as technically close-to-perfect theater as you will find. The seats are comfy. The floor is carpeted. And, of course, the picture and sound are dead balls-on awesome. The screen is HUGE, and the film prints are like several gens above the schlock you get in the theater. And reference sound level? You betcha! It is where George and crew (and visiting directors) screen their finished work, so it is as state-of-the-art as it gets. We watched Star Wars Episode I – seriously, watching ANY Star Wars film AT Lucas Ranch? It's like the dreams of a million teenaged boys suddenly being fulfilled! – and then watched Lord of the Rings: Fellowship of the Ring. Uh-May-ZING! I also spent 4 full days getting THX Certified, and touring through their facilities and seeing their testing and assurance areas.
My third trip to George's Promised Land was back in 2008 when I was writing the feature on the making of the new Star Wars videogame, The Force Unleashed. During this trip I was taken through the new Industrial Light and Magic and LucasArts facilities in San Francisco's old Presidio. ILM is where they make the effects for many of Hollywood's top films, and getting to tour those facilities and see all the work stations is SO cool. I got to watch them play testing the game in LucasArt's Premier Theater, a 298-seat theater with a 50-foot screen and a Christie D-Cinema digital projector. I was also given time and the opportunity to meet and talk with virtually everyone that was involved in making the game; from lead developer Haden Blackman, to art director, Matt Omernick, audio lead, David Collins, concept artist, Amy Beth Christenson, composer Mark Griskey, and many others. The hallways were lined with really cool, original concept art and drawings from the game and other projects. Since this was the first game that was ever scored and recorded on the main stage at Skywalker Sound, we took a trip back to the ranch and walked around the scoring stage, visited the famed Mix-A, talked to Griskey and the recording engineers and even go to watch the Foley artist work her magic. Plus they gave me a Lego set of the Secret Apprentice's ship, a book on making the game, and two copies of the game (PS3 and Wii). #Winning!
For more pictures from my trips to the Ranch, click here.

To read about my experience getting THX certified, click here.
To read about my making-of The Force Unleashed game, click here.
What could be better than three trips to Lucas Ranch? The SECOND best experience ever! Stay tuned...
Categories: September 2011, On Writing
/