Shopping Cart
Your Cart is Empty
There was an error with PayPal
Click here to try again
Thank you for your business!
You should be receiving an order confirmation from Paypal shortly.
Exit Shopping Cart
Features, Reviews and a Blog by John Sciacca
| | |
| --- | --- |
| Posted on October 25, 2011 at 11:40 AM | |
In the first part of my recap of our 7-day Disney Magic cruise, I talked about our state room, the dining and how Disney-clean the ship was. Sure, this nuts-and-bolts stuff is kinda interesting, but not really very fun. Today, I'm getting to the fun stuff.
This post is going to talk about all of the entertainment aboard the ship. The shows, the acts, the movies! Also, a bunch more pictures this time around and even a bonus video! (I know, right?!)
OK, let's get into it. Come on everybody, here...we...GO!

The Personal Navigator:
I give this an A.
Every night your room attendant person left a copy of the "Personal Navigator" on your bed. This is a 4 page itinerary of the next day's events and would have maps of any ports of call and other highpoints. The PN was broken into three blocks – morning, afternoon, evening – of all of the activities happening around the ship throughout the day. Each of these blocks was then divided into activities that were for geared towards families, kids, teens, adults, etc. So at a glance you could pretty quickly plan out your day either alone or as a family and find the cool stuff that was going on. I loved this thing and carried it around with me everywhere. It was a great way of constantly keeping up with what was happening and to make sure that you could plan to do the stuff that interested you most. I'm sure other cruises have itineraries like this as well -- though I can assure you there was only blaring klaxons and pounding messages over the PA system on the USS Truman -- but I thought's Disney did a great job with theirs.

Activities:
I give this a B+/A-.
For the most part, there was a lot of stuff going on, but there were definitely periods where not much was happening or -- usually at night -- when your choice was limited to listening to someone playing the piano somewhere. This was actually fine, because it gave you some "down time" where you didn't feel like you needed to be doing something, or where you could go and lay by the pool or just hangout and not feel like you were missing out on some fun. However if you are the kind of person that needs constant entertainment, you might find times when you are forced to play solitaire or just have some quiet reflection. Frightening, I know.

We definitely got involved in the agenda and took a class on paper airplane folding, origami – I can make a mean/beautiful 6 petal flower! –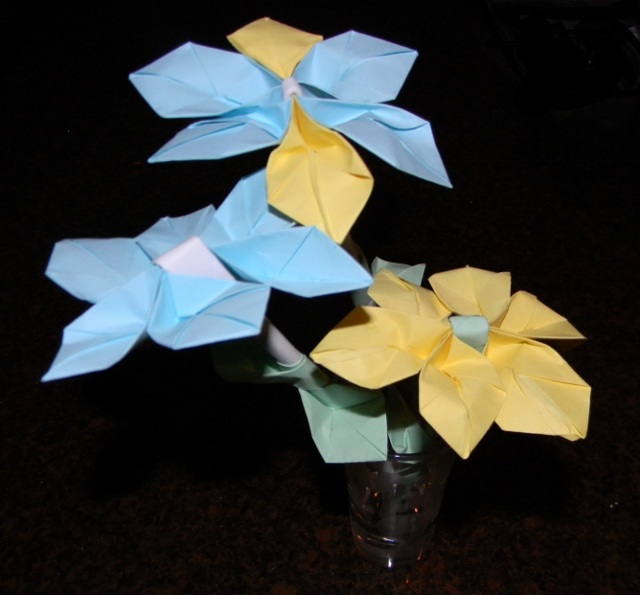 (actual flowers that we made! I'm available for your next wedding or office party!)
and a cooking class where two of the chefs demonstrated preparing some dishes and then handed out samples to taste. (While I think I could tackle the chocolate mousse, the phyllo wrapped salmon with fava bean ragout is going to be a bit of a stretch.)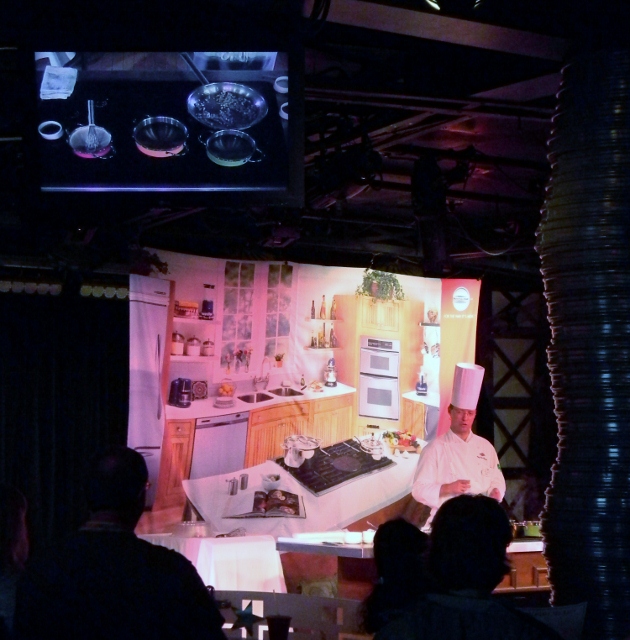 They also had a class on origami towel folding, some stuff on Disney Innovations (going to do a blog on the top 10 animation innovations that Disney contributed—cool stuff!), some trivia events (we came in second on TV theme song trivia game, getting 15 out of 20 right), the requisite karaoke, bingo, some dance parties, etc.
While this pic doesn't really fit here, I forgot to post it under the "Dining" section in part 1. When you dine in Animator's Palate the first time, there is a dinner "show" where the whole dining room slowly changes from black and white to color over the course of your meal. It's pretty cool and definitely another of those things to keep kids entertained during dinner.

If you are 20s – 40s couple without kids and you are looking for a boat with a lot of night life, the Disney cruise is probably NOT the one for you. I liked that there was no casino on board, but I'm sure others would have felt differently. Also, I wanted the "tribute to the Rat Pack" to be more of an impersonation/multiple performer affair, rather than some guy playing the piano and singing. When it comes to doing Frank, I guess I'm picky.
Live Entertainment:
This gets a total A+.
There are "Broadway-style" shows most evenings that take place in the Walt Disney Theater.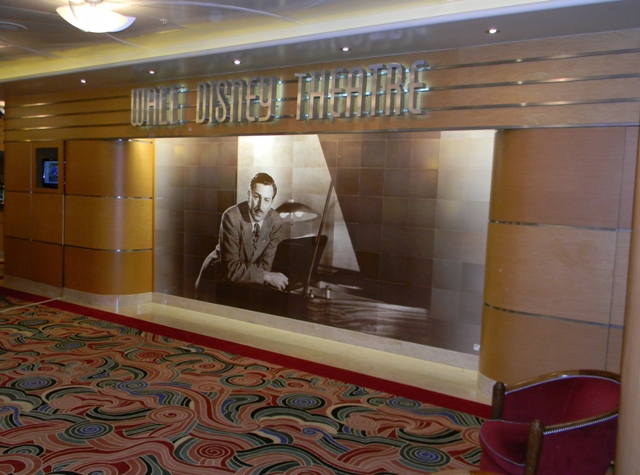 This theater is located on the forward part of Deck 4, spans THREE DECKS of the ship and is a HUGE space – especially when you remember it is on ship! The theater seats 977 people and "includes a 40-foot-wide proscenium stage, full-flying capabilities for moveable backdrops and scenery, a projection system for animated scrims and stage lifts, and the capacity for pyrotechnics. Additionally, the theatre includes state-of-the-art lighting and a Dolby sound system."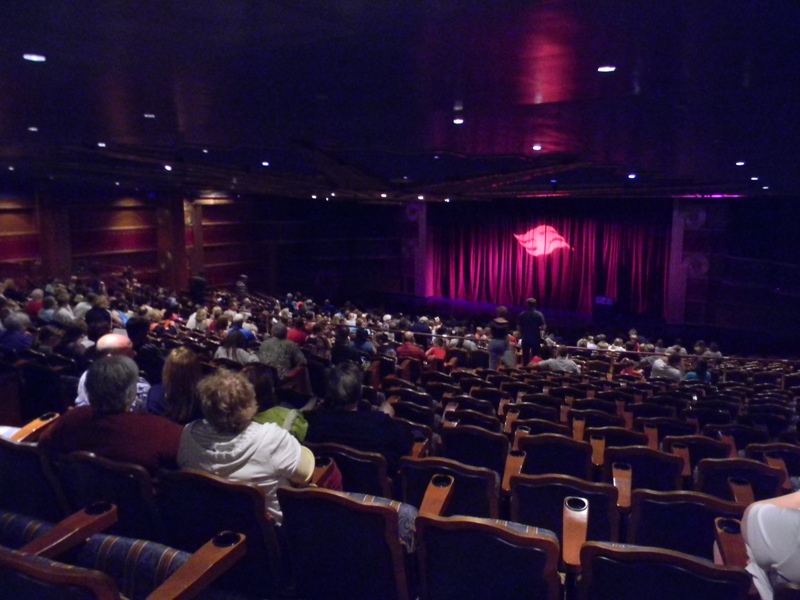 The big evening shows were "Twice Charmed," a retelling of the Cinderella story where an evil fairy Godfather goes back in time to rewrite history, "Villains Tonight," which was much more hip and focuses on Hades (from Hercules) trying to get his evil back and includes many classic Disney villains, "Dreams," about a young girl that is taught the power of dreaming and positive thinking, and "Remember the Magic," a farewell show basically reminding you how much fun you had and wouldn't it be nice to book another cruise…right now!
Here's pics of some of the shows in action: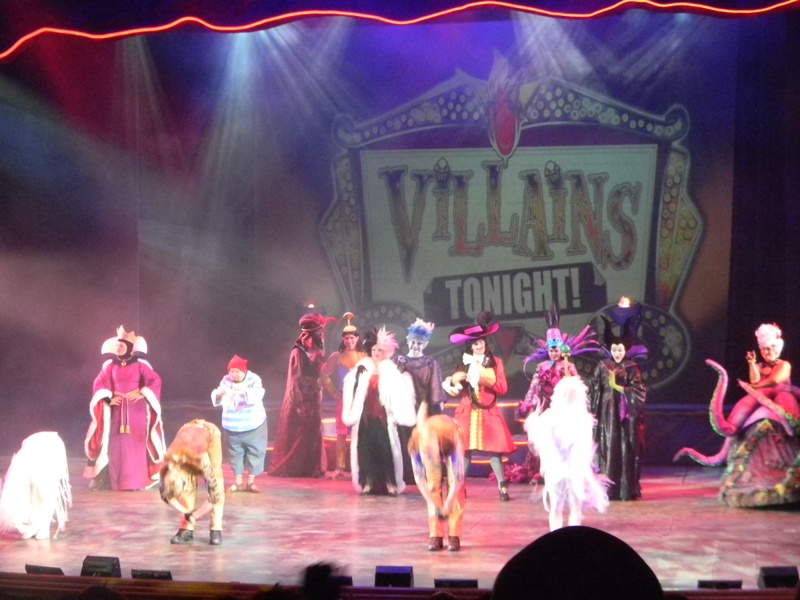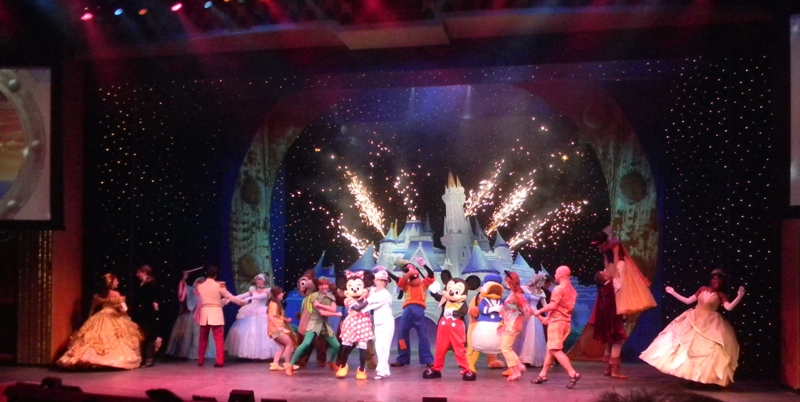 These shows were all really well done and definitely appeal to all ages of a family. (Well, perhaps it won't work on the sullen/broody teen demographic. Fortunately, we're not there yet.) Lauryn had never seen a play before and she was totally caught up in the shows and always looked forward to going to them. And since they are all only about an hour, they do a really good job of moving the story along and holding everyone's attention.
Because of some screwy weather and an unplanned day at sea, we also got a matinee of "Once Upon A Song," that had a bunch of "classic" Disney songs. I say "classic" because most of the songs they selected were really obscure. Like songs from Dumbo and Hunchback of Notre Dame and the Aristocats and several from Mary Poppins and other songs that weren't really all that "classic." This could have been a lot better had they picked more classics that were *actually* classics and was my least favorite of the shows. And since I went by myself, it made me wish that I'd just lain out by the pool instead.
Movies:
I give this a B+. They had a really good selection of content, but they seemed to run the same two movies (Toy Story 3 and Tangled) all the time and just randomly showed others often at times that made you chose between having your scheduled dinner, seeing a movie or seeing the nightly live show. Had the scheduling been handled better, this would have totally been an A.
Movies play in the Buena Vista Theater which is a full-fledged theater in all respects and nearly as impressive as the Walt Disney Theater. I was actually surprised there wasn't a little, "Dear Stupid Cruisers, please do not try and use these 3D glasses as sun glasses. You would think that we wouldn't have to say this, but, well, some idiot tried it once and then went blind and sued us so there you go. Please, enjoy your movie and ONLY use these 3D glasses while INSIDE the theater viewing a 3D MOVIE!"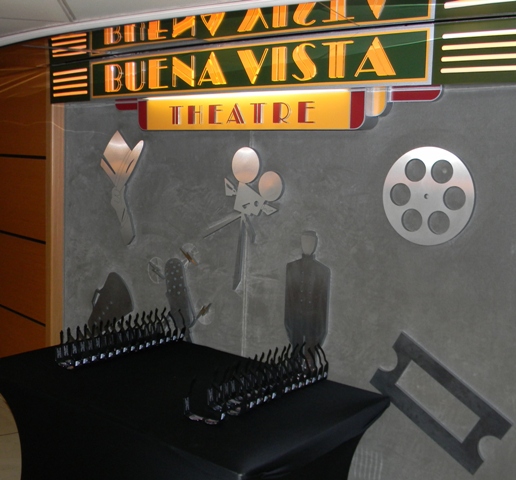 The BV seats 268 people and is located roughly mid-ship on Deck 5. Beyond a Dolby Digital sound system, the theater is also equipped with Dolby's 3D system, which is magically renamed "Disney Digital 3D." I stuck my head into one of the many showings of Tangled in 3D and it did nothing to convince me that 3D on a boat is any better than 3D on the shore, whether of the Disney Digital variety or otherwise.  (I did peak my head into the projection booth and they have a large Christie D-Cine projector!) The seats are nice and plush seating, and the whole space has the feel of Art Deco and Art Nouveau styles of the 1930s and 1940s.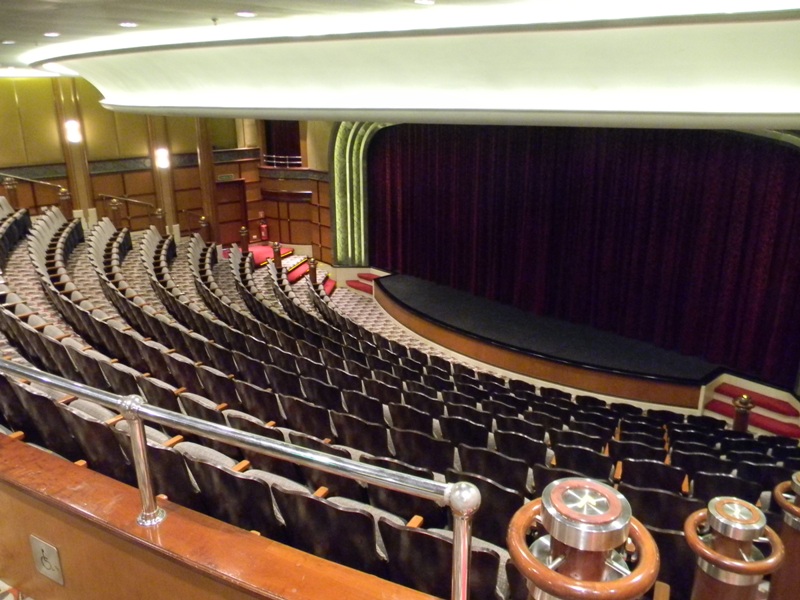 Because Disney is a film company, they had access to some great films. Besides Tangled and Toy Story 3 – which seemed to be running ALL the time, and which I could see anytime I want on our home system – while we were on the ship they played Cars 2, Disneynature: African Cats, Pirates of the Caribbean: On Stranger Tides, The Help, Winnie the Pooh, and Real Steel.  We watched Cars 2 as a family one night and Dana and I watched Real Steel by ourselves. The sound was great and the screen is quite large, and it handles anamorphic presentations correctly, ie: it gets larger (wider) instead of masking down smaller.
There is also an area up on Deck 9 where they show movies on a big LED screen in what they call "Funnel Vision." This is meant to entertain kids while they are in the pool swimming. This usually had cartoons or shorts, but also showed some full length Pixar films and Monday Night Football. (For die-hard sports fans, there is a "sports bar" area where they showed football and the World Series in the evenings. This is also the only place where you can find a pseudo nacho bar, for those interested.)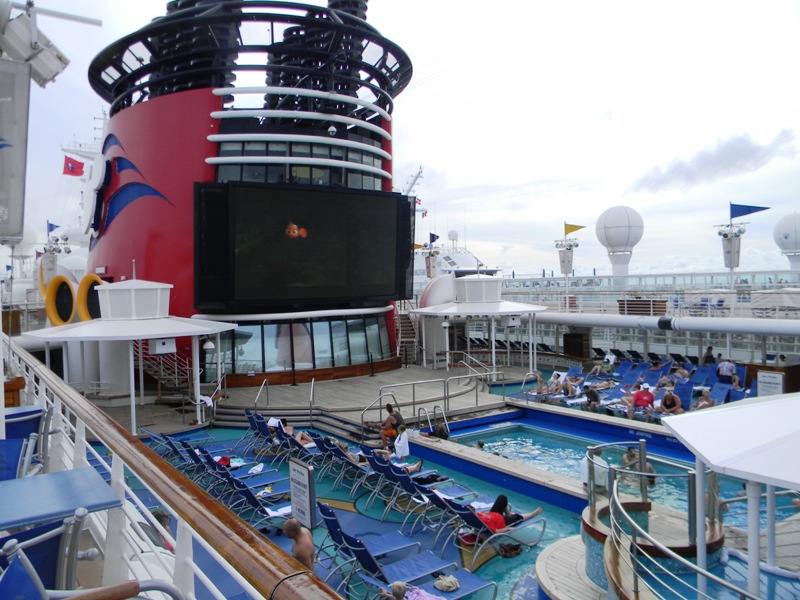 In room entertainment:
This is tough to grade; for kids it would probably be an A, for adults probably more like a C.
Every room has a 22-inch (or so) LG LCD TV on an articulating arm. And if you ever thought that picture quality didn't matter, spend some time with this baby. Scaling artifacts and jaggies abounded and so did motion blur and smearing. I know, I know, I wasn't aboard to critic the video, but if I had ever questioned whether low-end LCD TVs were "just as good" (and I never had) this would have set me straight! Would have been nice to have some kind of alarm/radio with an iPod dock or something.
There are several on-board channels that show previews of activities or various bits of information. Oddly, many of these channels had no sound for the entire time of our cruise. There was this one channel that had a lengthy message about the disembarking procedures where this guy was standing there talking and talking and talking but…couldn't hear any of it. There was a single music channel which proclaimed "JAZZ CHANNEL."
There are a couple of channels that show old Disney cartoon shorts and also several (25 maybe) movie channels that show the same movie over and over throughout the day. This was all mainly kid friendly stuff like Kung Fu Panda 2, Hoodwinked Too, Honey I Shrunk the Kids, etc. The most "adult" viewing options were things like Green Lantern and Transformers 3. It's a family boat, and you didn't have to worry about your kids stumbling across anything they shouldn't be watching. Here's a pic of one movie channel. Can you spot the typo? (Hint: It isn't "Me".)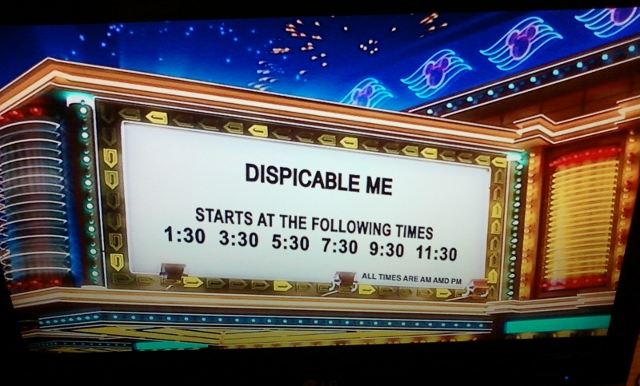 There was also some satellite TV, but this was pretty limited to options like ABC, ABC Family, ESPN and I think a news channel or two. We didn't really watch a lot of TV.
Guest Acts:
Undoubtedly these will vary from cruise to cruise, but I give the two acts that I saw an A+. The acts usually do three performances; a "teaser" during one of the main shows to introduce you, a family oriented show that goes on around 7:15 and then an "adult only" show that goes on around 9:30. While you might expect/hope that the adult show will "get a little blue," because it is Disney this just means that it takes place in one of the nightclubs that is off limits to kids at night. While the shows were slightly more edgy, they were definitely not "adult only" by any definition.
The first act was Max Winfrey from America's Got Talent. He did a variety of juggling bits and some comedy. Lauryn loved his show, especially this part where he kept falling off of a unicycle and pretending that he was going to crash into people or drop a bowling ball on someone. His shtick is good, with lines like, "There are literally hundreds of patterns for juggling 5 objects. This is the one that I know." Here is a video I took of him "juggling" an aluminum baseball bat.
As good as Winfrey was, the magician, Jason Bishop, was even better. I would have seen this guy every night if he had performed! His tricks were awesome and he was also super quick and funny. He took one lady's iPhone and started going through her messages and pictures and then went on and on about her wallpaper picture of her like 3 year old son standing next to a dead doe that the little kid had pulled the trigger on. He kept working this story into one-liners throughout his show and he was really great. He then took this red balloon and somehow stuffed her iPhone inside of it in a matter of about 2 seconds while it was under a napkin. (I wish I had taken a video of it. Sorry!) The guy was awesome! He also did some amazing tricks including this illusion where he shredded a newspaper and then had it reappear completely intact. Here is a picture of his finale where a bunch of kids – including Lauryn – went up on stage and surrounded a box that he escaped from.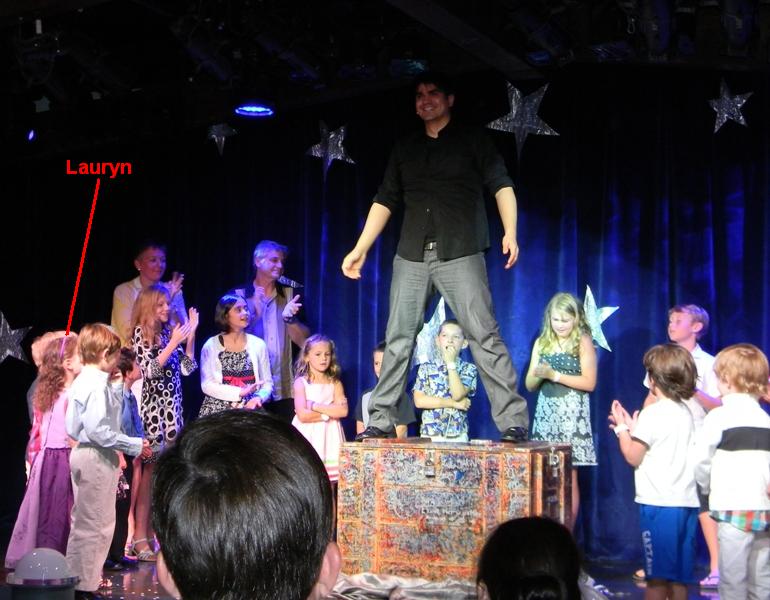 Well, that's it for part 2. Turns out I've still got a bit left to talk about and I'll try and put up part 3 by tomorrow where I'll talk about our port stops, the kid's activities, and some other stuff that caught my attention on the Magic! Until then, keep wishing upon that star!

Categories: October 2011, Family, Reviews
/