Shopping Cart
Your Cart is Empty
There was an error with PayPal
Click here to try again
Thank you for your business!
You should be receiving an order confirmation from Paypal shortly.
Exit Shopping Cart
Features, Reviews and a Blog by John Sciacca
| | |
| --- | --- |
| Posted on April 10, 2012 at 12:55 AM | |
I am a simple man with humble tastes; those tastes are giant, hoppy, piney goodness wrapped in a fresh, cold bottle filled with bold but well-balanced IPA backing them up!
To recap our tasting thus far…my brother, Adam, send me a care package of 13 of his most-favorite IPAs that he wanted me to try to see how our tastes compared. Adam ranked the very least of the bottles at an A and the best at an AAAA. (Roughly a 134% grade, I believe.) Here's a pic of the 13 beauties lined up pre-judging: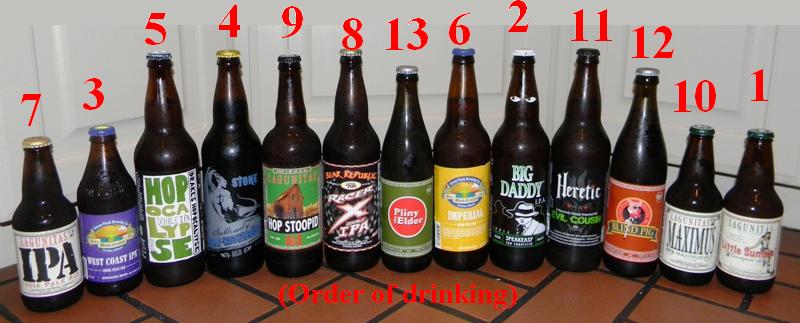 In tasting round 1 I rated Beers ranked 13 – 10, and in tasting round 2, I rated beers ranked 9 – 5.
Wrapping up the epic taste-a-thon, we have our final four beers. The Grand Cru of IPAs, if you will. The very "worst" of these beers is a borderline A+ in my opinion, and would be something that you would be thrilled to drink any given Sunday. Or Monday. Or any day.
Where we stand in the rankings so far…
#13 Green Flash Brewery - West Coast IPA (aka the Purple Label) Tasted 3rd, rated C-
#12 Speakeasy - Big Daddy IPA Tasted 2nd, rated B-/B
#11 Lagunitas – IPA Tasted 7th, rated B
#10 Lagunitas - IPA Maximus Tasted 10th, rated B/B+
#9 Green Flash Brewing – Imperial IPA (aka the Yellow Label), Tasted 6th, rated B+/A-
#8 Bear Republic - Racer X Double IPA, Tasted 8th, rated A-
#7 Heretic Brewing - Evil Cousin, Tasted 11th, rated A-/A
#6 Stone Brewing - Sublimely Self Righteous Ale, Tasted 4th, rated A
#5 Lagunitas Brewing Co - Little Sumpin' Sumpin' Ale, Tasted 1st, rated A
Now. Enough talky. Let's do this thing!
Lagunitas - Hop Stoopid
Hop Variety: Unlisted
ABV: 8% IBU: 102
Tasting Order:  #9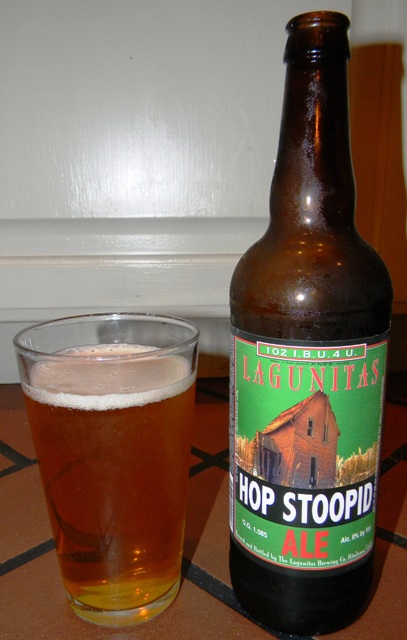 Description: For those mornings when you have to cut right to the chase, this is the one. Sure to blast through just about anything still lingering from the night before, this mouthful of Hops and huge rich Malt has a gaurantee (sic) built right into the name!
If there is anything worth getting "stoopid" for, it's a crazy amount of hops. And 102 IBU says it's gonna have a crazy amount. Poured down middle of glass but fairly "gently" and received just a quarter finger of froth that evaporated to a thin ice cap layer. A lighter shade of golden with tons of micro bubbles rising up from the middle of the glass. First thought...WOW! What an amazing aroma! Huge sweet, fresh pine. It's winter in Switzerland and the country is clean and beautiful. Strong initial zing on the tongue, followed by big piney hop flavors, and smooth lingering bitter finish. That first tingling mouth rush happens each time and is really wonderful; each sip fully re-engages you and then follows with that wonderful pine blast.  For a beer rated 102 IBU you might expect it to be an assault on your senses, but it is really wonderfully smooth and lingering pleasing bitter finish. (2nd pour)  Poured hard down the middle of the glass to draw a little more head and was rewarded with two fingers of nice creamy foam. Smell through the foam is the pine forest wrapped in a creamy frosting. Continued wonderful, delicious pine flavors and aromas and the gentlest taste of wheat as I reached the very end. Stoopid is as stoopid does! And in this case, Stoopid DOES amazingly well, thank you very much. Not quite as outstanding (at least in my taste buds memory) as the Drake's – which I drank four beers ago -- but still a strong A/borderline A+.
Russian River Brewing – Blind Pig IPA
Hop Variety: Unlisted
ABV: 6.1% IBU: Unlisted Bottled on 2/20/12
Tasting Order: #12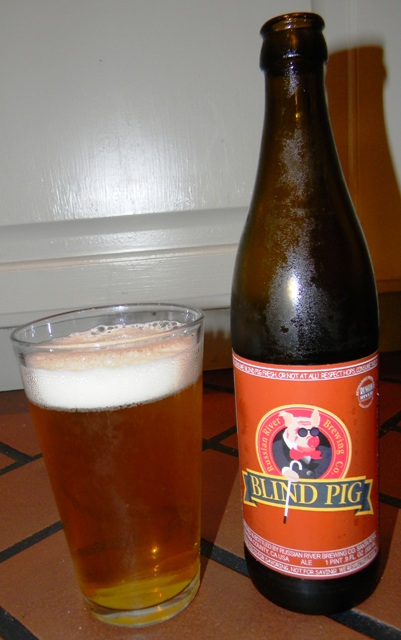 Description: Ask for a "blind pig" in a saloon during prohibition and you might just get a beer.. During prohibition, using the term "blind pig" discretely meant many different things. Sometimes it was the secret code given to a bartender to receive a beer. In other places, it means that you paid a small fee to see a "blind pig," and along with the viewing you'd get a beer, or something else… And what type of glassware would your "blind pig" be served in? An unmarked mason jar of course. In those days, a mason jar was known as a pig, and an unmarked mason jar was known as a Blind Pig. Use the term discretely today and you'll get Russian River's Blind Pig IPA, a bold IPA packed full of hop aroma, flavor, and bitterness. Please keep Blind Pig IPA refrigerated and consume fresh to experience the immense hop character. Unlike many o four other beers, Blind Pig IPA is not means to be aged.
Written on the bottle: "Hoppy beers are not mean to be aged! Age your cheese, not Blind Pig IPA! Keep Cold, drink fresh, do not age! Consume Blind Pig fresh, or not at all! Respect hops, consume this IPA fresh! Keep away from heat! This beer does not get better with age! Please do not age me! Do not save for a rainy day! Blind Pig is for savoring, not for saving! We respectfully ask that you do not age this beer!"
So, I guess they want me to save this for as long as possible before drinking…? Maybe leave it outside to sun age or something…? Sorry, Blind Pig! Your time is now! Poured down the middle of the glass, produced a generous two-fingers of head. Head slowly dissolves to leave a nice layer of bubbles on top. Leaves a thick tracing on the glass, with bubbles that last to the very last sip and beyond. A clear, yellow-gold color in the glass, that is definitely on the lighter side. Nice string of bubbles rises gently and constantly up the edge of the glass. Smell is piney, fresh and sweet. Not like hitting you over the face with it like you are walking through a pine forest that has just been cut down or someone dripped sap on your face while you were sleeping, but like you are driving through a mountain on a clean day in a sports car with someone you love; the sun is out; the sky is clear; the weather is crisp; you're happy and you roll down your window and get that first blush of fresh, clean mountain air. First sip and I get a nice tingle on the sides of my mouth and edges of my tongue, and delicious hop notes that are prevalent even before swallowing. Taste is smooth and balanced with a wonderful dulled edge of bitterness. There's a lingering taste of hops and just the slightest touch of wheat at the end. This is a beer that actually tastes as good as it smells; just as the smell isn't overwhelming, neither is the taste. It has flavors of pine and sweetness and hops and bitterness but it is all there just right in balance. And as it opens in the glass it gets nicer and nicer, with the flavors holding their balance and orchestration but just becoming more prominent. (Very excited to get to the second pour)  OK, I'm a little bummed because the bottle tricked me. I thought it was a 22-ounce bomber. Instead it is a 1 pint .9 ounce trickster! Meaning that I barely got a third of a glass on the second pour! Same big head, same delicate/delicious aroma, same wondrous initial sip. I notice that the wheat hints seem to be more apparent when this beer is really cold, and I think I prefer the flavor a bit when it has warmed – or just sat for a moment – in the glass. A/A+
Drakes - Hopocalypse Double IPA
Hop Variety: Citra, Simcoe, Chinook; Dry-hopped with: Cascade, Simcoe and Chinook
ABV: 9.3% IBU: 100+
Tasting Order: #5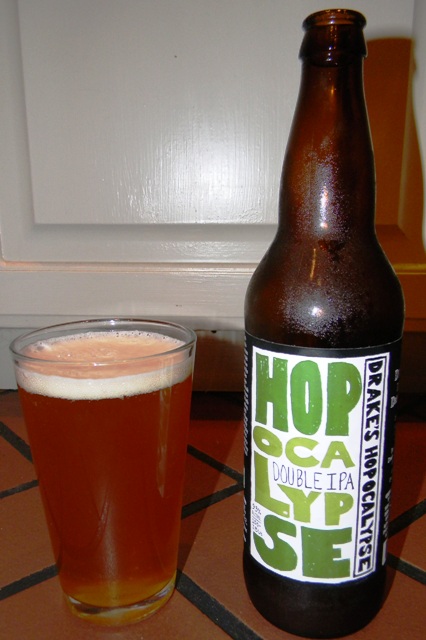 Description: This deep orange monster is loosely filtered to keep the integrity of the malt & hops intact. Equal amounts of American 2-row malt and English pale malt are combined with Vienna and Rye malts, then balanced with Citra, Simcoe and Chinook hops for flavor. We then dry hop it with Cascade, Simcoe and Chinook hops for an intense hoppy aroma. Enjoy the massive aromatic Revelation and prophetic flavor of this beer now and forever after. — Available in February
The name makes me think of Hopocalypse Now, and I love the smell of hops in the morning! Pours a cloudy golden-orange in the glass with thin head that disappears to a froth and smattering of bubbles. Leaves a thick lacing trail down sides of glass. Wonderful fresh pine aroma! I just chopped down the biggest, freshest, pine-est pine tree in the forest and then jammed it into my pint glass! The smell is just...wow! It's like you looked up "quintessential IPA aroma" in the Sciacca-tionary you would find a high-res picture of Drakes. I want to turn it into a perfume and spray it all over Dana. And then lick it off. And then… (Yeah, OK, we kind of went off to a weird place there...) Time to taste... Carbonation engages your entire tongue in dazzling tingles, and then it is an onslaught of pine and hops and milder citrus notes followed by a slow, steady powerful rush of bitter. Bitterness has just a hint of coppery-metal flavor, but is a really nice balance to the piney hop sweetness. The sparkling carbonation keeps up with each sip, offering a wonderful pine experience with every drink. (Round 2 - second pour) Second pour right down the middle of the glass produced a more generous, finger of head that stuck around for a bit and more wonderful piney aromatics. You might expect this beer with 100 IBU rating to be like chomping into a lemon but it definitely isn't. Strong, big, bitter taste? Yes. Nuclear bitter bomb? No, sir! This is a big, huge IPA that is not for the faint of pallet. But for the true fan of this flavor genre, this is a beer that will challenge and reward your tastes! This *might* be the BEST beer that I have EVER had. I can't think of one element or characteristic of this beer that I would change or improve. A+
Russian River Brewing – Pliny the Elder
Hop Variety: Amarillo, Centennial, CTZ, and Simcoe.
ABV: 8.0% IBU: Unlisted Bottled on 2/13/12
Tasting Order: #13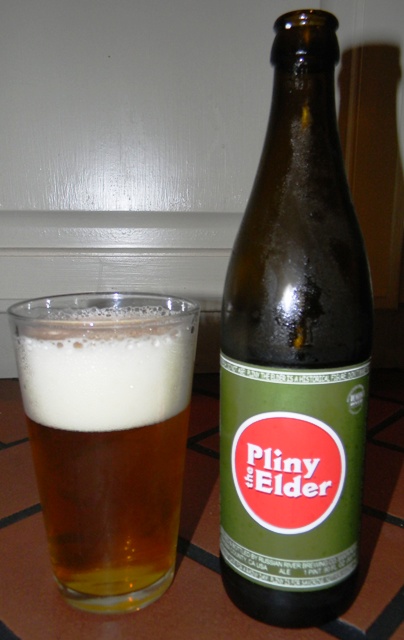 Description: Pliny the Elder is brewed with Amarillo, Centennial, CTZ, and Simcoe hops. It is well-balanced with malt, hops, and alcohol, slightly bitter with a fresh hop aroma of floral, citrus, and pine. Best enjoyed FRESH! That is why we make it in such limited supply. Actual bottling date is printed on each bottle! Where did we come up with this name? Back in the year 2000, our friend, Vic Kralj, who owns the Bistro in Hayward, California, decided to have his first ever Double IPA festival. Vic invited 10 breweries, 6 of whom (including us) had to brew something special for him since we had nothing that would fall under this style category. Vinnie had made a Double IPA at Blind Pig in 1994, but was not brewing one at Russian River Brewing at the time. He had an idea for the recipe, but not a name. After much research in beer books, brainstorming, and deliberation, we came up with "Pliny the Elder". Pliny, the man, lived in the first century- 23 to 79 A.D. According to our brewing references, he and his contemporaries either created the botanical name or at least wrote about Lupus Salictarius, or hops, currently known as Humulus Lupulus. That was a very early reference to an important part of any Double IPA! Pliny the beer has now become one of our flagship brews! Pliny the Elder was immortalized by his nephew, Pliny the Younger, who wrote about his uncle succumbing to ash and smoke during the eruption of Mt. Vesuvius in 79 A.D. while rescuing people. Cheers to the scholar, historian, officer, writer, and Roman Naturalist- Pliny the Elder!
Written on the bottle: "If you must, sit on eggs, not on Pliny! Do not save for a rainy day! Pliny is for savoring, not for saving! Consume Pliny fresh or not at all! Not a barley wine, do not age! Age your cheese, not your Pliny! Respect hops, consume fresh! Respect your Elder: Keep cold, drink fresh, do not age! Pliny the Elder is a historical figure, don't make the beer inside this bottle one! Does not improve with age! Hoppy beers are not mean to be aged! Keep away from heat!"
So, I have this thing that when something is really popular or when everyone is saying how great something is, that I kind of already don't like it. Like the movie Home Alone. I hated hearing how great it was, so I never saw it. And if you read anything about Pliny, it is usually with phrases like, "best beer in the world," "perfect 100," "quintessential IPA," "if I had to kill you to get another bottle, I hope your affairs are in order…" and the like. So, I was already kind of like, "OK. There's no way this thing can live up to the hype. So, whatever. Let's just drink you and get it over with…" Poured down the middle of the glass, explodes in a giant head of foam producing easily 3 fingers plus. Foam is thick and creamy, and slowly dissolves to a white whipped topping, leaving a thick coating of lacing on the sides of the glass. Color is a nice golden with just a bit of cloud and a steady string of micro bubbles rising up in the middle of the glass. And the smell... The smell is just...it's just...O…M…G! It's like you were dreaming of perfection, and there was just *something* missing that you just couldn't quite put your finger on and then you smelled Pliny, and there it was… Oh man, this is the sweet pine forest aroma I've been chasing ever since I started drinking IPAs! There's pine, and it's huge and fresh and like all of the national pine forest, but also a pleasing sweet richness that is missing in most IPAs. First sip... Oh, man! Imagine the happiest day of your life. You graduated college -- with honors -- you got married to your longtime love, you had a beautiful set of twins -- a boy and a girl -- you went to Disneyland, you stumbled into your best friend AND got a giant promotion. Now pour all that into a glass. And that sweet flavor of deliciousness is Pliny! Wonderful zing of carbonation on the tip of the tongue and the roof of the mouth, full, rich texture and mouth fee, big pine flavors with perfect balance of sweetness, rush oh hops and smooth, lingering bitter finish. Every swallow is joy, every flavor both big but in balance, notes of bitterness but in complete harmony like a symphony. (2nd glass) Poured down the side still produced a good two fingers of head. This is a beer you hold and smell and savor. The smell of Pliny is actually how pine trees wish they smelled. The final sip every bit as good if not actually better than the first. This beer is truly epic and unlike so many things in life actually lives up to every bit of the hype. A++ (Also, this beer held its sweet, delicious, "I love you, let's get married!" aroma in the bottle the next day. I might be holding it and smelling it right now...)
Categories: April 2012, Beer/Liquor/Wine, Reviews
/