Shopping Cart
Your Cart is Empty
There was an error with PayPal
Click here to try again
Thank you for your business!
You should be receiving an order confirmation from Paypal shortly.
Exit Shopping Cart
Features, Reviews and a Blog by John Sciacca
| | |
| --- | --- |
| Posted on December 26, 2010 at 12:40 AM | |
You know that I'm addicted to my blog's analytics. And recently Webs.com had some special where I could buy this upgraded analytics program called, umm, Spy. And, well, Spy does just that. I can see what goes on at the o'le site in real time. And while I try not to Big Brother you people – texting you messages asking you things like how ya doing, how are you enjoying my posts, whatcha gonna read next, etc. -- I can see when you come, where you've come from, what you look at and how long you stay at my site.I can also tell whether you're a Mac, PC or Linux, whether you're using IE, Firefox, Chrome or iPhone, your screen resolution, your... Well, you get the idea. You visit my site, I get a glimpse into your soul.  Don't worry, I only use these powers for the forces of good. Like Superman and his X-ray vision. Or a proctologist and his, uh, glove.
Mainly I like to see what stories are popular and how people find me. For instance, some of my most popular referrers come from people Googling "What does a silenced weapon sound like" (Which takes them to my SEAL cousin's excellent guest post here) or any number of Kaleidescape related searches. I think I've written more about Kaleidescape than just about anyone, so if you Google Kaleidescape, chances are one of my links will appear. I also get a good bit of traffic from my 3D TV for Dummies post and recently anyone searching for info on Ronald "Jukebox" Jackson. Then, of course, there is still my Net monopoly on the search term "incinerated testicles." I've now taken over the actual medical sites, and bizarrely awkwardly proudly hold the #1 and #2 Google searches for incinerated testicle queries. I suppose we all need a legacy...
So when I pulled up my site this morning, I saw this in my Spy window:
Someone from London, England found me on their iPhone from...Wikipedia?! The Wikipedia? As in the modern source of all the world's shared knowledge? Wow! How did that happen? So I clicked the link, which takes you to a list of famous Charvet customers, and I found this: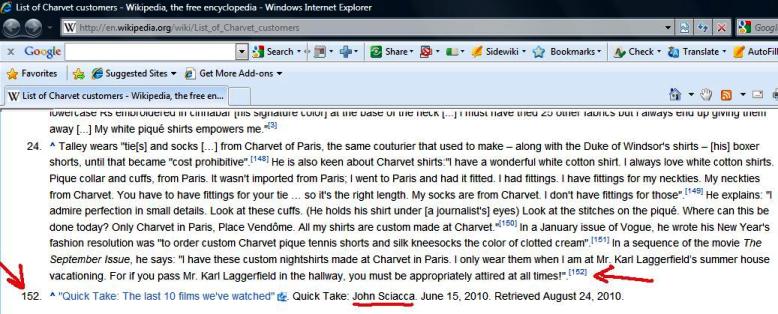 Wow! I've been cited! As a reference! An expert! On Wikipedia! So cool! Next stop: Merriam-Webster. Maybe I can finally get them to acknowledge that "jamp" is a perfectly acceptable past-tense usage of the word jump. As in, "Yesterday, I jamp over something. And it was sweet." I could then go back and get that Freshman year paper regraded! (Yes. I actually used jamp in a paper. And I stand by it.) Then onward to an entry in The Encylopaedia Britannica! Oh yeah, that's right. The ae Pay-dia itself!  Here's a link to the cited post if you want to read the kinds of stuff that gets you cited by Wiki.
Categories: December 2010
/