Shopping Cart
Your Cart is Empty
There was an error with PayPal
Click here to try again
Thank you for your business!
You should be receiving an order confirmation from Paypal shortly.
Exit Shopping Cart
Features, Reviews and a Blog by John Sciacca
| | |
| --- | --- |
| Posted on May 4, 2011 at 4:34 PM | |
We've all heard the phrase "a necessary evil." Usually that describes something that is seen as unpleasant and unwanted but that is done anyway for the overall good of something. Like, Spock going into that radiation chamber thing in Wrath of Khan. (Best...Star Trek...ever!) Or undergoing some aggressively unpleasant surgical procedure. Or maybe an all-out Duke Nuke'm war to root out Zombies. Or having to eat canned beets. (Seriously, they taste like copper mined from old dirt, and I really don't care what anyone says to the contrary. And by that, I'm looking at you, Darryl. You and your beet salad ordering ways at the Def Tech dinner. Oh, yeah, that's right. I remember.)
Sometimes people refer to factory training as a necessary evil. But is it? Is it necessary? Or necessarily evil? In my career, I've been through many different trainings, some good, some essential, and some a total waste of time. Recently I attended training for Lutron lighting programming and Runco projector installation, (you can read the Battle: Training! summary here where I compare the two events) and it got me to thinking about it.  And not just about the training itself, but the other costs involved and, ultimately: Are they worth it to you and your business?
First, before attending a training session, make sure that you understand what you are going to receive from the training. Sometimes that decision is a no-brainer:  If it a requisite for you to be able to sell or install a new product or line, then you've gotta go or determine how important that line is to you and your company.
If the training is more of an elective, continuing education sort of thing, then it is crucial that you determine what you expect to get out of it and make sure that you've got a good chance of meeting those goals. Are you looking to get a rough overview of something, or to have some intense hands-on to become, say, an expert on large-environment acoustics? Contact the company offering the training directly and inquire.
If you're already proficient in an area, make sure that the training you'll be attending won't be too remedial and just end up being a waste of your time. If you've ever sat in a classroom thinking, "Man! I could teach this stuff!" then you'll know that you have just wasted your time and money.  (Conversely, if you've ever sat there and thought, "If they show me one more PowerPoint slide, as God is my witness, I am going to maim someone!" then, well, that just proves you've actually stayed awake through most of a typical training session.)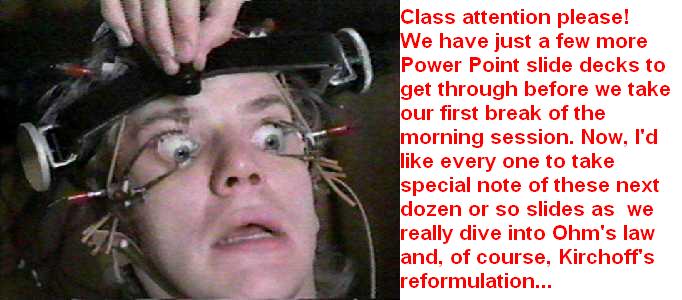 Conversely, if the training is going to be technical in nature, make that that it isn't TOO technical. I once attended a 3-day Crestron workshop where I left knowing that A) my laptop was not up to the challenge of running all the Crestron processor intensiveness and B) that I now know just enough to know that I didn't know anywhere near enough.
Finally, is the training going to be about what you think it is? I recently flew to Buffalo, New York – in December! – to attend a two-day training on what I thought was going to be specifying networking equipment and building a robust network. In reality, it was a fairly thorough discussion on setting up a call-center. Like giant, India-level tech support call centers. I was SO in over my head. And totally wasting my time. I do NOT know and love the Catalyst 5300 and was clearly the only person in the room not feeling the love.

Next is the actual cost involved. Many companies offer trainings for free – or allow you to use co-op dollars to offset the cost – but there are still the actual costs involved of travel, lodging, possibly renting a car and food. These become very real costs when you are flying somewhere to spend 3 or 4 days training on something, and unless you just like traveling for travel's sake – in which case, may I recommend Sim2 factory training in Italy? The food; she is, how you say, che bella! – then make sure that this $1000-plus is going to be worth it.
Next is the opportunity cost; the costs of being away from selling and servicing jobs while you're away. Unless you know something about cloning that I don't, you can't be there getting training and here running your business. I remember one year, the principal at our company bailed on a plane flight to CEDIA at the last minute because a potential client that we'd been wooing unexpectedly arrived in town and wanted a meeting.
But no matter how great and relevant and necessary training is, you can't just be gallivanting all around, constantly getting trained up. Even if your company could survive your extended absence, at some point you would assume that you would actually need to be around to put that training to use. So, we arrive at the conundrum over sending staff in your place for training. In a perfect world, this seems to be all champagne and gougeres, I mean, uh, a total win all-around. You get to stay back and run your business, making new sales. Your staffers gain knowledge which makes them more valuable to you to go forth and make you more money. Huzzah! Right?
Well, maybe put that champagne flute and delicious flaky, baked cheese down for one second. First, if you train your staff on something you don't know how to do – say programming something or running a complex instrument – then you put yourself in the potentially awkward position of being totally reliant on another person. Going forward, what happens when that project needs to be serviced and you can't do it? Second, if you train up an employee too much you run the risk of making them incredibly valuable to someone else, and then have to worry about them jumping ship and taking all that head knowledge – and possibly certification – with them. So, what's one to do? Constantly live in fear that your employees are plotting to leave and overthrow you in a (hopefully) bloodless coup? Or never train them, keeping them in the technology Dark Ages, and just continue handling all the really difficult stuff by yourself until you finally keel over on a jobsite one day?
Click over to Systems Contractor News to read the rest of this blog. I get all lawyer-ly and stuff. Seriously. I reached out to an old high school friend who is now a hotshot lawyer guy. Plus, you'll be doing me a favor by doing Kirsten "Glasses" a favor by getting her traffic up. It's a circle in a hoop that never ends...

/