Shopping Cart
Your Cart is Empty
There was an error with PayPal
Click here to try again
Thank you for your business!
You should be receiving an order confirmation from Paypal shortly.
Exit Shopping Cart
Features, Reviews and a Blog by John Sciacca
| | |
| --- | --- |
| Posted on May 7, 2011 at 4:50 PM | |
I know that many of you come here solely for the blog excellence, which, hey, is totally fine. Come on in, kick off your shoes, pull up a chair by the fire and make yourself comfy. I'll put on some depressing music, and you can grab a cup of warm cocoa or a lowball of your favorite brown liquor and stay a while.
But, for those of you that link or click or Blogger.com (that's you, Dennis!) directly to the blog page, there IS a whole another world out there that's just a click away. And I thought I would at least show you what you *might* be missing out on the o'le John Sciacca Writes home page.
Since the facelift a few weeks back, I've done a little housekeeping to not only make reading easier, but to also tidy up and add some more facts and figures info on the main page that I find interesting.  First up on the right of the o'le home page you'll see this: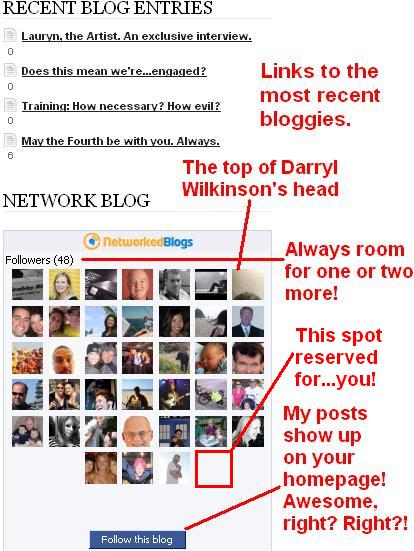 It's a list of the latest blog entries where you can link right to them. Isn't that about the most handy thing you've ever seen? I knew you'd love it! Also, see the number to the lower left of the recent links? The 0, 0, 0, 6? Those are the comments posted to each blog. Yes, those 0's make me sad in heart too. Remember, only you can prevent forest fires. And, I'm sure that if Smokey the Bear was Web savvy, he'd also have a pithy statement about you leaving comments as well.

The bottom Network Blog section is where you can see some of the people following me on Facebook and where you TOO can "Follow this blog." If you click an any of the images, you'll be able to see other blogs those people follow, or click to their Facebook page and then friend them or stalk them or write on their wall or whatever it is you people do on Facebook. (Hey, I'm not the one that said it was the largest repository of spying information in the history of the universe! Actually, what Julian Assange said was, "Facebook in particular is the most appalling spying machine that has ever been invented. Here we have the world's most comprehensive database about people, their relationships, their names, their addresses, their locations and the communications with each other, their relatives, all sitting within the United States, all accessible to U.S. intelligence." So, enjoy your Facetime, suckers!)
People often ask what the difference is between being a site member and being a Facebook follower. To that I firmly answer, "It doesn't matter! Do both!" Then once passions have cooled, I explain that being a site member entitles you to special, once-a-month or so direct e-mail communique from me where I basically tell you all the great things I've written over the past 30 days. When you Follow Me on Facebook, my posts show up on your Wall or something. It's kind of like one of those questions on a school; there is no WRONG answer, but the most RIGHT answer is to just error on the safe side and do both.

Anyhow, that's that section. In the lower middle of the page are the analytics that I'm so in-love-with fond of and you'll find these four boxes: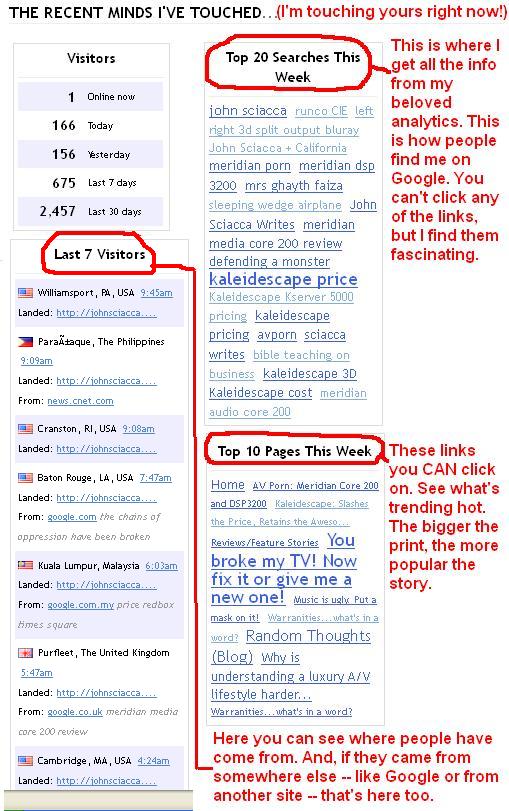 You can see how many people have been on Today, Yesterday, Last 7 Days or – if you're slightly more daring – the Last 30 Days. You can see the Top 20 Searches for the week, which is one of my favorites. Nothing especially great in this snapshot, but this is where I uncover those gems like "Incinerated Testicles" or "John Sciacca Arrested" and the many – especially recently – "How loud is a silenced weapon?" queries and referrals I get. Sadly, you can't click on any of these links, but they still make for fascinating reading. I find they offer a glimpse, into the dark, dank, mildewing mind which is the cesspool of the typical Internet browser. Kind of like hanging out in a cab with Darryl Wilkinson except much, MUCH safer.
The Top 10 Pages This Week shows the things that are hot right now. These links you CAN click on, so if you see a story that you missed, or just want to know what my tens of readers are into, here's a quick place to go.  
Finally, the Last 7 Visitors is just that, showing the most recent people to leave their digital footprint on my nice, new white rug. This seems to take about 10-15 minutes to update, so if you don't see yourself here, just come back later. Oh, you WILL be!
So, that's it. Just a quick tour through the digital crib. Thanks for stopping by. Come back any time. I'll leave the light on for ya...
Categories: May 2011
/