Shopping Cart
Your Cart is Empty
There was an error with PayPal
Click here to try again
Thank you for your business!
You should be receiving an order confirmation from Paypal shortly.
Exit Shopping Cart
Features, Reviews and a Blog by John Sciacca
| | |
| --- | --- |
| Posted on July 22, 2011 at 4:27 PM | |
I received an e-mail a few days ago from a PR agency that at best falls under the category of "questionable PR" and at worst graduates all the way to full-on #PR FAIL!
You see, a successful press release should at the bare minimum do a few key, crucial, BASIC things. Maybe there will be some bit of intro text; kind of an amuse-bouche to break the ice. A "Hey, John! How-ya doin'? Surviving the crippling July heats of Myrtle Beach? One of my client's has this product coming out that I know totally fits what you cover so I thought I'd send it over. Let me know if you need any more info. You know I live to serve your PR needs and it will just give me an excuse to keep ignoring all of those totally unprofessional texts and requests-for-free-product from a certain Wilkinson!"
Generally the actual release should get you excited or at the least catch your attention about the product being released. Hopefully it should tell you a little about it; what makes it hip and meta and important, why it's better than every other product that's out there that otherwise seem virtually identical in almost every single way, when it is coming out, and how much it will cost.  And if there is a "call to action," it should clearly tell you all the where's and when's of that.
But, beyond all of that, in fact BEFORE YOU EVEN GET to any of that, the thing needs to be at the very, most essentially basic level readable! You could have the best brand message in the entire history of brand messaging, but if it is unreadable, then you might as well have forwarded me a Candian pharmacy pen1s enlargement offer.
Here is the mail that I received. It is presented in full-size for your viewing pleasure: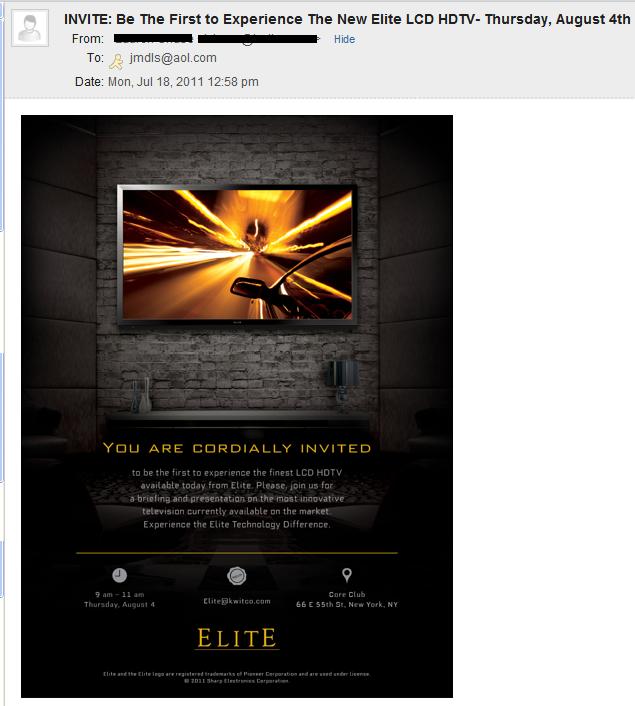 Can you read that text? Seriously. I have *really*good eyes, and I was straining my nose against my monitor trying to make out what in the hell this thing was saying.
I'm pretty sure that I'm cordially invited to something, but I can't easily see to what! A car driving all Millenium Falcon Mach speed about to plow into a bridge abutment? I think I'll pass, thanks!
Even when blown up to 200%, I can just *barely* make out the date and time. I *think* it is at the Core Club, though it could be the Cove Club or maybe the Cave Club? Maybe...? And there is no follow-up call to action. Do I just show up? Where do I RSVP? Is there a cool secret handshake or do I need to whisper "Deep, black and penetrating..." at some discreet back door labeled "Kuro"? Do they know where to send the private jet to pick me up and are they aware of my specific in-flight liquor needs? These are important issues! Also there's some writing at the bottom that I honestly have NO idea what it says. It might as well be in hieroglyphics.
I'm guessing this is finally the fruition of the Sharp and Elite LCD TV merger that I blogged about here. And while I'm sure the TV's will look great good, I'm just hoping they'll get some sharp-eyed A/V journalists to show up who could actually read and decipher the invite!
Note to PR people: I get probably 100 e-mails a day. (Some of them from people I actually know!) Make it easy for me to wade through your message and I promise that you have a much higher likelihood of me – and others – acting upon them. Just sayin'...
Categories: July 2011, Electronics, TV
/